He Wants to See Miami be Great
CORAL GABLES, Fla. – As the Hurricanes continue making their way through spring drills, Tyler Van Dyke, finally, is starting to feel more like himself again.
That can only be a good thing for Miami.
The quarterback, hampered late last season by a nagging shoulder injury, spent the weeks leading up to the start of spring practice determined to get as strong as possible, both physically and mentally.
Now, with the Hurricanes inching ever closer to their spring game on Friday night at DRV PNK Stadium, Van Dyke is re-energized and ready to move forward, confident the Hurricanes will be more than ready for the season that awaits.
"I feel good. I feel like I've been throwing the ball even better than I was before," said Van Dyke, who completed 62 percent of his passes and threw for 1,835 yards and 10 touchdowns last season despite missing three of Miami's 12 games. "I've been good, getting a lot stronger, faster and just working hard with the guys, continuing to get better every day."
For Van Dyke, the process of getting ready for the start of spring drills wasn't just physical.
Yes, he had to strengthen his shoulder and go through Miami's off-season conditioning work like the rest of his teammates.
But he also had to do the best he could to learn a new offense – again – after former Houston offensive coordinator Shannon Dawson took over that same role at Miami.
Not long after Dawson arrived in Coral Gables, he met with Van Dyke and the two began getting to know each other.
Both were impressed and eager to see the quarterback in Dawson's system.
"I want to make this thing very quarterback friendly, where his natural ability takes over. I'm trying to do my best to take the thinking out of it for him, where he just gets out there and reacts," Dawson said of Van Dyke before the start of spring practice. "He has a very, very high football IQ. You can tell within the first week of being here that the kid understands football. The game is fairly slow for him and he has all the tools. He is extremely talented."
Said Van Dyke, "Coach Dawson allows the quarterback to play with a lot of freedom. You can change the run play to a pass play, or a pass play to a run play based on looks, which is great to get the team in a better position to win and get ready for the next level as well. So, he gives the quarterback a lot of freedom, but he also coaches you hard, which is good. I need that. And I'm excited for what we can do for the rest of the spring and into the season."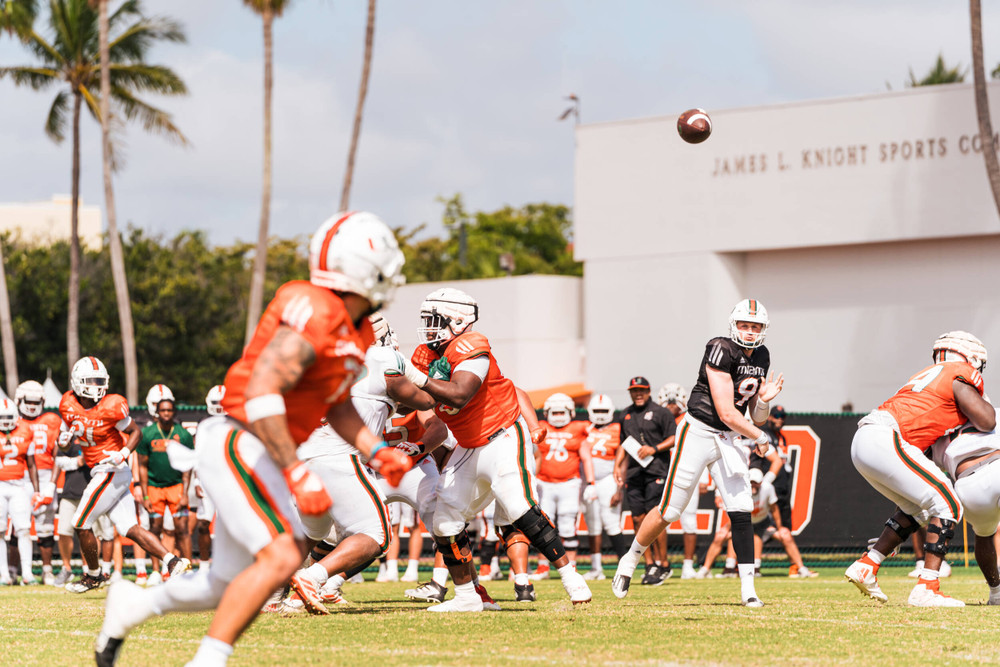 But learning Miami's new system hasn't been Van Dyke's only priority this spring.
The quarterback has wanted to make sure all of Miami's offensive playmakers are learning each other's strengths and developing their chemistry during this crucial stretch.
He also wants to make sure the offense is more consistent than it was last year, when the Hurricanes averaged 23.6 points and 367.1 yards per game.
All of that, he knows, will be key once it's time to take the field for preseason camp and the season ahead.
"I think this year, we're a lot closer than we were last year, especially with the guys that were here because we had some difficult times last year," Van Dyke said. "I think that just brought us closer together and helped us understand that we have to work and be closer together to be good. The guys that came in as well, they understand that too and they want to make the team better, help us win…
"I think the biggest thing for us is consistency, just trying to keep that consistency during 15 practices, practice strong. That replicates the season as well. I mean, you play 12 games and every game, you've got to be consistent to get good play. Just stay level, play good football. That's the biggest thing for us."
And along with helping his offense grow, Van Dyke wants to make sure the rest of the signal callers in Miami's quarterback group continue developing, too.
Last season, while Van Dyke was hurt, sophomore quarterback Jacurri Brown gained some invaluable experience, even helping lead Miami to a win over Georgia Tech.
Seeing him and signee Emory Williams become more comfortable, Van Dyke says, will only help the entire offense develop.
And, he acknowledged, he's learning from his younger teammates, too.
"I'm trying to help them study what I do, but I learn from them," Van Dyke said. "I tell Jacurri all the time what I see, he tells me what he sees. I just want to teach those guys how to win, show them how to be a leader. That's what you have to be as a quarterback."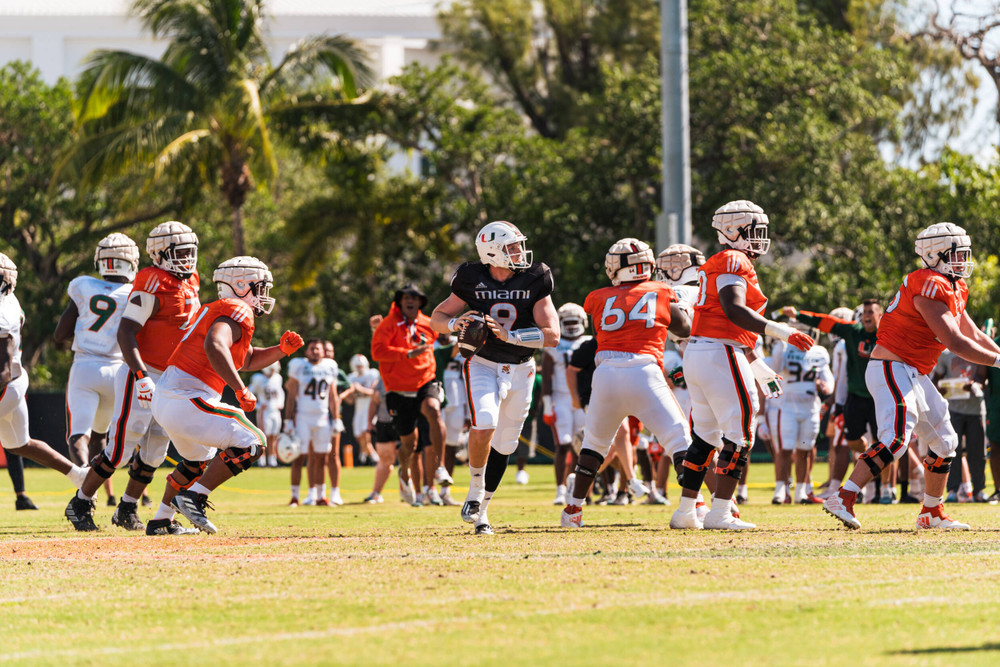 Van Dyke's efforts in the offseason and through the spring haven't gone unnoticed.
In fact, he received high praise from Miami head coach Mario Cristobal, who noted that one of his biggest priorities in the offseason was finding a strong supporting cast to help Van Dyke and the Hurricanes shine.
"He's grown a ton. He's developed a ton…It was hard to be in the pocket last year. He took a lot of shots and he got hurt," Cristobal said. "I think a lot of guys would have just packed it in and maybe just given up or moved on. He was the opposite. He wants to see Miami be great and his approach to the game is the right kind of approach.
"This offense is really tailored to his skill set. He's taken a tremendous step as a leader, very accurate in the passing game. He's done a really good job with protections, getting us into the right plays and [he's] still learning the system. He attacks it on a daily basis. It's awesome to have."