Levenson Lifts No. 23 Miami to Walk-Off Win over FIU
CORAL GABLES, Fla. — There was magic in the air. Mark Light Magic.
Despite being down to their final out, the Miami Hurricanes believed.
With the wave of his bat, junior Zach Levenson delivered the biggest swing of his collegiate career.
Levenson launched a walk-off three-run homer to lift the 23rd-ranked Hurricanes to a 6-5 victory over the FIU Panthers Tuesday evening at Alex Rodriguez Park at Mark Light Field.
"It was one of the greatest baseball moments I've ever been a part of," Levenson said. "I've never had a walk-off home run in my life. That was probably the coolest thing ever."
The Hurricanes' hero almost didn't even come up in the ninth.
FIU closer Cameron Knox tricked the first two Miami batters, promptly generating a strikeout and a flyout.
Sophomore Edgardo Villegas worked a walk on eight pitches and junior Yohandy Morales ripped a single into center to set the stage for Levenson.
"Going into that at-bat, there was only one thing on my mind," Levenson said. "I knew it was gone the second I hit it."
Levenson cast his bat in celebration, sparking the first-base dugout.
On the other side, FIU (13-13) left the field in a trance having led the Hurricanes (16-9) on three different occasions.
But Levenson's roommate, CJ Kayfus, predicted the future moments before.
"I called it," Kayfus said. "I don't know what's going on, but anytime [Jason Torres] is in the bathroom, Zach ends up hitting a clutch home run. Jason was standing next to me and I told him, 'Get in the bathroom.' Next thing I know, Zach hit a walk-off homer and I'm running to the bathroom to get Jason."
Miami's magic began earlier in the night.
Kayfus clobbered a game-tying two-run jack in the bottom of the seventh, making a then 3-1 deficit disappear.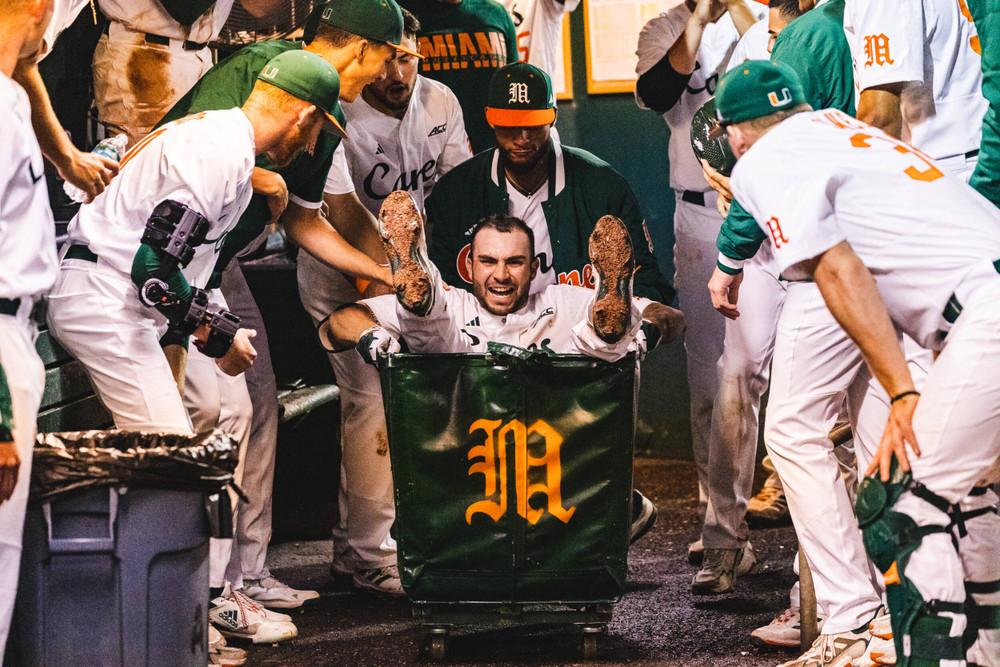 FIU's 1-0 lead in the third vanished after Levenson leveled the score with an RBI single.
"Thank god there's no clock in our sport," Miami head coach Gino DiMare said. "Our guys fought all the way to the end and found a way to get the win. It's unbelievable. Baseball is just a crazy, crazy game."
Tuesday's theatrical finish marked the Hurricanes' 11th comeback win, including their third walk-off of the season.
Fourth-year right-hander Andrew Walters (2-0) earned the victory in relief, helping the Hurricanes escape with their eight straight win over the crosstown Panthers.
Miami's next act is Friday against rival Florida State. First pitch is set for 7 p.m. at Mark Light Field.
To keep up with the University of Miami baseball team on social media, follow @CanesBaseball on Twitter, Instagram and Facebook.