No. 17 Miami Meets FAU in South Florida Showdown Wednesday
SOUTH FLORIDA SHOWDOWN
• Miami, which has won six of its last seven contests, concludes its four-game homestand Wednesday against FAU.
• The Hurricanes lead the all-time series over the Owls, 68-21, including a 63-19 advantage in Coral Gables.
• Since Gino DiMare was elevated to head coach ahead of the 2019 campaign, Miami is 32-10 (.762) in midweek matchups.
• Miami fifth-year senior right-handed pitcher Carlos Lequerica (2-0, 3.45 ERA) makes his first start as a Hurricane, opposing FAU junior righty C.J. Williams (0-1, 6.10 ERA).
• Lequerica, who paces Miami with 11 appearances out of the bullpen, earned 11 starts at FIU in 2022.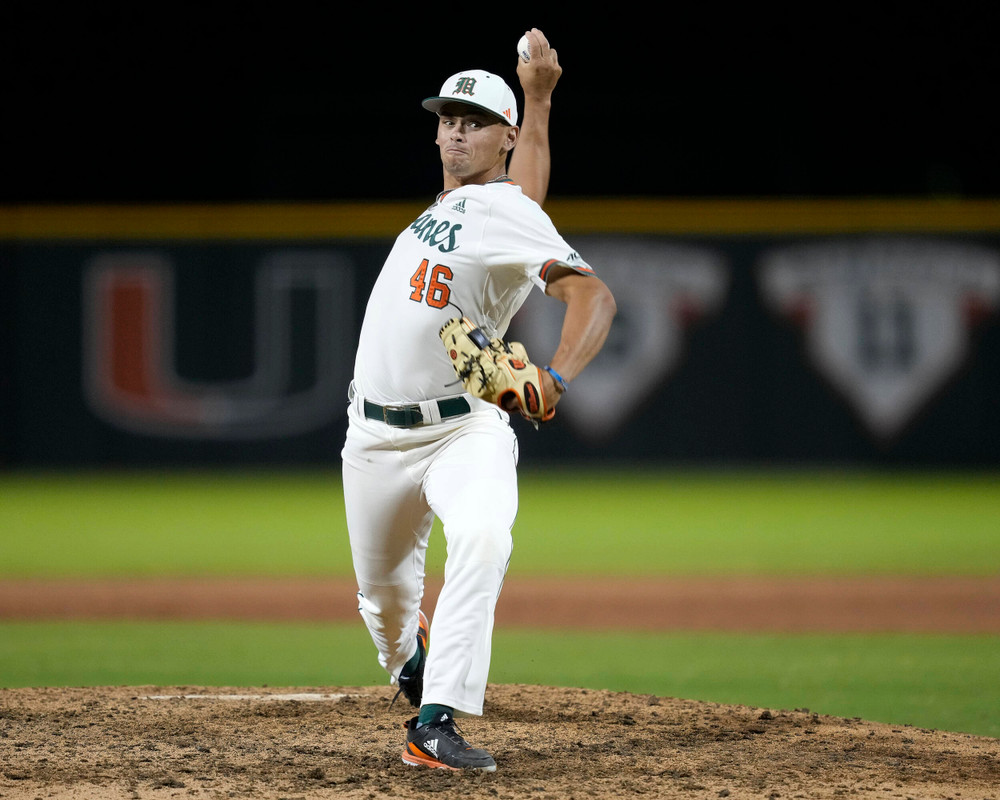 HURRICANES HAMMER HOKIES
• Miami flexed its muscles, sweeping then-No. 17 Virginia Tech this past weekend.
• After the Hurricanes walked-off the Hokies in the ninth Friday, 4-3, Miami mashed Saturday to secure the sweep.
• The Hurricanes thrashed Virginia Tech, 21-6, in the first game of the doubleheader, highlighted by seven home runs, the fourth most in a single game in program history.
• Miami mounted three more homers in the nightcap, spearheading the 12-9 comeback win.
• After trailing 6-0 heading into the bottom of the fourth, junior CJ Kayfus launched a pair of blasts before sophomore Edgardo Villegas socked a solo shot.
• The Hurricanes rallied for six runs in the eighth to punctuate the sweep.
• As a team, Miami slashed .404/.519/.788 and totaled 10 home runs, outscoring the Hokies, 37-18 across the three- game set.
• Kayfus led the charge offensively, batting .750 (10-for-13) with three homers and eight RBI. The first baseman notched his first career multi-homer performance Saturday evening, tallying a career-high five RBI.
MIAMI MASHERS
• As of March 21, the Hurricanes are tied for fourth nationally in home runs (45) and sit in 17th in slugging percentage (.555).
• Miami has circled the bases in 16 of its 20 games, totaling 13 multi-homer performances along the way.
• The Canes are 13-3 when launching at least one home run and 11-2 when mounting two-plus jacks.
• The Hurricanes are on pace for 123 homers during the regular season, which would rank as the second-most by a Miami team in a single season.
• Fifteen different Hurricanes have left the yard, with juniors Ian Farrow, CJ Kayfus, Yohandy Morales and Carlos Perez and freshman Blake Cyr all blasting a co-team best five round- trippers.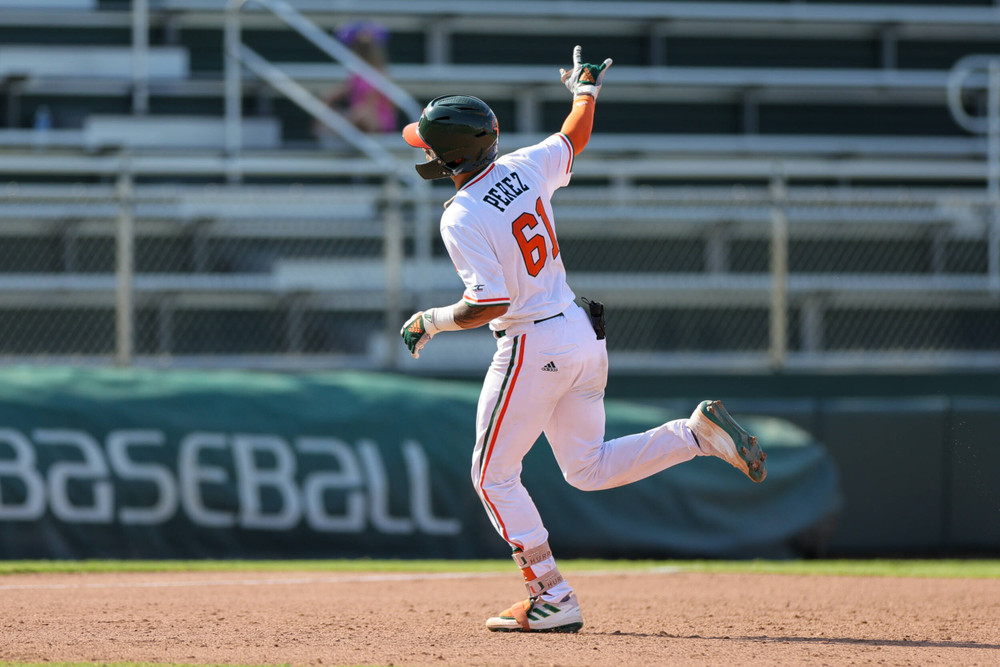 COLLIN JOSEPH KAYFUS
• Junior CJ Kayfus has built a reputation as one of the best hitters in the ACC.
• Following a sensational week against FIU and then-No. 17 Virginia Tech, Kayfus garnered ACC, Collegiate Baseball and Perfect Game/Rawlings Player of the Week honors.
• The first baseman batted .750 (12-for-16) with three home runs, eight RBI and a 2.137 OPS, highlighted by his first career multi-homer performance and a career-high five RBI.
• Kayfus paces Miami in six offensive categories, including total bases (50), slugging (.658) and OPS (1.120), while being tied for the club lead in games played (20), games started (20), hits (27), doubles (6), triples (1), home runs (5) and stolen bases (5).
• Dating back to 2021, Kayfus has reached base safely in 82 of the last 85 contests.
• The 2022 Hurricanes MVP led Miami with a .366 average, 87 hits, 38 walks, a .460 on-base percentage, 16 stolen bases and 27 multi-hit games.
• Within the conference, the All-ACC second team first baseman finished eighth in average, tied for eighth in hits, tied for ninth in stolen bases and 11th in on-base percentage.
• During his freshman campaign, Kayfus hit .298 with three homers and six RBI, playing in 40 games, including 10 starts.
• The Wellington, Fla., native was named to the 2021 All- Gainesville Team after hitting .308 across three contests.