Ziehl Earns ACC Pitcher of the Week Honors
CORAL GABLES, Fla. — Following a career outing against then-No. 19 NC State, Miami right-hander Gage Ziehl was named ACC Pitcher of the Week, the league office announced Monday afternoon.
Ziehl tossed a career-long eight innings, limiting one of the most potent offenses in the nation to only one unearned run. The sophomore starter held the Wolfpack, which entered the series eighth nationally with a .338 average, to just four hits.
"We all have a lot of confidence in Gage and that's why he's one of our guys," Miami head coach Gino DiMare said after the game Saturday. "He's a high-character guy, who is very mentally-tough with a lot of moxie. It was a big performance and we needed that."
The Penfield, N.Y., native recorded eight-plus strikeouts for the third straight appearance, while only issuing one free pass.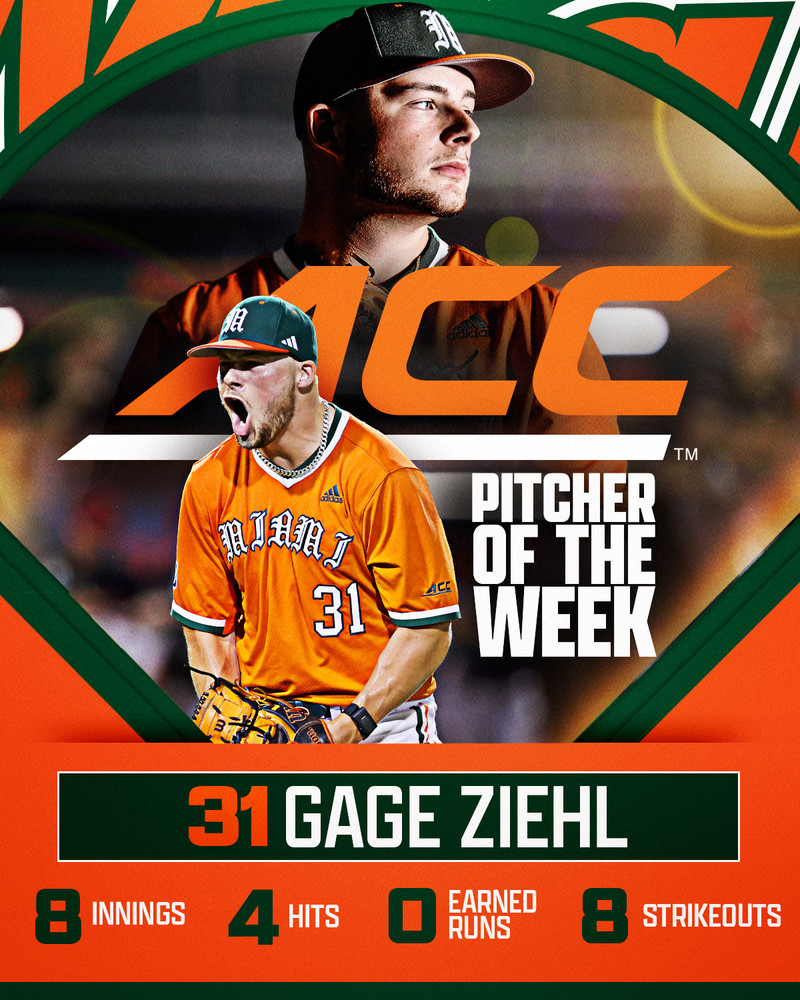 Ziehl's eight-inning masterpiece marked the longest start by a Hurricane this season, as the co-captain helped Miami clinch a series victory on the opening weekend of ACC play with an 8-1 win.
"I'm just going out there trying to attack hitters," Ziehl said. "I had to fight through adversity in my first few starts. The beginning of the season didn't go the way we wanted it to, but the season is long and we've got a lot of games left."
The 6-foot, 216-pound hurler is the first Hurricane to garner an ACC weekly honor in 2023.
Miami (10-6, 2-1 ACC) meets crosstown foe FIU Wednesday before a three-game weekend set against No. 17 Virginia Tech at Alex Rodriguez Park at Mark Light Field.
To keep up with the University of Miami baseball team on social media, follow @CanesBaseball on Twitter, Instagram and Facebook.