Dawson Ready to Make an Impact
CORAL GABLES, Fla. – For Shannon Dawson, the last few weeks have felt a bit like a blur.
He's had to get to know his new colleagues on Miami's coaching staff. Meet the players he'll be coaching and start to learn their strengths. And then there's the process of starting to install an offense before the start of spring drills, all while getting ready to move his family from Houston to South Florida.
But no matter how busy the days have been leading up to the start of his first spring practice as Miami's new offensive coordinator, Dawson has made it a point to soak up every moment.
"You walk through these halls and you see Gino Torretta and [Steve] Walsh and all those guys that have played quarterback through the years [on the walls]," Dawson said. "I grew up and Miami was the top team every year. You either loved them or hated them. That's just the way it is. I remember watching just explosive offenses, guys running free, quarterbacks doing their deal, and just a lot of fun.
"Obviously, at that point in my life, I wouldn't have dreamed of sitting here and being here, but sometimes dreams come true, right? Now it's my opportunity and our opportunity offensively to get that brand of football back. That's the goal."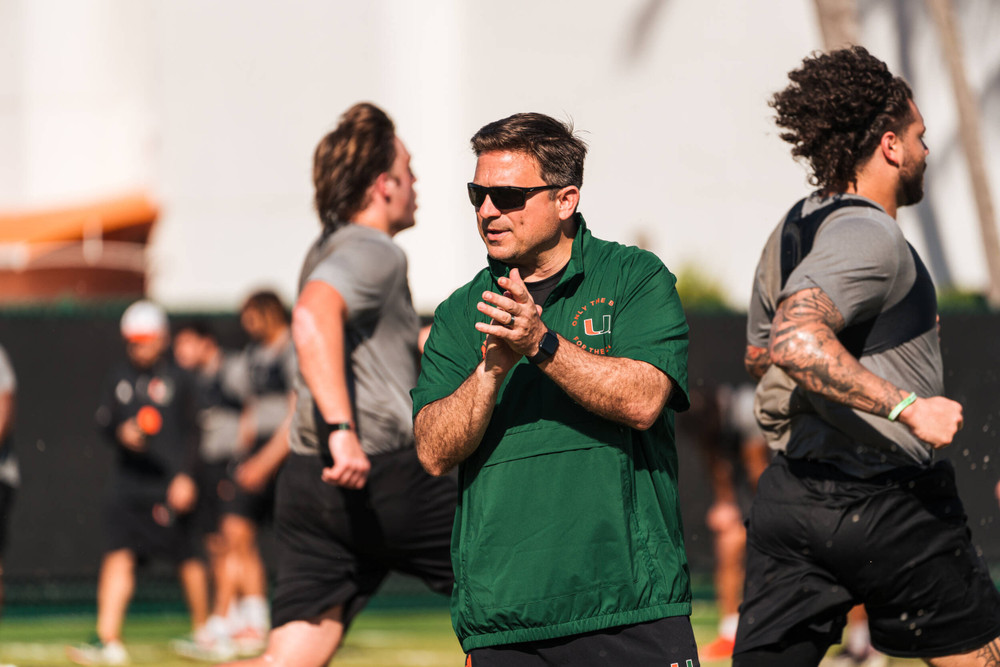 Dawson, a 21-year coaching veteran, brings with him an offensive resume that will, no doubt, capture not just the attention of the players on Miami's roster, but college football fans in South Florida and beyond.
In Dawson's three seasons as Houston's quarterbacks coach, Cougars quarterbacks combined to throw 87 touchdown passes and 10,008 yards, numbers that ranked among the top 25 nationally.
Last season, under Dawson's guidance, Houston quarterback Clayton Tune set a new American Athletic Conference single-season record with 40 touchdown passes. A first-team All-Conference selection, Tune ranked third nationally in passing touchdowns, third in total offense (355.2 yards), and fifth in passing yards per game (313.4).
As a whole, the Cougars ranked eighth nationally in passing offense (314.0 yards per game) and 15th nationally in scoring offense (35.6 points per game).
Before taking over as offensive coordinator and quarterbacks coach at Houston, Dawson was the offensive coordinator at Southern Miss, where he mentored Minnesota Vikings quarterback Nick Mullens and oversaw a school-record offensive showing in a game against Rice where the Golden Eagles totaled 702 yards.
His goal now is to help the Hurricanes – who averaged 367.1 yards and 23.6 points per game last season – grow offensively.
And he believes that with the skill players on Miami's roster – and the talent the Hurricanes hope to bring to campus in the coming years – that Miami can excel in its new offensive system.
"When you come into a situation, you sell yourself first and you sell the system that you run. But ultimately, you have to fit that system around the players that are here and who they are," Dawson said. "We have good enough athletes here to do what I want to do…
"But ultimately, the philosophy of offense doesn't change based on who's out there. We've evolved over the past 10 or so years. My background is air raid offense. That's who I learned from…But as times change, as defenses change, as pass rushes changes, you evolve. You better or you're going to be stuck in the past. We've evolved at running the football more efficiently, which in turn, creates bigger plays because now defenses are so coverage-oriented that you have to dink-and-dunk if you're a true throw-it-every-time offense. The only way you can get guys to play down where you can take shots is to run the ball effectively. I think it's really meshed well together over the years and what I've learned is that I might not throw it as many times, but I can throw it for more yards if you run the ball more effectively and that's the goal. That's the goal here."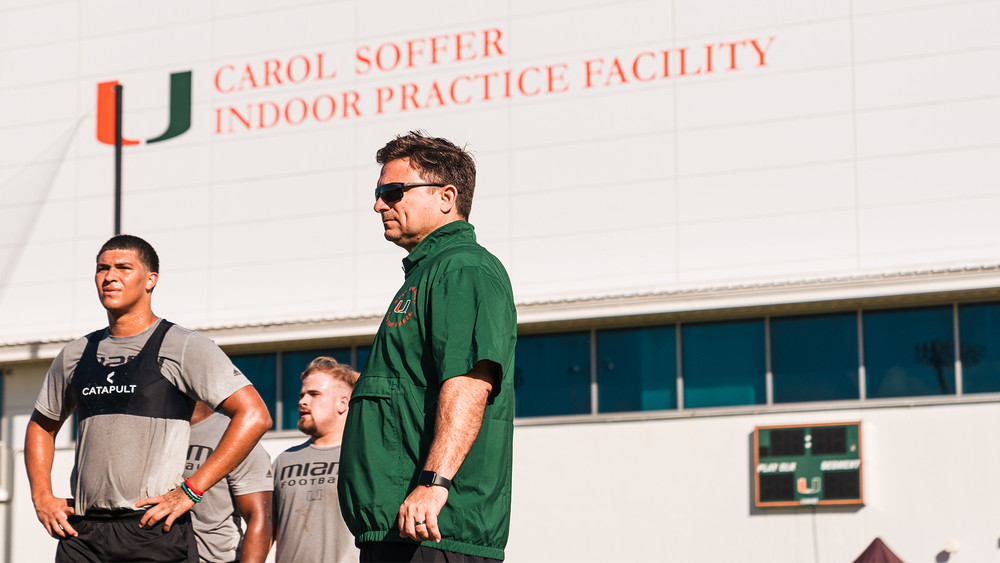 And while Dawson is still getting to know the skill sets of the players he'll be working with, he's already confident quarterback Tyler Van Dyke – the 2021 ACC Rookie of the Year – can shine in the offense the Hurricanes will be running this fall.
Van Dyke, who was hampered by injuries last season and missed three games, still finished the year completing 63 percent of his passes and throwing for 1,835 yards and 10 touchdowns.
"I want to make this thing very quarterback friendly where his natural ability takes over. I'm trying to do my best to take the thinking out of it for him, where he just gets out there and reacts," Dawson said of Van Dyke. "He has a very, very high football IQ. You can tell within the first week of being here that the kid understands football. The game is fairly slow for him and he has all the tools. He is extremely talented. So, I'm very, very eager to see him in spring practice with other people out there. It's going to be fun to watch."
For his part, Van Dyke said he's eager to work with Dawson – a former quarterback and wide receiver himself – to find the best ways to showcase Miami's playmakers.
"Coach Dawson's a wonderful person and a great coach. I'm excited to start rolling with him," Van Dyke told the ACC Network this week. "We're going to be a well-balanced offense, great with the run game, great with the pass game, be explosive. It's going to be a lot of fun. There's a lot of freedom with the system, and just letting his players play. I'm excited for that."
Van Dyke and the Hurricanes will have their first chance to try Dawson's system out as they navigate 15 spring practices in the coming weeks.
It will be a critical time for a team looking to learn and improve after a tough 2022 season.
But Dawson is determined to make sure the Hurricanes take advantage of every moment of every practice over the course of the next few weeks.
From there, he knows the work will continue. And he's ready to embrace all that comes with that.
"We have a good chunk of the offense installed, but we're going to go at a snail's pace," Dawson said. "Day One is going to be Day One and if Day One doesn't look like it should, then Day Two might be Day One. That's going to be the plan…
"Honestly, I just feel blessed to be here. This opportunity from Coach [Mario] Cristobal is one I don't take lightly. We're going to do everything in our power to get this place to where it needs to be."