Hedley, Kinchens Receive ACC Weekly Honors
CORAL GABLES, Fla. — Lou Hedley and Kamren Kinchens of the University of Miami football team both garnered ACC Player of the Week recognition, as announced Tuesday afternoon by the conference office.
Hedley was tabbed as the ACC Co-Specialist of the Week, earning weekly honors for the second time this year, while Kinchens received ACC Defensive Back of the Week plaudits.
A sixth-year redshirt senior from Australia, Hedley punted five times in Miami's 35-14 road win Saturday at Georgia Tech, averaging 46.0 yards per boot. He logged a long of 51 yards and had just one touchback on the day.
Three of Hedley's five attempts pinned the Yellow Jackets inside their own 10-yard-line, including at the 5-yard-line once and at the 1-yard-line on another deep boot. Hedley and the Hurricanes' punt unit limited Georgia Tech to zero return yards.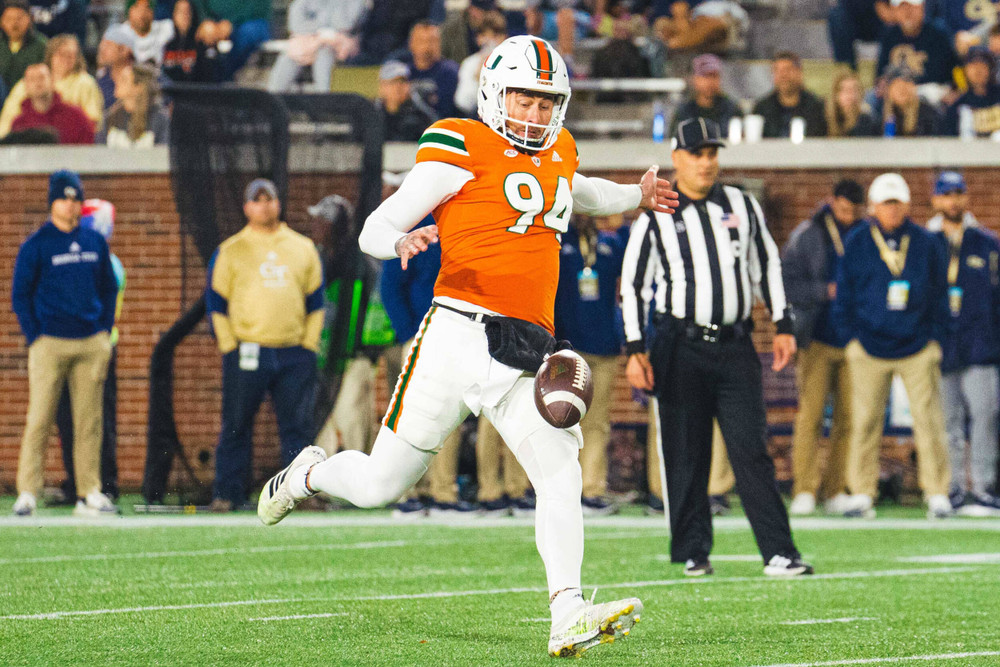 Through 10 games, Hedley has Miami fifth in the nation in net punting at 42.60 yards per attempt. The 6-foot-4, 220-pounder is averaging 44.3 yards per punt.
Kinchens, a sophomore from Miami, tallied a team-high eight tackles and three interceptions, which tied a program record. The safety became the first Hurricane with a trio of picks in a game since Kenny Phillips in 2006 and the 12th all-time in program history.
The 5-foot-11, 202-pound ballhawk became the fourth player in the nation to have at least three interceptions in a contest this year. Kinchens' 99-yard pick-six is also the second-longest in school history.
His six interceptions pace the country and are the most by a player in the orange and green in seven seasons. Since 2003, Kinchens trails only Sean Taylor (10) on Miami's single-season interception list.
Eight Hurricanes have now totaled 10 ACC Player of the Week distinctions this season. Hedley and Kinchens follow Andres Borregales (Specialist) and Leonard Taylor III (Defensive Lineman) on Oct. 31, Colbie Young (Receiver) on Oct. 24, Hedley (Specialist) and Akheem Mesidor (Defensive Lineman) on Oct. 17, Tyler Van Dyke (Quarterback) on Oct. 10, Borregales (Specialist) on Sept. 12 and Jalen Rivers (Offensive Lineman) on Sept. 6.