James Named Semifinalist for Wuerffel Trophy
ATLANTA – Veteran longsnapper Clay James was among those 12 student-athletes selected as semifinalists for the 2022 Wuerffel Trophy, it was announced Tuesday.
The Wuerffel Trophy, known as "College Football's Premier Award for Community Service," is presented each February in Fort Walton Beach, Fla. Named after Danny Wuerffel, 1996 Heisman Trophy-winning quarterback from the University of Florida, the Wuerffel Trophy exists to honor college football players who serve others, celebrate their positive impact on society, and inspire greater service in the world.
Among the many initiatives in which he has partaken, James helped start a fundraiser to help those with food insecurity in the Miami area, with funds going directly to the local Grove Outreach Food Bank.
James, who serves on the University of Miami Student-Athlete Advisory Council (SAAC) board, is the group's Community Service Chair for football. He has also spent time volunteering with several organizations, including Best Buddies, Operation Christmas Child and the Lotus House, has visited elementary schools and after-care programs and has taken part in various pen pal programs for young people in the Miami area.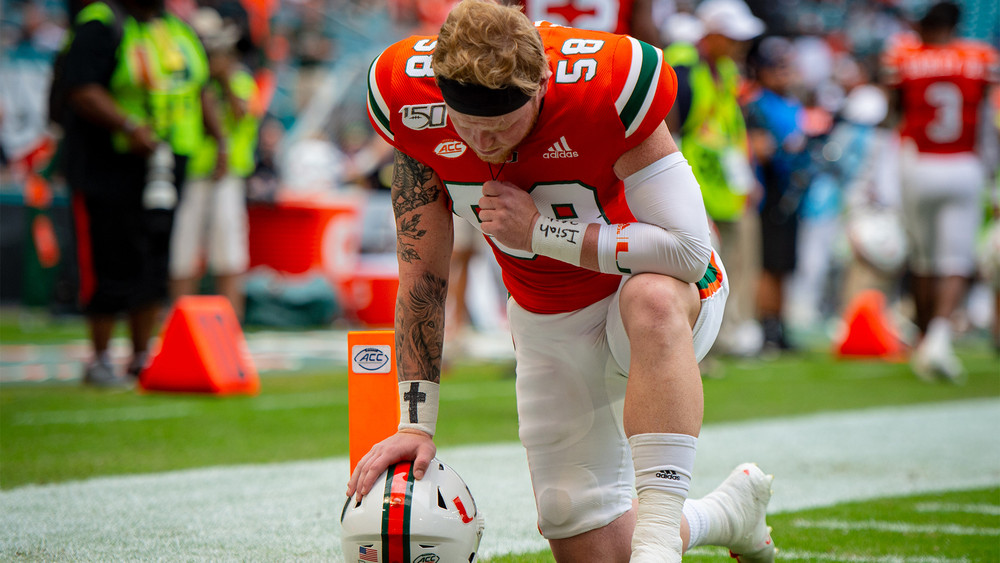 This past year, James was also a student ambassador for the Miami's 'It's On Us' campaign, an outreach program that seeks to stop sexual violence on college campuses across the country.
"These twelve young men separated themselves from a remarkable group of nominees because of their service to others and their wide-ranging impact on those around them," said Wuerffel. "They are leaders not only on their teams, but in their university communities and hometowns as well. Congratulations to the 2022 Wuerffel Trophy semifinalists."
The 2022 Wuerffel Trophy semifinalists are listed alphabetically by university:
Matthew Cedric, Cal, Senior, Offensive Line
Dillan Gibbons, Florida State, Senior, Offensive Line
Kearis Jackson, Georgia, Senior, Wide Receiver/Special Teams
Clay James, Miami, Junior, Long Snapper
Tanner Morgan, Minnesota, Senior, Quarterback
Austin Williams, Mississippi State, Senior, Wide Receiver
Barrett Banister, Missouri, Senior, Wide Receiver
Sean Clifford, Penn State, Senior, Quarterback
Deslin Alexandre, Pittsburgh, Senior, Defensive Line
Aidan O'Connell, Purdue, Senior, Quarterback
Patrick Fields, Stanford, Senior, Defensive Back
Tony Bradford Jr., Texas Tech, Senior, Defensive Line
The formal announcement of the 2022 recipient is scheduled to be made December 8 and the presentation of the 2022 Wuerffel Trophy will occur on February 24, 2023, at the 54th All Sports Association Awards Banquet in Fort Walton Beach.
The Wuerffel Trophy is a member of the National College Football Awards Association (NCFAA), which encompasses the most prestigious awards in college football. Founded in 1997, the NCFAA and its 25 awards now boast more than 800 recipients, dating back to 1935. For more information on the NCFAA, visit NCFAA.org.
The Wuerffel Trophy is supported by its corporate partners Dart Container Corporation/Solo Cup and Herff Jones.