Green Sweeps Orange in Annual World Series
CORAL GABLES, Fla. — Powered by an offensive outburst, the Green Team took both games of the annual Fall Classic at Alex Rodriguez Park at Mark Light Field.
After trailing the Orange squad by as many as five runs in the opener, Green rallied to score nine times over the final two innings to win, 12-10.
On Saturday, the Green Team secured the series by mashing five home runs to cruise to a 16-9 victory.
"We swung the bat these two days about as good as I've seen in a little while," Miami head coach Gino DiMare said. "Balls were hit with a lot of authority. The wind was blowing in and we were hitting quite a few home runs, doubles and triples, so that's good on the offensive side. Obviously, we want to pitch better, but there were signs of good things. Overall, the offense had the upper hand."
Behind a three-run first and four-run fourth, Orange jumped out to a commanding 7-2 advantage through 3 ½ innings.
But Green didn't go down quietly.
Trailing by four heading into the bottom of the seventh, junior outfielder Jacoby Long reached on a bunt single, which set the table for the middle of the lineup.
Sophomore outfielder Edgardo Villegas and junior infielder Yohandy Morales ripped back-to-back doubles to cut the deficit in half.
Two batters later, sophomore outfielder Lorenzo Carrier roped the third two-bagger of the frame to pull Green within one.
With two down in the inning, Orange put on a pickoff play, attempting to get out of the jam, but the throw went into centerfield and Carrier darted home to tie the game.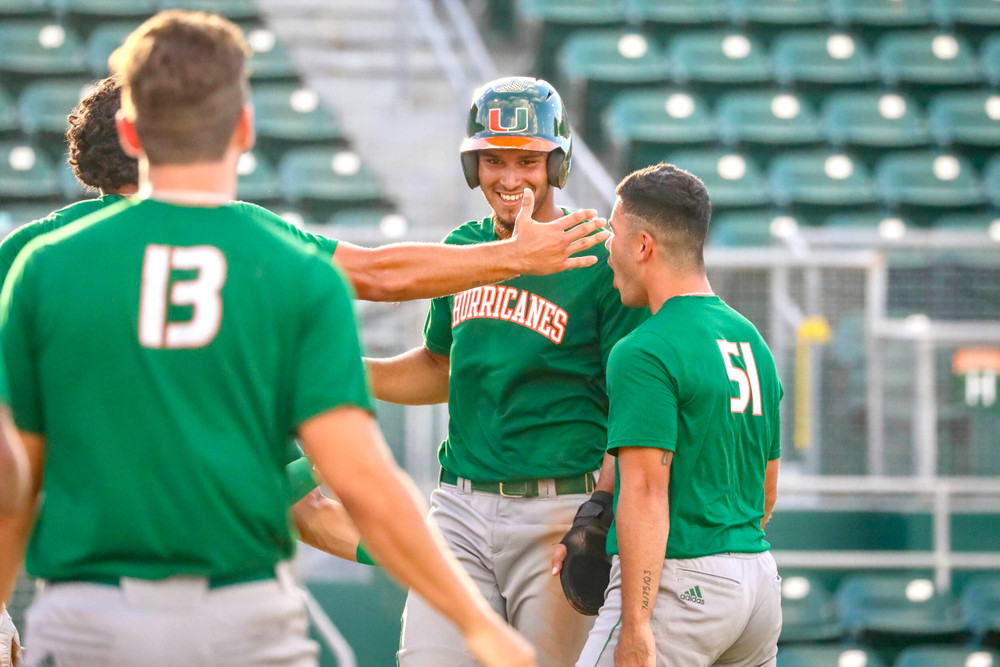 After relinquishing the lead, Orange punched back in the eighth behind junior catcher Carlos Perez's three-run jack, but Green responded with five in the eighth before freshman left-hander Chris Scinta put on the finishing touches.
Saturday, the Green Team picked up where it left off the day before.
Green raced out to an early 5-0 and never looked back.
Junior shortstop Dominic Pitelli sparked the offensive explosion with a solo shot before Morales and junior outfielder Ian Farrow both blasted a pair of homers.
The Orange team received a late lift from junior outfielder Zach Levenson, who legged out a triple and crushed a dinger, but Green's bats were too much.
Farrow and Morales combined for five round-trippers and tallied 14 RBI across the two games, leading the 28-run explosion for Green.
The Orange Team were led by Perez, who went 4-for-6, highlighted by his three-run rocket.
Miami concludes fall ball with Scout Day on Saturday, Nov. 5.
"We need to finish strong," DiMare said. "The fall has been very, very good. I think it's been very positive, a lot of energy, a lot of effort and a lot of development. It never stops and it can't stop. I want to finish up with what we've done over the last four weeks."
To keep up with the University of Miami baseball team on social media, follow @CanesBaseball on Twitter, Instagram and Facebook.