Miami Hosts No. 8 Virginia for Senior Day
Date: Thursday, Oct. 27, 2022
Time: 6 p.m. EST
Location: Coral Gables, Fla.
Stadium: Cobb Stadium
The Matchup
The Hurricanes conclude their regular season slate as Miami welcomes eighth-ranked Virginia to Cobb Stadium Thursday. Kickoff is set for 6 p.m. and will air on ACC Network Extra.
Miami downed No. 2 Virginia, 2-1, on Sept. 22, 2016 in Coral Gables. The Cavaliers have been ranked in 16 of the previous 17 meetings.
Senior Send-0ff
Prior to Thursday's tilt, the Hurricanes will honor María Jakobsdóttir, Jackie Koerwitz, Chloe O'Neill, Taylor Shell and Emma Tucker.
The quintet has combined to play in 277 career matches, including 211 starts, totaling 37 goals and 28 assists along the way.
Throughout their time in the orange and green, the senior class has helped the Hurricanes top then-No. 15 Clemson, 3-2, in double overtime, secure the first victory over rival Florida in a decade and pick up the first win at Boston College in program history.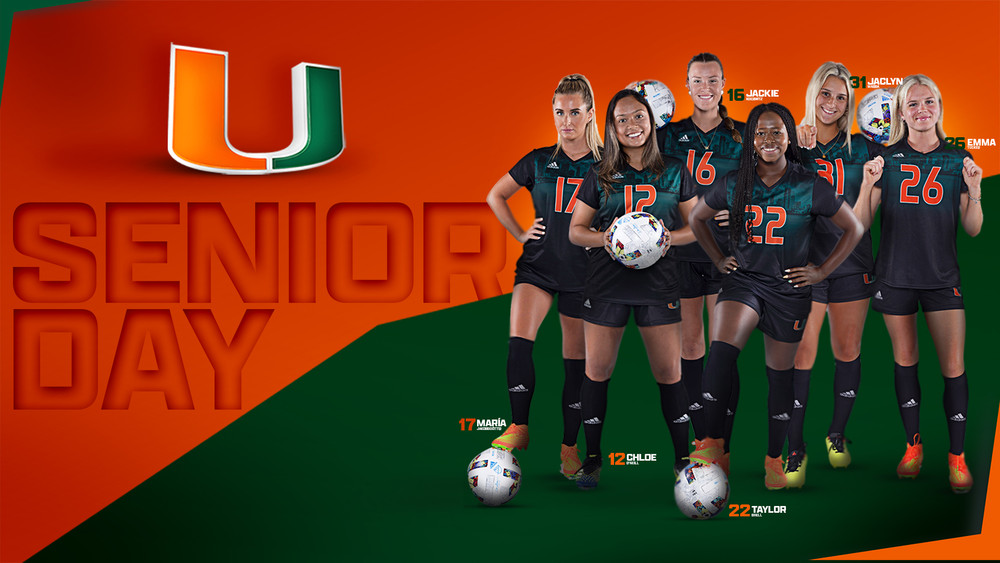 Tracking The Hurricanes
With a 1-0 win over Boston College, Miami secured its fifth home victory and fifth clean sheet of 2022, the most by the Canes in six years.
Prior to the Hurricanes' offensive barrage at NC State, Miami last found the back of the net three times in the first 20 minutes of a match versus Morehead State on Aug. 24, 2012.
With their first victory versus the Hokies in six seasons, the Hurricanes collected their first win over a top-25 team since Oct. 24, 2019, when Miami bested then-No. 15 Clemson, 3-2, in double overtime. Under head coach Sarah Barnes, the Hurricanes have knocked off three ranked foes.
For the first time in nine years, Miami remained unbeaten through its first five matches. The Hurricanes began their campaign with four straight shutouts for the first time in program history.
She's A Keeper
Melissa Dagenais started her senior campaign without conceding a goal across the first 419 minutes. Dagenais paces the ACC in saves per game (4.8) and ranks second in total saves (72). The 6-foot-1 netminder made a season-best 11 saves against Mississippi State on Aug. 18.
Scouting The Cavaliers
Virginia remained No. 8 in the coaches poll heading into the final week of the regular season.
The Cavaliers are top three in the ACC in scoring offense (2.53 gpg), goals (43) and points (122). Defensively, Virginia is second in the conference and rank eighth nationally in shutout percentage, posting 11 clean sheets.