"You Just Have to Keep Working"
CORAL GABLES, Fla. – After enduring a three-game losing streak, there's no doubt the Hurricanes walked off the field at Lane Stadium last week plenty happy they'd beaten Virginia Tech.
But, many of them acknowledged, they know they had the potential to play better.
Miami notched a 20-14 win over the Hokies, but after holding Virginia Tech scoreless for three quarters, the Hurricanes gave up two fourth-quarter touchdowns. And after being one of the least penalized teams in the ACC, they committed a season-high 17 penalties for 159 yards.
The victory was sweet – particularly since it came on the road. But the Hurricanes know they can't afford mistakes like those moving forward, not with six conference games left to play.
"I hold us to a high standard. We could have finished that [game] way better than we did," said linebacker Corey Flagg, who leads the Hurricanes with 35 tackles this season. "We held them to zero points all the way up to the fourth quarter. That's just not how we finish things. It's not how we practice…That's not the standard. A win is always good, don't get me wrong. But we know that's not how we finish the game."
He was equally as blunt when it came to the penalty situation, as were many of his teammates.
Improving on both of those fronts and finding more consistency has been a theme for the Hurricanes (3-3, 1-1) since returning from Blacksburg.
They'll have their next chance to measure their progress when they host another Coastal Division rival – Duke – at Hard Rock Stadium on Saturday afternoon.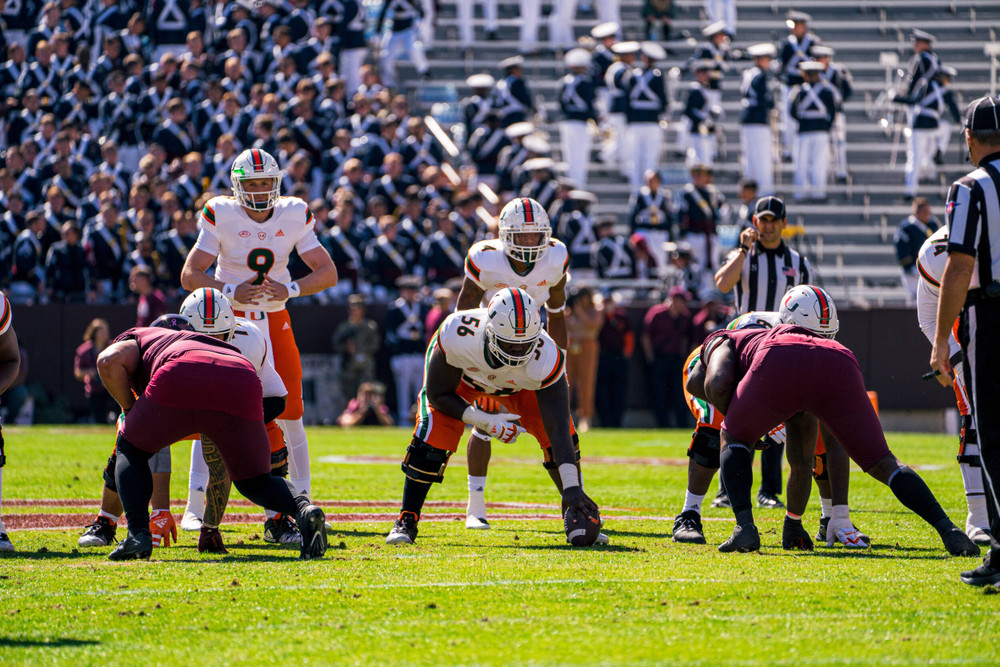 Under first-year head coach Mike Elko, the Blue Devils (4-3, 1-2) have already surpassed their win total from a year ago. And though the Hurricanes have outscored Duke 95-10 in the teams' previous two meetings, Miami's players are expecting a tough challenge Saturday.
"They're up there in all the stats in the ACC. Defense is really good, very sound in what they do," said Hurricanes quarterback Tyler Van Dyke, who has thrown for more than 350 yards in each of Miami's last two games. "It's not the same old Duke. This is a very good team. [They're] 4-3, should have beat North Carolina last week. We have to take them seriously. They're a good team and we're preparing very well for them."
Added Miami head coach Mario Cristobal, "A team that's done a really good job to start the season. Tops in the conference in several categories, real critical ones, particularly the run game and keeping their quarterback clean. Least sacks allowed, as well as being one of the teams that holds their opponents to fewest points defensively. [We're] looking forward to a great opportunity."
Entering Saturday's game, the Blue Devils have recovered 10 fumbles, which leads the nation. And after finishing last season last in the ACC in turnover margin, the Blue Devils are third in the ACC and tied for 11th in the nation in that category with an average of +1.14 turnovers per game.
Offensively, the Blue Devils are led by Riley Leonard, one of the top quarterbacks in the ACC.
Leonard, a sophomore, has completed 66 percent of his passes and thrown for 1,557 yards with nine touchdowns. That ranks third in the conference in pass completion percentage.
Leonard is also Duke's leading rusher, totaling 420 yards and five touchdowns. That ranks eighth in the ACC.
The mobile quarterback will pose a challenge for the Miami defense, but it's one the Hurricanes say they're prepared for – especially given how they're tested weekly in practice by young quarterback Jacurri Brown, who last week at Virginia Tech, was an invaluable contributor in multiple short-yardage situations.
"He's a great quarterback. A great player. We've been studying him. He keeps his eyes downfield," Flagg said of Leonard. "But, we go against Jacurri Brown every day. I was just getting reps in with him in the open space. It's all about preparation, preparing for the moment, for the tackle, for the plays and we do a great job preparing. Our coaches get us prepared. I just have to make the play when the play is there."
Said Cristobal, "Their quarterback is an exceptional player. I really feel that strongly about him. He can make the tight-window throws. He can take off with the football when it's not there. He can extend plays. He's very smart. He doesn't make mistakes. It's a very balanced offense."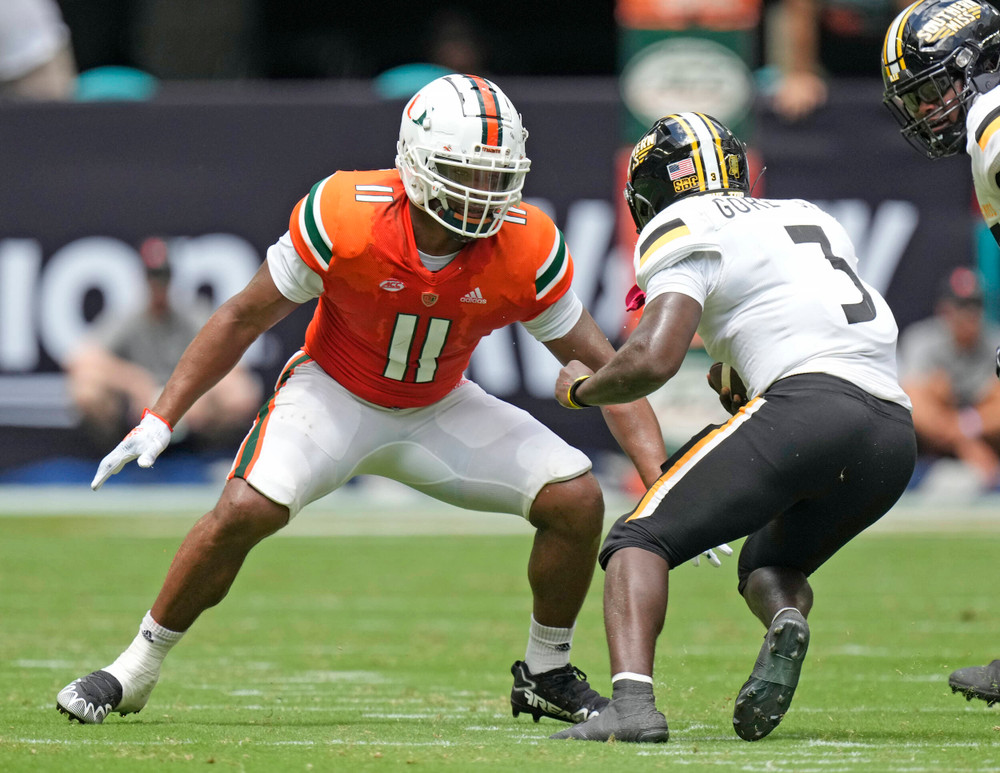 Miami's offense will counter with Van Dyke, who has bounced back after a tough outing against Middle Tennessee State last month.
In the Hurricanes' conference opener against North Carolina, the third-year sophomore threw for a career-high 496 yards and three touchdowns, an effort that earned him ACC Quarterback of the Week recognition.
He followed that up at Virginia Tech with a 351-yard, two-touchdown performance that helped give Miami its first road win and first conference win of the season.
One of Van Dyke's primary targets during early conference play? Receiver Colbie Young, a transfer from Lackawanna College who joined the Hurricanes not long before the start of preseason camp and has now stepped up in a big way as Miami's receiving room has dealt with multiple injuries.
"It feels great. I'm really grateful that the coaches are trusting me. They feel like I got to a point where I was calm enough about the playbook," Young said after his nine-catch, 110-yard performance at Virginia Tech. "I know there's a lot of got to build on and I can help the team build on. This feels amazing, but there's another step we can take."
For the Hurricanes, that next step comes Saturday.
After snapping the losing streak, they're ready to start a new kind of streak. A win against Duke will get that going.
To get that win, though, the Hurricanes know they have to build on what they did last week and continue finding ways to improve.
"We can't forget where we came from. We just came off three losses. We can't get too comfortable," Young said. "We have to realize we want to be somewhere and we've got to win. We have to keep that same energy."
Said Van Dyke, "Once you get that one win, you know the momentum's going to carry, especially with the guys' energy in the building…It's a new week, a new team we play. A good team. So we just have to keep grinding and not hang on the win. We can't hang on losses, so we can't hang on the win. You just have to keep working."