Young Shines in Win over Hokies
BLACKSBURG, Va. – He arrived in Miami just before the start of camp, unsure what to expect.
But Colbie Young dove into workouts. Got to know his new teammates and coaches. And began to learn the Hurricanes playbook, hoping sooner rather than later, he'd be able to contribute.
Three months later, his play helped give the Hurricanes their first ACC win of the season.
The receiver – a transfer from Lackawanna College – put on a dazzling display in the Hurricanes' hard-fought 20-14 victory over Virginia Tech on Saturday afternoon at Lane Stadium.
He made a pair of spectacular one-handed grabs. Scored a touchdown. And had a game-high nine catches for a game-high 110 yards.
Needless to say, his head coach and quarterback had nothing but high praise for the Binghamton, New York native.
"What can you say about the guy? The guy got dropped off here. Might as well have just flown by on a helicopter, jumped out right before camp and start training, start getting ready to play football," Hurricanes head coach Mario Cristobal said. "He did that. He just goes. That guy just goes. You know he's on three starting units on special teams as well?  And doesn't ask for a breather. He just wants more and more and more. And he's going to get more. He's a very valuable player in this organization."
Added quarterback Tyler Van Dyke, "I've seen it in him the whole time he's been here. He's still a young guy and he came in the middle of summer, so he had to get used to learning the offense a little bit. He's just a great player, stepping up these last two weeks. We're seeing what he can do. He amazes me. He's a great player. He's always going to do his job. A great receiver and an even better person."
Young, who had three catches for 43 yards in Miami's ACC opener last week against North Carolina, didn't just help the Hurricanes move the ball against the Hokies.
His plays were consistent difference-makers.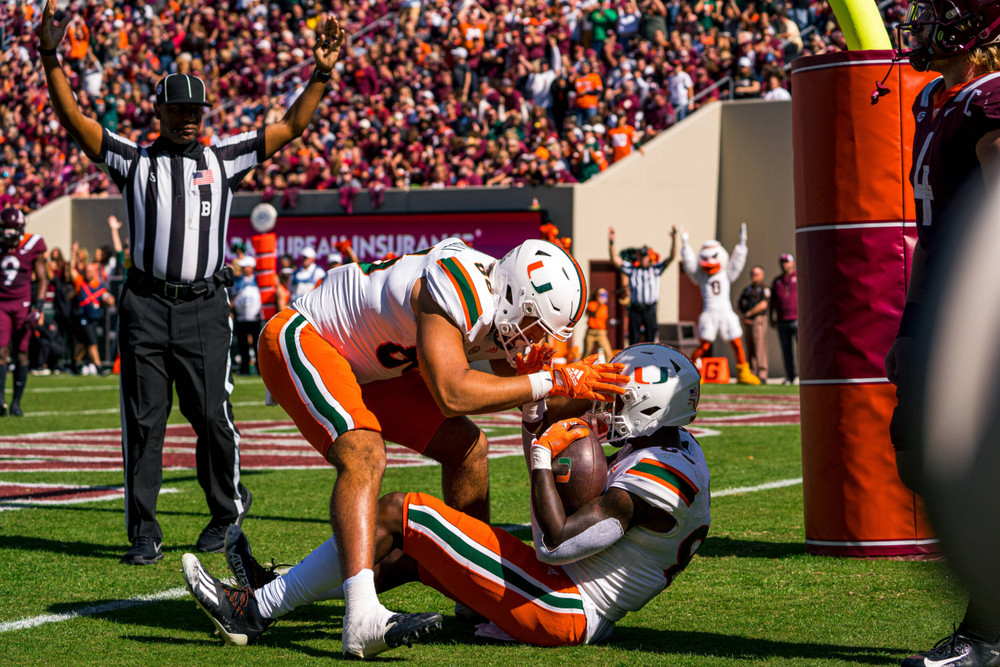 His first catch of the day, a 37-yard grab on Miami's first drive, set up a touchdown one play later. And his 17-yard scoring catch in the third quarter staked the Hurricanes to a 17-0 lead, a lead that ultimately proved too much for Virginia Tech to overcome despite a fourth-quarter rally from the Hokies.
That he was able to have an impact in such a key win for the Hurricanes was a source of pride for Young, who had a handful of offers from FCS programs after starring as a multi-sport athlete at Binghamton High School.
With the COVID-19 pandemic impacting every facet of life in 2020, though, Young opted to take a gap year before heading to Lackawanna.
There, he averaged 19 yards per catch and finished with 24 receptions for 472 yards with nine touchdowns. Programs like Florida State, Tennessee, Penn State, Pittsburgh and yes, Virginia Tech, expressed interest.
But Young was intrigued by the opportunity to join Cristobal and the Hurricanes in Coral Gables.
It's a decision that on Saturday, left him beaming.
"He demands a lot of us, but not just the players. He wants perfection out of the coaches and the players," Young said of Cristobal. "He feels like if the coaches are performing the way they should, the players should be able to rally around behind them…He's really all around the entire team. It's things like that. A little Tweet. A little text. He'll be like 'Hey, how are you doing?' 'Good morning, Colbie, have a great day.' It's everything outside of football, too. He just brings it all in to make it feel so good."
Young noted it isn't just Cristobal and offensive coordinator Josh Gattis that have made him feel welcome and helped him adapt to life at Miami.
His new teammates, he said, have rallied around him, too.
"When I tell you they just hammer energy around in that locker room, they don't let you feel like you're down," Young said. "If you're having a bad day, they're going to come and help you out. So really, absorbing that energy is what really helped me and hopefully, I'm giving it off to a couple other players, too, to help them build up."
Time after time on Saturday, it was Young giving the Hurricanes energy.
Now, he's determined to build on his success in Miami's first two conference games.
He – and the rest of the Hurricanes – know there's still plenty of football to play and conference matchups against the likes of Duke, Virginia, Florida State, Georgia Tech, Clemson and Pittsburgh all await.
To be able to contribute in those games, when he knows the Hurricanes need him most, is exactly why Young said he wanted to come to Miami.
"It feels great. I'm really grateful that the coaches are trusting me. They feel like I got to a point where I was calm enough about the playbook," Young said. "I know there's a lot I've got to build on and I can help the team build on. So, this feels amazing. But there's another step we can take. I haven't had the glitz and glamor that other players have had, so you've got to do the dirty work to get out. Anything I can do, I'll do."