Takeaways from Miami's Win over Virginia Tech
BLACKSBURG, Va. – As the Hurricanes walked off the field at Lane Stadium on Saturday, a few stopped to exchange high-fives with the Miami fans who made the trip to Virginia.
Some stopped for pictures, while others hugged their coaches. A few smiled broadly. And when they encountered a young Virginia Tech fan watching the scene unfold from a wheelchair in the tunnel, a few – including Hurricanes head coach Mario Cristobal – stopped to say hello and offer words of encouragement.
It was a postgame scene much different than the ones that have played out of late.
For many reasons, Miami's 20-14 win over Virginia Tech was significant.
It gave the Hurricanes their first ACC win of the year. Gave them their first road win of the year. And snapped a three-game losing streak that's had players and coaches frustrated for weeks.
"For us, it's simple. You're at a place because either things went really well and someone moved on or you're at a place because things didn't go so well and there's change. When there's change, there's pains that come with it," Cristobal said. "No one likes to lose a game or two. But you also recognize, 'What are the steps that have to be taken? Where do we have to get better?' There's progress in a lot of places and some we have to keep developing talent. Some is talent acquisition.
"But this whole thing today, honestly, it's about the players in that locker room. Everything has to be about the players, the way they prepared, the way they overcame injuries…and to be on the road and still find a way to win, those guys in there deserve all the credit. They deserve all the credit. They deserve praise for it."
Here, before the Hurricanes (3-3, 1-1) turn their focus to preparing for this week's Coastal Division showdown with Duke, Cristobal and the Hurricanes reflect on the win at Virginia Tech…
1. The Canes came out with a purpose
In each of their three losses, Miami's opponents scored first, putting the Hurricanes in a hole from the start.
That didn't happen against Virginia Tech.
The Hurricanes defense forced a fumble on the Hokies' first possession of the game. On Miami's ensuing drive, the Hurricanes went down the field and scored to cap a four-play, 65-yard drive with a 5-yard touchdown pass from Tyler Van Dyke to Frank Ladson Jr.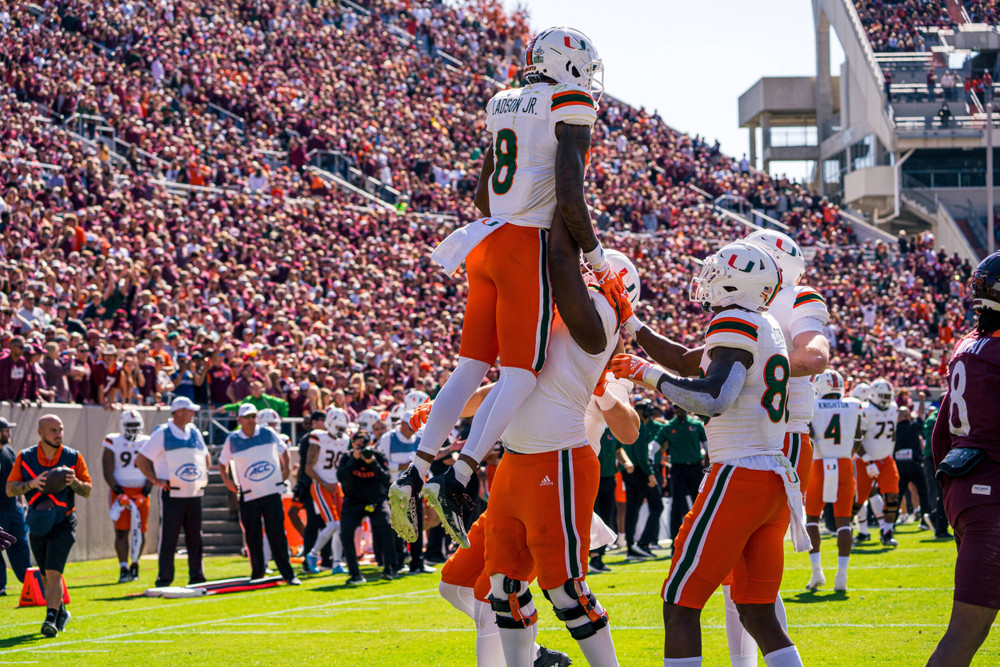 The Hurricanes eventually built a 17-0 first-half lead that was proved too much for the Hokies to overcome.
"Started out very strong. Proud of the way we came out. Came out with purpose. Came out with conviction," Cristobal said.
2. Van Dyke has another big day
In last week's ACC opener against North Carolina, Van Dyke posted a career day.
He had another strong game against the Hokies.
The quarterback completed 29 of 46 passes and threw for 351 yards and two touchdowns. It was his second straight 350-plus yard performance and the eighth time in his Miami career that Van Dyke has thrown for more than 300 yards.
Just as significant on Saturday was his ability to move with the ball when needed.
With Miami clinging to a six-point lead in the game's final minutes and the Hurricanes facing a 3rd-and-6 on their own 46-yard line, Van Dyke scrambled for a nine-yard gain that extended the drive and allowed Miami to run out the clock.
Three plays earlier, a 15-yard connection with Ladson also helped extend the final drive and keep Virginia Tech's offense on the sideline.
Both of those third-down conversions were huge for Miami and Van Dyke was a part of both.
"Tyler was very, very comfortable. What he practiced showed up in the game, which allowed him to perform at a high level," Cristobal said. "Especially in that first half, he was hard to stop. He was hard to stop."
Said receiver Colbie Young of Van Dyke, "He's great. His accuracy is amazing. The way he just locks in, you know when it's game time it's game time. Outside, he's a great guy, good guy to talk to. Just all around knows the game of football well."
3. Hello, Colbie
Young, it turns out, had a pretty big day himself.
The transfer from Lackawanna College scored the first touchdown of his Miami career in last week's game against North Carolina then came back Saturday to post a game-high nine catches for another game-high 110 yards.
He had a pair of dazzling one-handed grabs, the first of which set up a Miami touchdown and the second which actually was a touchdown.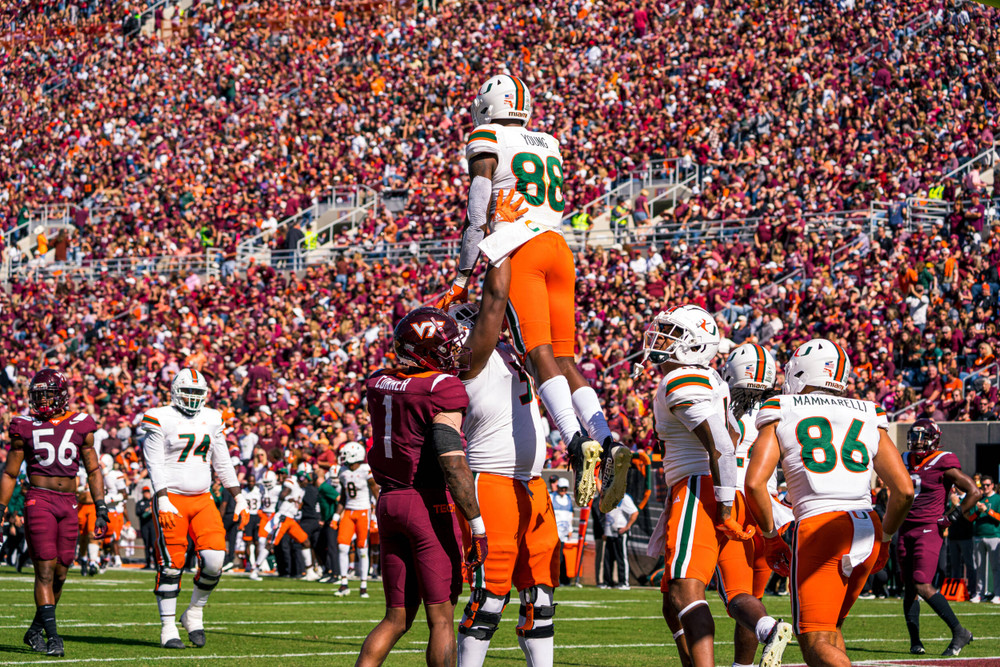 Young also contributed on special teams and earned praise from Cristobal, who said its likely Hurricanes fans will be seeing more of the receiver, who arrived at Miami this summer.
"What can you say about the guy? The guy got dropped off here. Might as well have just flown by on a helicopter, jumped out right before camp and start training, start getting ready to play football," Cristobal said. "He did that. He just goes. That guy just goes. You know he's on three starting units on special teams as well?  And doesn't ask for a breather. He just wants more and more and more. And he's going to get more. He's a very valuable player in this organization."
4. Mesidor dominates
Another transfer who stepped up in a big way for Miami on Saturday? Akheem Mesidor.
The third-year defensive lineman, who joined the Hurricanes after playing two seasons at West Virginia, finished with a team-high eight tackles and another team-high – and career-high – 3.5 sacks.
Mesidor has been a reliable contributor for the Hurricanes all season, but his performance Saturday was the most dominant so far of his Miami career – and folks noticed.
On Sunday, Mesidor was named the Walter Camp National Defensive Player of the Week.
"In practice, we harp on affecting the quarterback so heavy," Mesidor said. "We ran a few things that we knew would work, but it all came down to preparation…I think we prepared properly. I prepared properly and as a whole defense, we dominated."
5. Defense delivers early
As Mesidor noted, Miami's defense had a big day against the Hokies.
The Hurricanes kept Virginia Tech off the scoreboard for three quarters, held the Hokies to just 257 yards and totaled six sacks and seven tackles for loss.
The defense also forced a fumble, which led to a Miami touchdown, and held Virginia Tech to just 4 of 15 on third-down opportunities.
The unit did give up a pair of fourth-quarter touchdowns which made the game close late, but on the day, it did enough for the Hurricanes to get the win.
"Their preparation this week was the best that they've had by far," Cristobal said. "Everybody was completely on point. You go back to last week, we had an early coverage bust. It got us behind on the scoreboard in a hurry, ended up being part of the difference in the game. They just refused to let that happen this week…All in all, their preparation, their attention to detail, they just did not want to be denied. They played really hard. They played really well."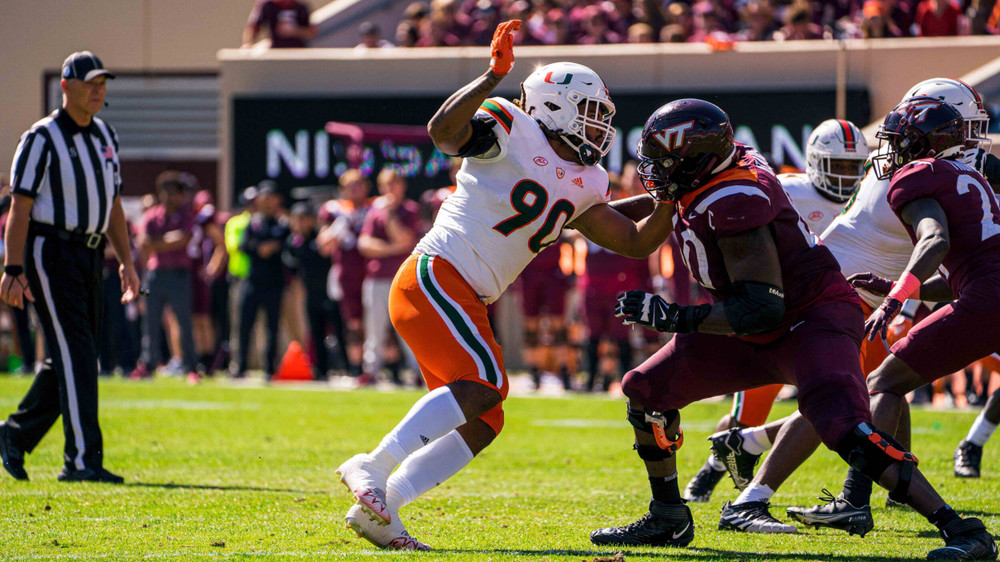 6. Penalties took their toll
As well as the Hurricanes played in several phases of the game, there are still, Cristobal noted, several areas where they need to continue improving.
On Saturday, one of those areas was penalties.
For the most part, Miami has played clean, disciplined football this season. The Hurricanes entered the game averaging just 44 penalty yards per game.
Against Virginia Tech, though, the Hurricanes were whistled 17 times for 159 yards. That's 52 more yards than they gained on the ground and it's something Cristobal said his team needs to clean up, quickly.
"As some of the guys started getting banged up, we started having issues with execution, particularly in penalties," Cristobal said. "We entered the game as the least penalized team in the conference, but we walked away with a ton of penalties."
7. Finishing a priority
More than a few of those penalties came into play late in the game, while the Hurricanes were dealing with injuries to various starters and Virginia Tech was trying to mount a comeback.
The Hokies nearly did – scoring two touchdowns in the fourth quarter while holding Miami to just a field goal in the second half.
Continuing to mature and play with poise, Cristobal said, will be a focus, especially given the number of young players that are starting to see increased playing time.
"We had some really, really unacceptable penalties. So for us, honestly, we've got to learn not to get anxious," Cristobal said. "As the game gets tighter and things start getting a little bit closer, we've got to learn how to play with poise. We've got to start taking more pride and confidence and conviction and performing that way. All of that is just more and more work."
8. Red zone a mixed bag
During some of their recent struggles, the Hurricanes have been able to move the ball, but haven't been able to score as much as they'd like.
While in the first half Miami scored 17 unanswered points, in the second, they managed just one field goal. They finished the day 4 of 4 on red zone opportunities – but only two of those chances resulted in touchdowns.
"There's a lot of room to grow, I think," Van Dyke said. "Obviously, we moved the ball great, almost 450 [yards], something like that…I think that's a pretty good day. But it's all about converting and scoring. Obviously, we're still going to work on it. At the end of the day, we got the win and that's what matters."
9. Canes show resilience on the road and get a win
Miami had to deal with more than a few challenges on Saturday: a sellout crowd eager to see their Hokies win on homecoming weekend, injuries, and a Virginia Tech team that didn't give up, even after falling behind by two touchdowns.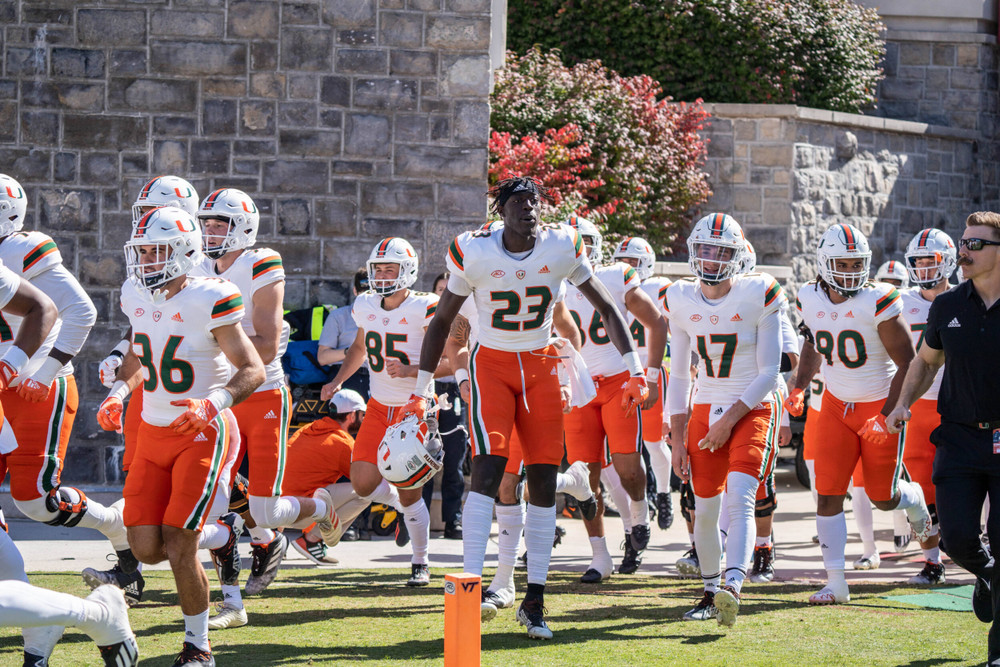 The Hurricanes were without multiple starters on the offensive line and beyond, but still managed to leave Blacksburg with a victory.
That's not anything any of them took for granted.
"At one point in the game, we were playing without our two starting tight ends, without three starting offensive linemen, without our three starting wide receivers…Tremendous credit to the players for fighting hard and doing what they did to find a way to win a football game on the road," Cristobal said.
 10. On to Duke
With six games under their belt, the Hurricanes are finally at the midway point of the season.
Having a bye two weeks ago means they're now in the midst of an eight-game sprint to the end of the year. And each of their remaining games is a conference matchup, with high stakes.
The next opponent on the schedule is a Duke team that is 4-3 and has already surpassed their win total from a season ago. The Blue Devils have lost three of their last four, but those losses have been by a combined 14 points, and one of those losses came in overtime.
Miami knows it will face a hungry conference opponent next week at Hard Rock Stadium and they have to make sure they continue working to improve.
"This feels good, but we just have to keep going," linebacker Keontra Smith said. "We have to keep working next week and prepare for the next game."