Hurricanes Ride Past Cowgirls, 2-1
CORAL GABLES, Fla. — Start fast.
The University of Miami soccer team zeroed in on those words leading up to their non-conference home finale against the Oklahoma State Cowgirls.
The Hurricanes rode a pair of first-half goals to victory, defeating the Cowgirls, 2-1, Sunday afternoon at Cobb Stadium.
"I thought we set the tone," Miami head coach Sarah Barnes said. "We came out from the start ready to compete and compete with composure. We were able to balance the fight and effort, settling down to play our game."
Miami (3-0-2) wasted no time against Oklahoma State (3-1-1), jumping on the scoreboard in the 25th minute.
Freshman forward Emma Pidding danced past the Cowgirls' defense and drove a low crisp cross inside the six-yard box. Sophomore forward Mikayla Tupper battled for position and poked home her first career goal, putting the Hurricanes ahead, 1-0.
"I've been working really hard, and the team's been pushing me," Tupper said. "Honestly, without the team, I wouldn't have been there and wouldn't have been on the field at that moment. It was a pretty amazing feeling to be able to do all that work and get a result out of it."
But Miami didn't take its foot off the gas.
In the 43rd minute, junior defender Gabriela Rusek placed an out-swinging ball in front of the Oklahoma State goal.
The Cowgirls knocked the service just out of the box, but sophomore midfielder Lauren Meeks corralled the ball and ripped a left-footed strike underneath the top of the frame, doubling the Hurricanes' advantage.
"It was a corner and the next thing I knew the ball was right at my feet," Meeks said. "I was like, 'Oh my gosh, this is it.' I knew I had to execute in that moment."
Out of the halftime gates, the Cowgirls flipped the script.
After earning a corner of their own, midfielder Shyann McClary sent a ball towards the back post and defender Mollie Breiner made no mistake, heading it home to cut Miami's lead in half.
Breiner's tally in the 60th minute marked the first goal the Hurricanes allowed this season, snapping their 419-minute shutout streak.
In the 78th minute, Oklahoma State nearly found an equalizer.
Freshman Gracie Bindbeutel forced a turnover and broke free, driving towards Miami's goal.
Bindbeutel fired a shot on target, but senior goalkeeper Melissa Dagenais sprawled to her left to deny the attempt.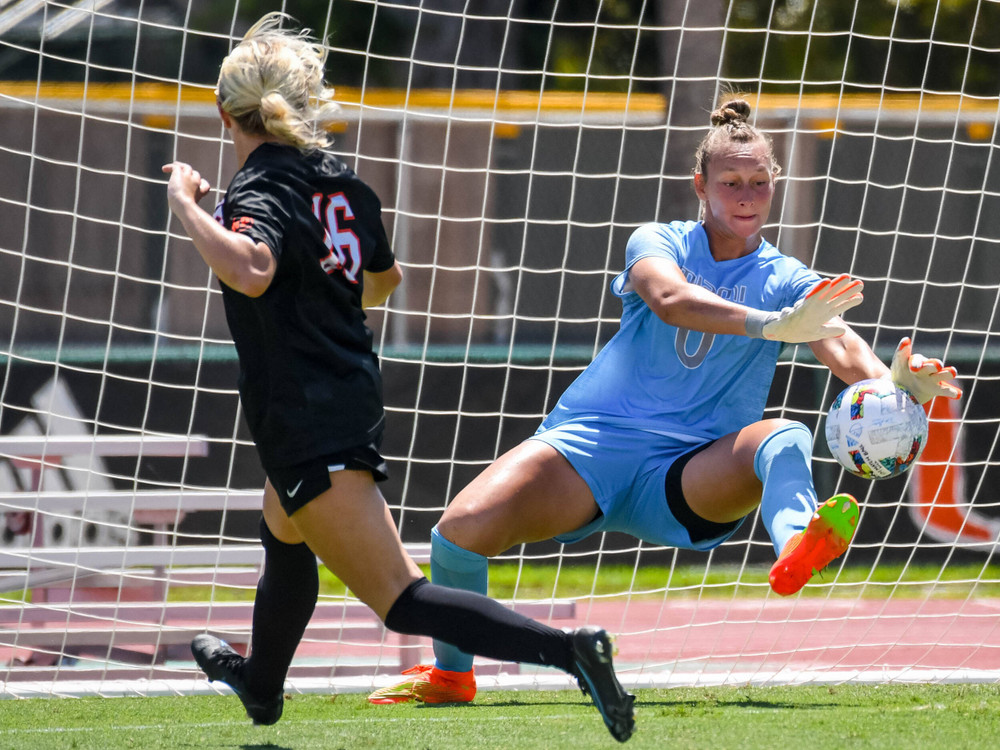 "Oklahoma State is a good team," Barnes said. "They scored a nice goal off of a corner kick. At that point, it was 2-1 with about 30 minutes left and then it became a brawl. We had to really compete. They started playing a lot of direct balls to just try and get it into our half and force errors. Our team hung in there from a grit standpoint. We grinded it out and we were relentless when going in for tackles, pressing and trying to create turnovers."
With the victory, the Hurricanes remained unbeaten through their first five contests for the first time since 2013.
Following its two-match homestand, Miami hits the road to wrap up non-conference action. The Hurricanes travel to Tampa to face the USF Bulls at 6 p.m. Thursday.
To keep up with the University of Miami soccer team on social media, follow @CanesFutbol on Twitter, Instagram and Facebook.