BLACKSBURG, Va. — Andrew Walters has reeled in some big fish — literally and figuratively.
The Palm Bay, Fla., native grew up five minutes from the Indian River and 10 minutes from the Atlantic Ocean.
Walters is such a fishing fanatic that he brings a three-foot rod and scouts potential locations ahead of the Hurricanes' road trips.
"It's another challenge," said Walters, who is an avid in-shore river fisher. "I'm all about challenges. Fishing is a whole other game. It's hard fighting fish. I love that one-on-one battle."
Walters has been winning those one-on-one battles on the mound, too.
The Miami closer has a boatload of saves — 11 of them, which is tied for the most in the country.
His bait?
A mid-to-upper 90s fastball that overpowers hitters.
"He makes a coach look very good, let's be honest," Miami head coach Gino DiMare said. "When you can go to a guy as good as he is and as dominant as he is, it's not a tough decision."
Some of Walters' biggest catches—outside of a 70-pound yellowfin tuna—have been saves against then-No. 18 Clemson, No. 13 North Carolina and No. 3 Virginia.
Next, he's looking to catch the 21st-ranked Virginia Tech Hokies (21-8, 7-6 ACC) on the hook.
"Every team is coming to play us hard, especially at No. 2 in the country," Walters said. "Everybody is coming for our head, that's how baseball works. We do the same thing to anybody else. We're going to play some tough teams. Virginia Tech is ranked No. 21. They're coming to play us hard too."
The 6-foot-4, 220-pound right-hander transferred to Miami (27-6, 13-2 ACC) after one season at Eastern Florida State College.
As a second-year freshman in 2021, Walters emerged as the Hurricanes' set-up man for All-American closer Carson Palmquist.
He posted a 1.46 ERA that was the lowest among Miami pitchers with at least 10 appearances, striking out 36 batters over 24 2/3 innings.
"He just got better as the season went on," Miami associate head coach/pitching coach J.D. Arteaga said. "He's a very hard worker, great character guy with great makeup. He just kept getting better and better. If you get outs, you get more opportunities.
With Palmquist shifting to the rotation this season, Walters earned the coveted closer role.
And he has quickly become one of the premier relievers in the game.
Walters has made 15 appearances, tossing 19 2/3 innings without surrendering a run. He has a jaw-dropping 18 ½ strikeout-to-walk ratio, punching out 37 hitters and yielding two free passes. Walters has allowed only five hits, one double and four singles, holding opponents to a .078 batting average.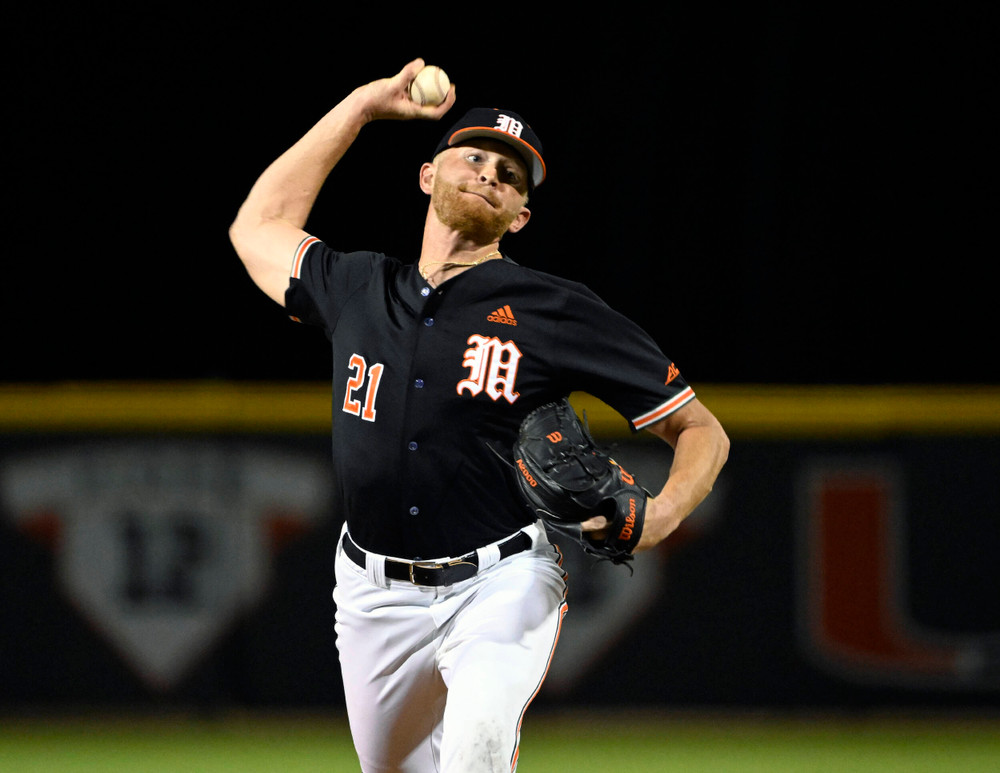 "It's unheard of to this point," said Arteaga, who has groomed major-league closers Bryan Garcia and Chris Perez. "He's been pretty much perfect for the season. Even when he doesn't have his great stuff, he still finds a way to get it done, that's what makes him such a great pitcher."
And while the individual résumé is impressive, Walters is focused on the Hurricanes' success.
The Stopper of the Year Award watch list pick has helped the Hurricanes cast a line on the national spotlight.
Miami has won 14 straight games, swimming quickly up the polls from unranked to No. 2 in the nation.
Overall, the Hurricanes are off to their best start since 2016, the last time Miami reached the College World Series.
"I'm just a full-team guy," Walters said. "I love screaming out there with the guys, raging on the bench. I am tired of sitting on my couch, watching guys play in Omaha. It irked me. I wanted to get to a place where I could provide for my team."
Walters' next battle will be when the Hurricanes begin a three-game set at English Field. The series opener is slated for 7 p.m. Thursday.