Pitelli Earns ACC Player of The Week Honors
CORAL GABLES, Fla. — After a historic weekend, Miami shortstop Dominic Pitelli was named ACC Co-Player of the Week, the league office announced Monday afternoon.
Pitelli, in the Hurricanes' three-game sweep at Duke, became the first player in the program's rich 78-year history to smack two grand slams in the same series.
The 5-foot-11, 175-pound sophomore clubbed a game-winning grand slam in the eighth inning, propelling Miami to a 4-1 victory over the Blue Devils in the series opener.
"It might have been the most clutch hit I've ever had," Pitelli said after the game Friday. "It's a great moment. It was a close game the whole time. I had made an error the inning before, but it felt great to come up clutch for the team."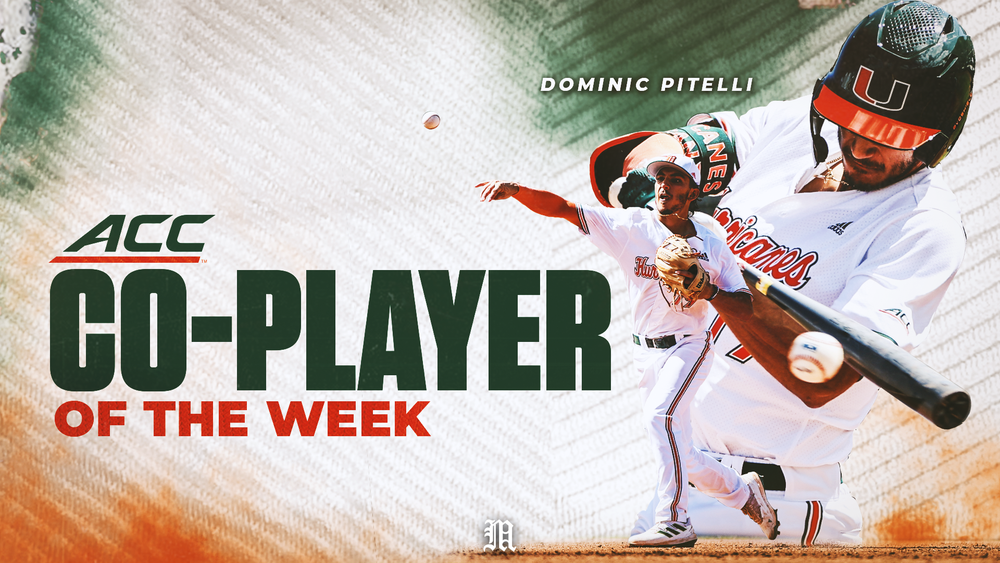 Following a two-hit performance in the 4-3 win Saturday, Pitelli jumpstarted the Hurricanes in the series finale, launching a first-inning grand slam.
Pitelli finished Sunday's sweep with a career-high five RBI, sparking an 11-3 rout of the Blue Devils.
"He had an unbelievable weekend," Miami head coach Gino DiMare said. "That's a big hit, coming up and hitting another grand slam. It was probably deflating for Duke."
The left-handed hitter went 9-for-18 with two home runs and 10 RBI, posting a .500 on-base percentage and a .944 slugging percentage, leading the Hurricanes to a perfect 4-0 week.
Pitelli is the first Hurricane to garner an ACC weekly honor in 2022.
No. 8 Miami opens a six-game homestand, beginning against FGCU Tuesday. First pitch is set for 6 p.m.