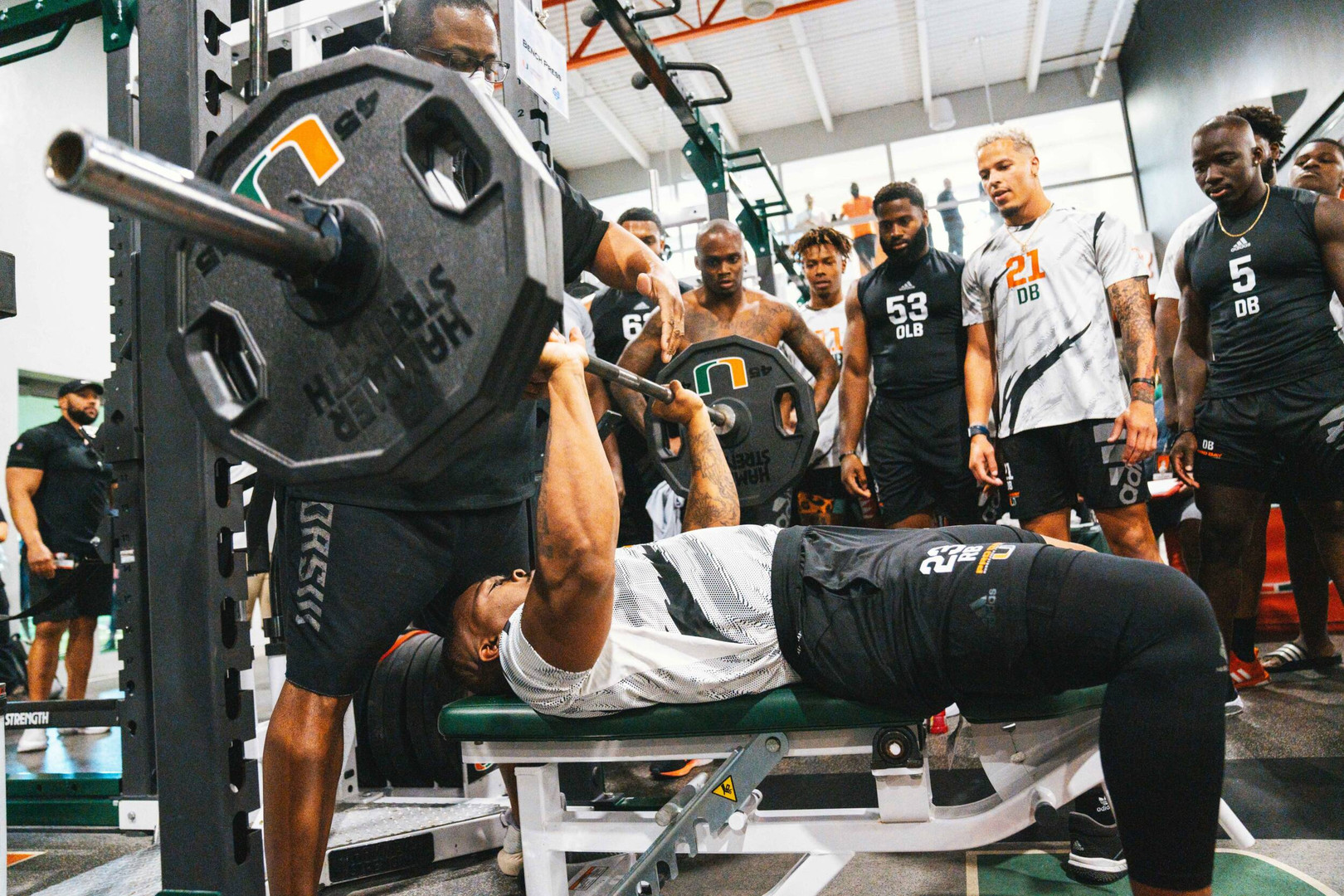 CORAL GABLES, Fla. – They've been friends and teammates for years.
So it came as no surprise Wednesday that just before Amari Carter got in position for the bench press at Miami's Pro Day, Zach McCloud tried to provide as much encouragement as possible – even if that encouragement included a few hard slaps on the shoulders and a bit of yelling.
"I just want to be a guy that encourages other guys," McCloud said. "I wanted to be the guy that took on that role. I'm just happy to support, however I can."
For the 11 players who took the field at the Carol Soffer Indoor Practice Facility one last time as Hurricanes on Wednesday, support was as much a part of the day as 40-times and weight room reps.
The group lifted each other up throughout the process. Many of their former teammates watched from the sidelines, along with their families. And throughout the facility, former Hurricanes greats stood watch, providing the reminder that at Miami, family is for life.
"The whole aura of The U is the family and the brotherhood. A lot of programs say it, but I think it's a little different here," said New York Jets receiver Braxton Berrios, who was one of several former Hurricanes players in attendance Wednesday. "We prove it…We're brothers. We're bonded for life."
Those bonds, of course, proved essential for the players who worked out during Pro Day.
Quarterback D'Eriq King, who missed the bulk of last season after injuring his shoulder in the third game of the year, once again had the opportunity to throw passes to receivers Mike Harley and Charleston Rambo.
Defensive linemen Jon Ford and Deandre Johnson were able to push each other during drills, as did offensive linemen Jarrid Williams and Navaughn Donaldson.
All of that made a difference, the Hurricanes said.
"It was a blessing. A lot of guys don't get this opportunity," said Harley, who posted a vertical jump of 35.5 inches, a broad jump of 10 feet, 2 inches, had 16 reps on the 225-pound bench press and clocked a 4.44 in the 40-yard dash. "Coming into Pro Day, our whole mindset was to have fun. And I had a lot of fun being back out with the guys, competing. Every time Bubba [Bolden] ran, I definitely jumped right behind him. It was all competing, it was all fun."
Added Carter, "It felt great. Just to be out here, running on the grass again where we spent so much time, blood, sweat, tears, everything, it felt great…Being here, I was pumped. I was like 'Let's attack. Let's go. We're here.' All the reps, all the training you do for this point, I was ready to go and I'm glad I was here with my brothers and I'm glad everyone came out here and put their best foot forward and was able to give their best effort."
While all of the Hurricanes who performed for the dozens of NFL scouts in attendance made sure to put together as solid a performance as possible, Wednesday's Pro Day was especially meaningful for King, safety Bubba Bolden and running back Cam'Ron Harris, all of whom dealt with season-ending injuries last fall.
Harris, who was hurt midway through the year, did not participate fully in Wednesday's workouts. He was able to do 23 reps on the bench press, though, and said he believes that will help show NFL teams how determined he is to get back on the field as soon as possible.
"No matter if I get drafted or go undrafted, that doesn't mean anything. As long as I make the team, I'm going to show what I can do," said Harris, who led the Hurricanes with 643 rushing yards during his last full season in 2020. "I'm a hard worker. Very disciplined. And I do what it takes to win the game."
King and Bolden, meanwhile, were able to participate fully in Wednesday's event, with King even both catching and throwing the ball in the Carol Soffer Indoor Practice Facility.
The quarterback would like to play his natural position at the next level, but said he understands some NFL teams might be more interested in potentially adding him to their rosters as a receiver.
That's not a problem. As long as he can continue playing football, he's happy.
"The more you can do, the more valuable you are. If I can be one guy on a roster that can be a backup quarterback, receiver, special teams, whatever I can do, it's all about getting the best opportunity to make a roster," said King, who when healthy in 2020 threw for 2,686 yards with 23 touchdowns and set a single-season rushing record by a Miami quarterback with 538 yards on 130 carries. "That's what I've been trying to do the whole process, talking to teams."
Said Bolden, "This means so much. Me and D'Eriq have been through a lot. Cam, too. I was with D'Eriq at the [NFL Scouting Combine] and we just always talk all the time about how crazy it was to even be invited to the Combine after we got hurt. That showed a lot right there. And yes, we've talked about the injuries and the 'what-ifs,' but at the end of the conversation, we're always like 'Forget the what-ifs. We're in the here and now. Let's make the most of it right now.' Seeing him come out here and do well…I'm happy for him, more than I'm happy for myself. What he's been through and all he did for Miami, I'm so happy for him. I'm happy for Cam, too."
As much, though, as the Hurricanes enjoyed the camaraderie and experience of their Pro Day, each of them knows their work is far from finished.
In the weeks ahead of this year's draft – which begins April 28 – there will be more workouts, more interviews and lots more preparation, all in the hope of getting that call every football player can't wait to get.
And they know if that call comes, their time at Miami helped make it happen.
"Coming to a prestigious school like Miami just sets you up for this," Bolden said. "We're in the spotlight a lot, so we know how to talk. We know how to communicate. And then when it comes to football, I've been one to always be smart and try to be a leader on the team…I feel like the transition [to becoming a professional] has been smooth and easy…It was amazing to be out here. I'm blessed to be here. I'm blessed for this experience. To come out here and see the guys come out and do well, I think it's awesome."