Raudelunas' Rollercoaster Road
CORAL GABLES, Fla. — He had nowhere to live yet. No idea what to expect.
But Matt Raudelunas knew playing at Miami would bring him one step closer to realizing a lifelong dream.
"As soon as I got the offer, I accepted it," Raudelunas said. "The next day, I drove like 28 hours straight. My first day of school was the first day I met the coaches. I lived in an Airbnb for 3 ½ weeks. I wasn't too stressed, just really excited."
Sight unseen, the Madison, N.J., native dropped everything he knew and trekked down the East Coast to come to Miami this past August.
The 6-foot-2, 208-pound left-handed pitcher, who spent four years at St. John Fisher College, navigated a winding road to become a Hurricane.
Raudelunas was one of the top prospects in Division III heading into his junior campaign with the Cardinals.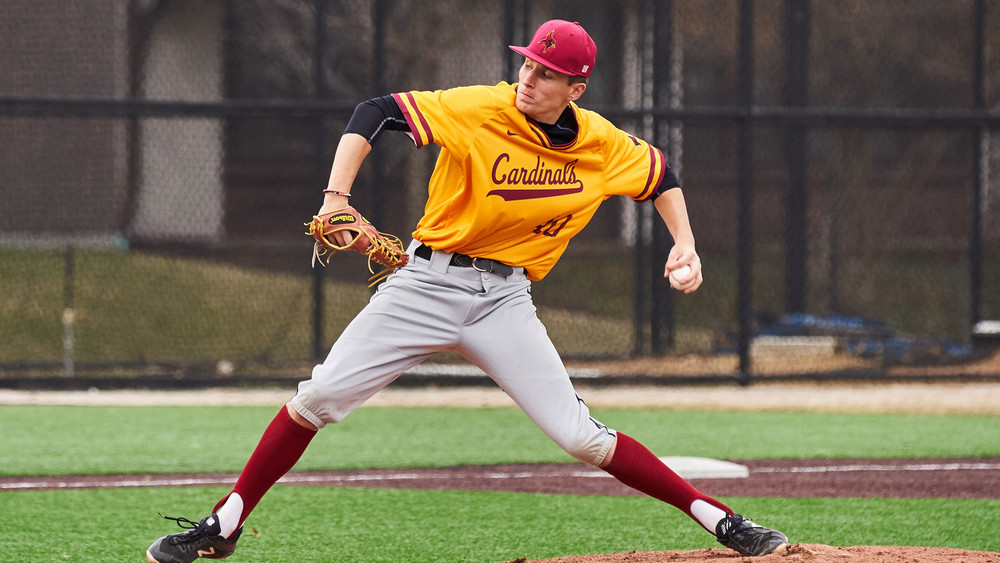 With scouts from more than 10 MLB organizations in attendance, Raudelunas took the mound for his second start of the 2020 season. The southpaw quickly struck out the side in the opening frame.
But when he ran back out to grab the ball in the second inning, things didn't feel quite right.
"I struck out another guy and then I felt my arm was slowing down. It felt like it was dragging," Raudelunas recalled. "As soon as I threw that last pitch, I felt a pop. A couple seconds later, I got a shooting pain all the way through my fingertips. I couldn't pick up my arm."
He tore the ulnar collateral ligament in his pitching elbow, which required season-ending Tommy John surgery.
But as the COVID-19 pandemic began stressing hospitals in the Northeast, urgent procedures took precedent.
Raudelunas had to wait.
"Since everything was shut down, I wasn't able to get my surgery for months," he said. "I sat in my house quarantining for months because there was no doctor that would take me."
After months of waiting, Raudelunas was finally operated on by New York Mets Medical Director Dr. David Altcheck in June.
Rather than accomplish his goals of jumping to the Division I level or signing with a professional team, he was forced to sit on the sideline.
"I was disappointed because it was supposed to be the breaking year for me," Raudelunas said. "I did everything in my sight to improve. I took everything to a new level. I knew junior year was going to be a big year for me. Doing too much caused my injury. I wanted it that badly."
He missed the entirety of the 2021 season recovering from Tommy John Surgery.
Yet, Raudelunas, who graduated from St. John Fisher with a degree in marketing and a minor in sport management, didn't give up on his dream.
Raudelunas started reaching out to Power Five programs, including Boston College, Texas Tech, Virginia and Washington State.
He received offers for the 2023 season, but he didn't want to wait.
"I got in contact with Miami in early August," Raudelunas said. "As soon as I got off the mound the first time, I showed them what I was capable of. It was my first time going off the mound at 100 percent."
The Hurricanes' coaching staff liked what they saw and provided Raudelunas with an opportunity to pitch in the orange and green.
During his first fall in Coral Gables, the graduate student posted the second-lowest ERA among Miami hurlers, yielding only one earned run across 8 1/3 innings pitched.
"It was a little nerve-racking at first going against up against that type of competition that we have, but in my first game I pitched two innings and struck out four of the first six batters. That was the moment I knew this was where I belong. This is who I am. I'm back."
After a grueling year-and-a-half rehab process, Raudelunas felt at home on the bump.
"He has a quick arm, strong arm," Hurricanes pitching coach J.D. Arteaga said. "We've cleaned up his mechanics, getting simpler and quieter. We still haven't seen his best yet. He has really great rotation and shape to his breaking ball, which is really important for a left-hander out of the bullpen."
With the Hurricanes lacking left-handed pitching depth and experience, Raudelunas provides a major lift.
Miami had one southpaw who tossed more than 20 innings a season ago. Meanwhile, only one Hurricane on the current roster has been a part of the program for four years, creating a massive need for a fifth-year player like Raudelunas.
"Although he's a rookie, he has pitched at the college level for some time. He's a very even-keeled, smart kid that players will certainly look up to," Miami head coach Gino DiMare said. "He's extremely impressive. He works extremely hard and what he does in the classroom commands a lot of respect. It's not easy being a student-athlete and doing it at the level he does is very impressive."
Raudelunas is expected to be a go-to late-inning option out of the bullpen, but it's what he does off the diamond that earns respect from his teammates.
The 23-year-old is a first-year M.B.A. candidate with a passion for entrepreneurship and nutrition. At one point, he created an online retail store focused on custom tailoring and hopes to one day build a business that helps athletes develop in all aspects of their craft.
"I wanted to look at every other component that would make me the best player and push me to the highest level. I created my own macro calculator and figured out where I need to be for my weight," he said. "I meal prep every single day. I eat a minimum of five meals a day and at a maximum of seven, every 2 1/2 hours. I make sure I'm getting the right protein, carbs and fat at every single point in time."
From 8 a.m. to 3 p.m., Raudelunas, who is one of the lone student-athletes in his program, is locked into his studies.
As soon as his classes finish, he rushes over to Mark Light Field.
"Baseball is very taxing but the grad program he's in is not easy. He has a very contagious work ethic. He gets after it and makes the people around him want to get after it too," said freshman right-handed pitcher Gage Ziehl, who was selected in the 11th round of the 2021 MLB First-Year Player Draft by the Chicago Cubs. "I go to him for life advice and he always preaches to have a balance between baseball, school and your social life."
Miami's renaissance man has juggled every hurdle thrown his way.
Now, Raudelunas' rollercoaster journey brought him to Miami where he is determined to capitalize on the opportunity of a lifetime.
"I want to play. I want to compete," he said. "I want to be a part of an ACC Championship and go to Omaha. I want to play in that atmosphere and have Miami across my chest when I'm competing. I want to be able to say that I was at Miami and we went to Omaha and won. You don't forget that. That'd be the most important thing that has happened in my entire life."