Cristobal Begins Adding Next Generation of Canes
CORAL GABLES, Fla. – There hasn't been a whole lot of sleep. There has been a lot of coffee.
For new Hurricanes head coach Mario Cristobal, the last eight days have been a whirlwind.
He's tried to meet as many of Miami's players as possible. He's worked to get to know his staff. And he's done his best to make the most of every moment possible on the recruiting trail.
On Wednesday, the first day of the Early Signing Period, Cristobal's efforts helped the Hurricanes add a talented group of playmakers to Miami's roster; playmakers the coach says will build the foundation for a recruiting class that is only expected to grow before National Signing Day in February.
"A really good start. A really good start to what's going to be an ongoing process," Cristobal said. "Arriving at the timeframe that I got here, luckily, we had some really good staff members that had a good foundation, a core for the recruiting class that was signed today and then some additional pieces which we targeted that we went after, zeroed in on, and a couple others that we're still working on as we head into the next couple days…It's a small class of high-quality student-athletes."
Six of the eight players signed by Miami on Wednesday have earned spots on the ESPN300, including Jacurri Brown, who is rated the No. 6 dual-threat quarterback and the No. 152 overall player in the nation by ESPN, and cornerback Khamauri Rogers, who is rated the No. 41 overall player in the nation by ESPN.
Also in Miami's recruiting class were a pair of South Florida standouts: linebacker Wesley Bissainthe, a four-star linebacker who helped lead Miami Central High School to back-to-back state titles in 2019 and 2020 and defensive end Nyjalik Kelly, a four-star prospect at Fort Lauderdale's Dillard High School, who is rated the No. 119 overall player in the nation by ESPN.
Miami also added four-star cornerback Chris Graves, four-star wide receiver Isaiah Horton, four-star safety Markeith Williams and three-star cornerback Jaden Harris to the roster.
Each player, Cristobal noted, has had an impact on and off the field and comes to Miami understanding the challenges and expectations that await.
"All of them are high-character, high work ethic guys," he said. "Guys that we feel can come in and not only have an impact, but really fit in and contribute to the culture. To do what we want to do and go where we want to go, we have to have a certain mentality. Well, these guys seem to have that and they've displayed it throughout their high school careers [in] their academic statuses as well and the way they represent themselves in the community."
Cristobal, a two-time national champion during his time as a Hurricane, also pointed out that two of Miami's signees have already played for former Hurricanes standouts.
At Miami Central, Bissainthe was coached by former Miami cornerback Roland Smith, while at Orlando Evans, Williams was coached by former Hurricanes defensive end Kenard Lang.
"They're going to be ready to play," Cristobal said. "Those guys coach football the way its supposed to be coached."
As solid as the group Miami signed on Wednesday was, though, Cristobal made it clear his work on the recruiting trail is far from finished.
The coach said the Hurricanes will continue working to build a class that could ultimately feature between 16-20 players, with some of those potentially coming to Miami via transfer.
Continuing to assess Miami's roster and figuring out the combinations of what position needs to be addressed and when, Cristobal said, remain some of his biggest priorities in the coming weeks.
"This puzzle is ever-changing. That's the part that is really difficult now…I don't think [it will be] until four or five years go by where we'll truly be able to assess the impact and the effects of the [transfer] portal," Cristobal said. "Remember, the portal works both ways – in and out. What are you going to look like? What's your current roster going to look like at the end of a certain time frame? After winter conditioning? After the fourth-quarter program? That's really what challenges you…
"It just doesn't stop. It really doesn't. You have to assess your roster every day when you walk into the building and when you walk out, because it can change that quickly. It might be one guy, but you know what? One guy's really important. We've all seen that…There's a lot of moving parts. You just want to be deep enough where should you sustain some losses in terms of personnel from an injury standpoint that you can put a player in there that is capable of helping you win a championship at the conference level and beyond. That's the goal."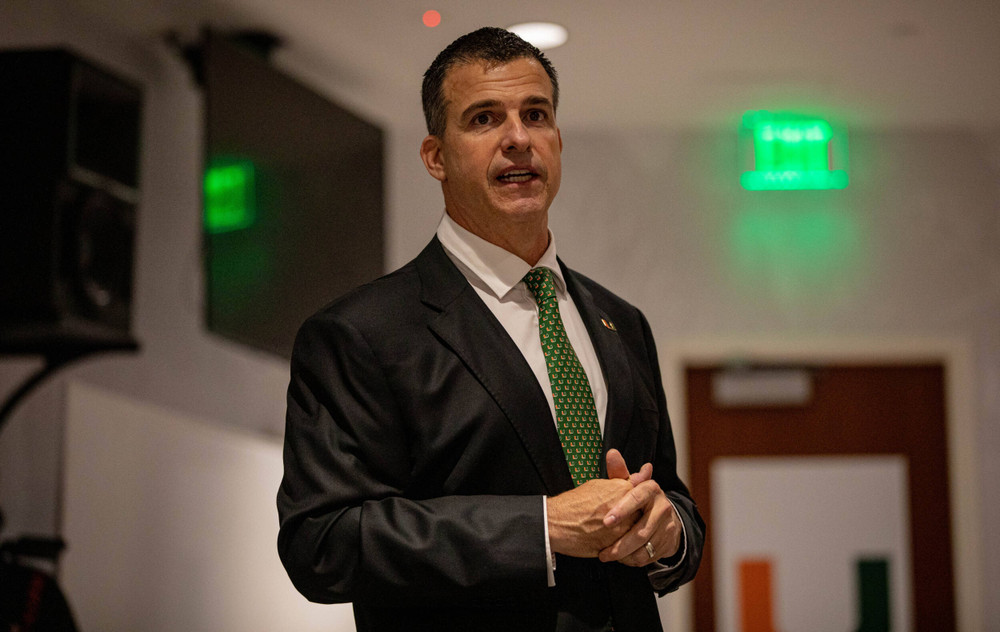 And for Cristobal, that goal is especially personal.
As the former Hurricanes offensive lineman noted after his return to Miami, there is a special level of pride that comes with coaching at his alma mater and working to find the next generation of Hurricanes.
"At the end of the day, a set of parents or a parent or a guardian is dropping off their most prized possession to you and trusting you for development, for guidance, for accountability, all that stuff," Cristobal said. "It's as simple as this: how would you do it with your very own son? How would you do it as it relates to everything?  Because if you do it that way, you probably aren't going to be perfect, but I bet you every intention is."
The coach paused, and then pointed to the "U" on his shirt before continuing.
"When you add for us here, that thing right there, brother, it's different. It's different," Cristobal continued. "It'll always be that way. It's still settling in that I'm actually here. It's awesome. I'm surrounded by awesome people, with this University, this city, the tradition…this renewed enthusiasm and momentum and level of investment, it's generating a lot of powerful momentum, one that we have to ride into this second signing period and then ride straight into the 2023 class."