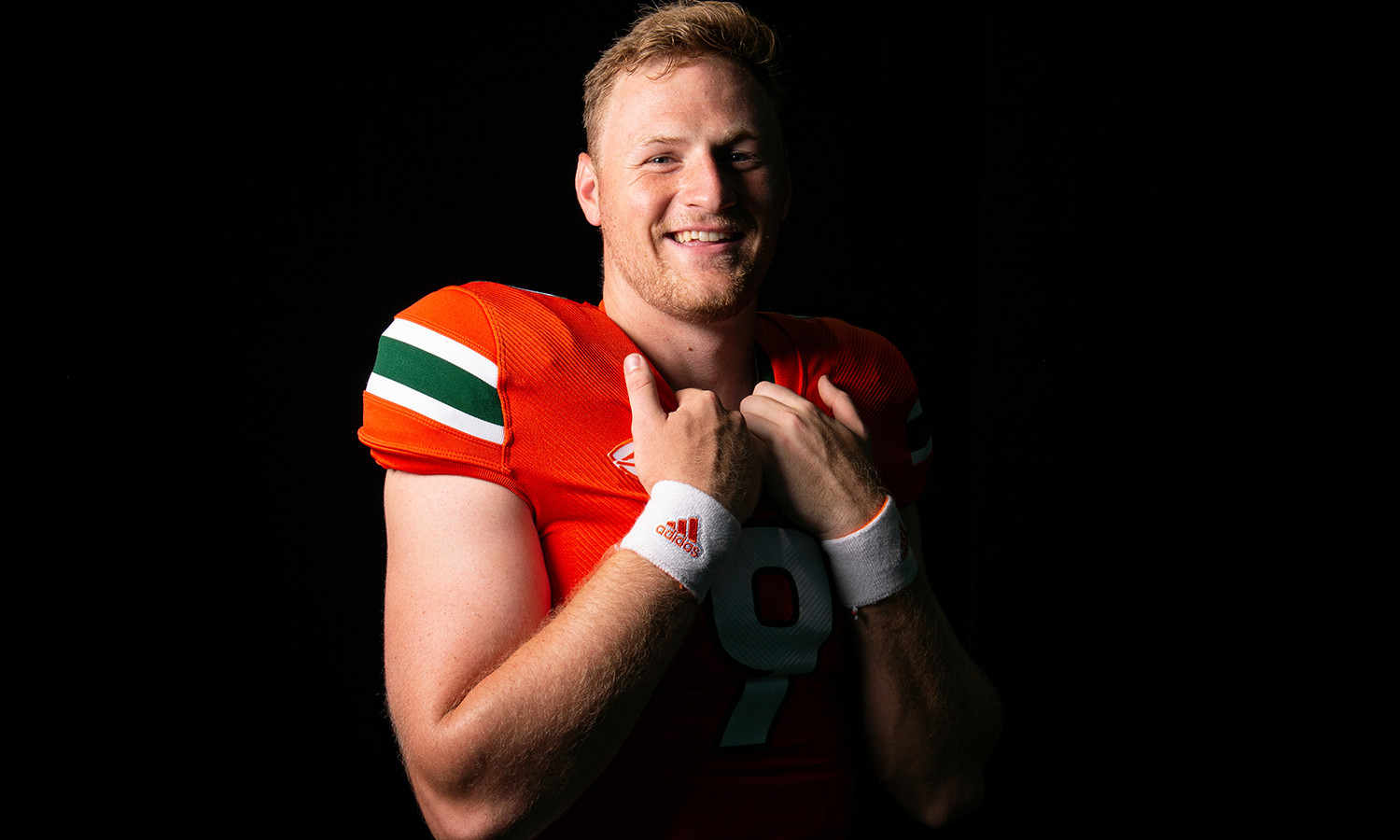 CORAL GABLES, Fla. – Tyler Van Dyke never expected all of this, not yet anyway.
When the Hurricanes opened preseason camp in August, the quarterback was splitting reps with fellow freshman Jake Garcia, both understanding veteran D'Eriq King – who'd led Miami to eight wins during a surreal 2020 season – was the unquestioned leader of the offense.
Weeks later, though, everything changed for all three signal callers.
King was hurt in a loss to Michigan State and underwent season-ending shoulder surgery. Garcia injured his foot in a win over Central Connecticut State. And with the start of conference play looming, Van Dyke found himself alone atop the Miami depth chart.
Growing pains and tough losses to Virginia and North Carolina followed. Then, a shift.
Van Dyke led the Hurricanes to back-to-back wins over top-20 opponents. Then a three-game win streak. There was a 300-yard passing performance. Then another. And another. And another. Miami's receivers broke records. There were headlines and accolades.
Now, Van Dyke can't play golf or go to the grocery store without being recognized in Miami.
Outside of South Florida, the rest of the college football world has taken note, too – particularly in the Atlantic Coast Conference where Van Dyke this week was named Rookie of the Year.
He will formally receive that award Friday night in Charlotte, North Carolina. But already, the quarterback has made it clear: he wants bigger and better things not for himself, but for all of the Hurricanes moving forward.
"I think it all starts with a great offseason, just coming together, working as hard as we can to keep that connection strong that helped us through this year," Van Dyke said. "A good offseason, go on to next year playing hard and I feel like we have a bright future as a team."
As Miami's quarterback, Van Dyke is fully aware he can help set that tone, both in the coming weeks as the Hurricanes turn their attention to bowl preparations and beyond.
Although the second-year freshman has never really considered himself a vocal leader, he stopped out of his comfort zone to find his voice in the locker room after he took over the starting job. Older teammates – including running back Cam Harris and receiver Mike Harley – provided support and encouragement.
And with Miami at a crossroads in October, Van Dyke gave the Hurricanes a rallying point.
Ahead of their game against then-No. 18 North Carolina State – which at the time was 11th nationally in total defense – Miami's young quarterback spoke his mind plainly.
"NC State has a great defense. What are they, top something in the country? Top whatever? That doesn't matter. They're still the same guys we played last year. We put up 44 points last year on them," Van Dyke said in October. "They have different types of wrinkles on defense, but we feel really confident…I don't think they can really stop us."
Van Dyke's pre-game comments raised eyebrows in Raleigh. But they resonated in Miami, where the quarterback's teammates appreciated his confidence.
The Hurricanes went on to beat NC State 31-30 later that week and Van Dyke threw for 325 yards and four touchdowns in the victory. Wins over Pittsburgh, Georgia Tech, Virginia Tech and Duke followed and with every passing week, the quarterback continued improving, on and off the field.
He was voted the ACC Rookie of the Week on five separate occasions. He finished the year throwing for 2,931 yards and 25 touchdowns while completing 62 percent of his passes. And with Van Dyke at the helm, Miami rebounded from a 2-4 start to win five of its last six.
"His confidence was so impressive. He played the game with no fear and his maturity level just went up," said Harley, a fifth-year senior who last week became Miami's leader in career receptions. "Every time he'd throw the ball, it was a dime. He just let loose. He was thrown in the fire when D'Eriq went down and then with Jake Garcia out, he was the only one left…I just told Tyler 'Take over. The team is behind you. You're the quarterback' and when he did that little interview before NC State, that stood out. I knew he was serious. Then he dominated and the rest is history."
It's history that will, the Hurricanes hope, continue to be rewritten.
Van Dyke is the third Miami player to earn recognition as the ACC Rookie of the Year, following in the steps of former running back Duke Johnson, who won the award in 2012, and quarterback Brad Kaaya, who won it in 2014.
Johnson went on to become Miami's all-time leading rusher, with 3,519 yards. Kaaya went on to become Miami's all-time leading passer with 9,968 yards.
What the future holds for Van Dyke is still unclear, but Harley says he believes the quarterback can be "legendary" and has the potential to be a future Heisman Trophy candidate.
"The sky's the limit for Tyler," Harley said. "I can see him going far. The leadership he has, he's just got to maintain it – don't be complacent, keep the others focused around him and they'll all go far as long as Tyler's the leader."
For his part, the quarterback intends to keep that focus.
Van Dyke says he has learned plenty about himself and the college game over the last three months. And he is far from finished.
"At first I would go into games and be like 'This is different than high school.' I didn't really play last year, so it was like 'Wow, I'm here playing against Alabama in Mercedes-Benz Stadium,'" Van Dyke said. "Going out there and getting comfortable with playing with the speed of Division I college football was the biggest difference. It's what I learned throughout the year. I could really do it. I could play quarterback at the University of Miami.
"Once I believed in that, nothing could really stop me or the offense. Now, I just have to keep believing in that and keep believing in my teammates."