Van Dyke, Offense Shine in Win over Pitt
PITTSBURGH – For days, the focus was on Pittsburgh star Kenny Pickett.
As the Hurricanes prepared for their trip to the Steel City, their defense faced questions about the challenge of trying to contain the quarterback poised to rewrite the Panthers' record book.
And Miami's offense – including second-year freshman quarterback Tyler Van Dyke – was asked about the possibility of having to try and keep pace with Pickett and the high-flying Panthers.
Turns out Van Dyke and his playmakers were more than capable of handling that task.
Van Dyke, who was playing in just his second conference road game, led the Hurricanes to scoring drives on each of their first three possessions and Miami turned in one of its best offensive showings of the season in a 38-34 win over the 17th-ranked Panthers.
"We know Pitt has a great offense. They've shown it all year. So we knew we were going to have to score a lot of points, even with our great defense," said Van Dyke, who completed 32 of 42 passes for 426 yards with three touchdowns and an interception. "The defense came clutch with two interceptions, made some great stops. We came out and scored 31 points in the first half, second half, only scored seven. But at the end of the day, we ended up doing what we had to do, scoring more points than them. It was good."
The Hurricanes (4-4, 2-2 ACC) totaled 490 yards of offense in the win. They scored on all four of their red-zone opportunities. And throughout the afternoon, Van Dyke found a way to get more than a few of his teammates involved.
He connected with true freshman tight end Elijah Arroyo on a 20-yard scoring pass on Miami's first possession. Then a little trickery that ended with a 57-yard touchdown pass to Will Mallory.
Running back Jaylan Knighton added touchdown runs of 40 yards and one yard. And Key'Shawn Smith scored on a 13-yard touchdown pass that put Miami up for good.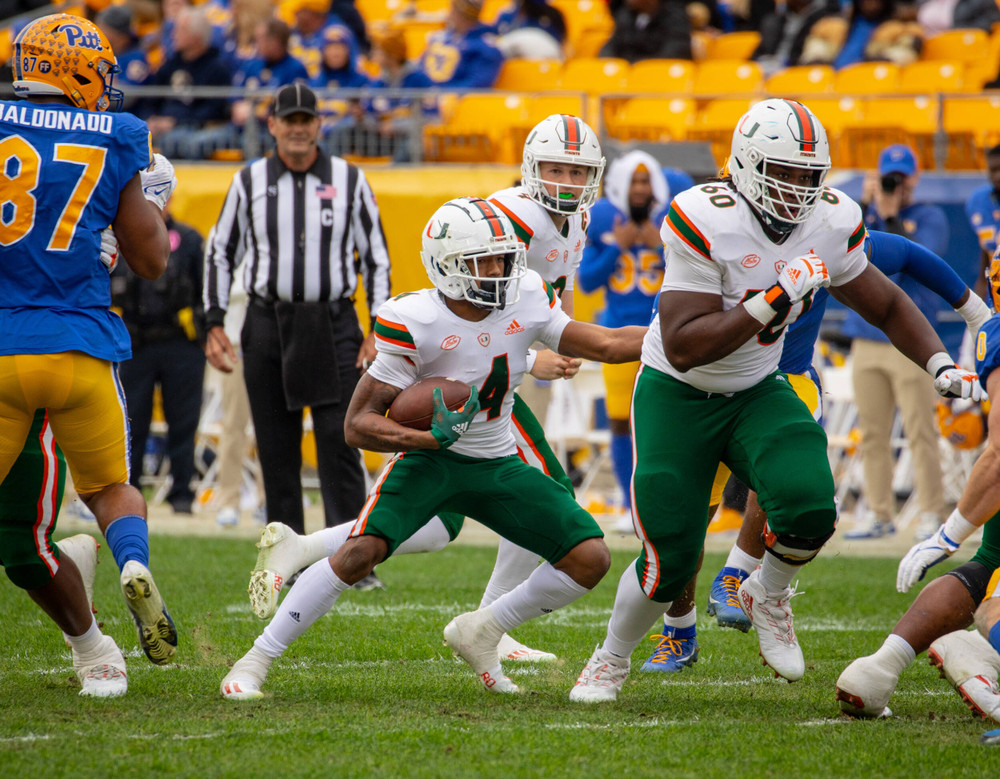 But it wasn't about merely which Hurricanes found the end zone on this particular day.
Several other Miami receivers had an impact, with Charleston Rambo totaling seven catches for 101 yards. Xavier Restrepo added seven catches for 89 yards and Mike Harley had five catches for 53 yards.
All of that, Hurricanes head coach Manny Diaz said, is a product of Miami's offense finding its rhythm in the weeks since Van Dyke took over for veteran quarterback D'Eriq King, who suffered what was ultimately a season-ending injury in the Hurricanes' third game of the year.
"I think you have to give [offensive coordinator] Rhett Lashlee a lot of credit for putting [Van Dyke] in positions to make plays in our passing offense," Diaz said. "I think our wide receivers are making plays for him. There were a bunch of instances of that today and I think we felt like we're better on the outside than we were a year ago…Offensive line stood firm…It's a whole team effort and Tyler just gets to be the conductor and move the offense. But it was great to see multiple guys – Restrepo, Harley – making plays. Rambo, obviously with the big day and Will Mallory on the trick for the touchdown. Just a lot of guys stepping up, a lot of guys making things happen."
Said Van Dyke, "We have a lot of playmakers on offense. You just have to get the ball in their hands. It starts with me, distributing the ball. You can see what Rooster does with the ball, what Will can do with the ball when he has it, and all the receivers, too. Mike, X, Rambo, Key'Shawn…even the young freshmen. We have a lot of young guys making a lot of plays."
And the Hurricanes needed all of those individual performances.
Pickett proved to be every bit the scoring threat Miami expected, completing 39 of 55 pass attempts for 519 yards with three touchdowns.
He passed Dan Marino to become Pittsburgh's all-time leader in touchdowns responsible for (83) and set the Pitt record for total career offensive yardage, passing Alex Van Pelt's mark of 11,148 yards.
"Kenny Pickett, he is that guy," Diaz said. "He was special."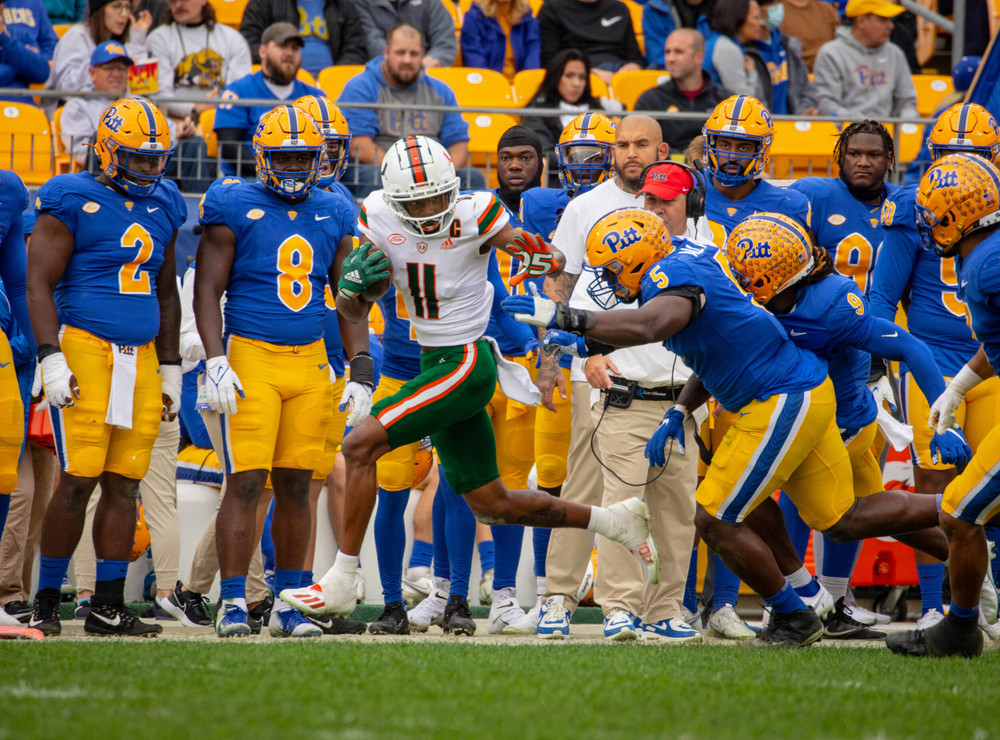 On Saturday, though, so too were Van Dyke and the Hurricanes.
But while they've notched back-to-back wins over top-20 opponents in North Carolina State and now Pittsburgh, the Hurricanes know they can't afford to be satisfied with what they've done over the course of the last two weeks.
There are still four conference games left on the schedule and if Miami wants to compete for the division and conference championships, they're going to need to continue adding to their win total, especially since Pittsburgh and Virginia still have fewer ACC losses than the Hurricanes.
The plan, the Hurricanes say, is to take their remaining games one challenge at a time, starting next Saturday at Hard Rock Stadium when they host Georgia Tech.
"We have to attack Monday," Knighton said. "We have to move on. We have another team to focus on."
Added Mallory, "With the win last week and the win this week, like I said before, we've just got to keep this thing rolling; keep the same momentum, the same energy that we have going on because we do have something special."