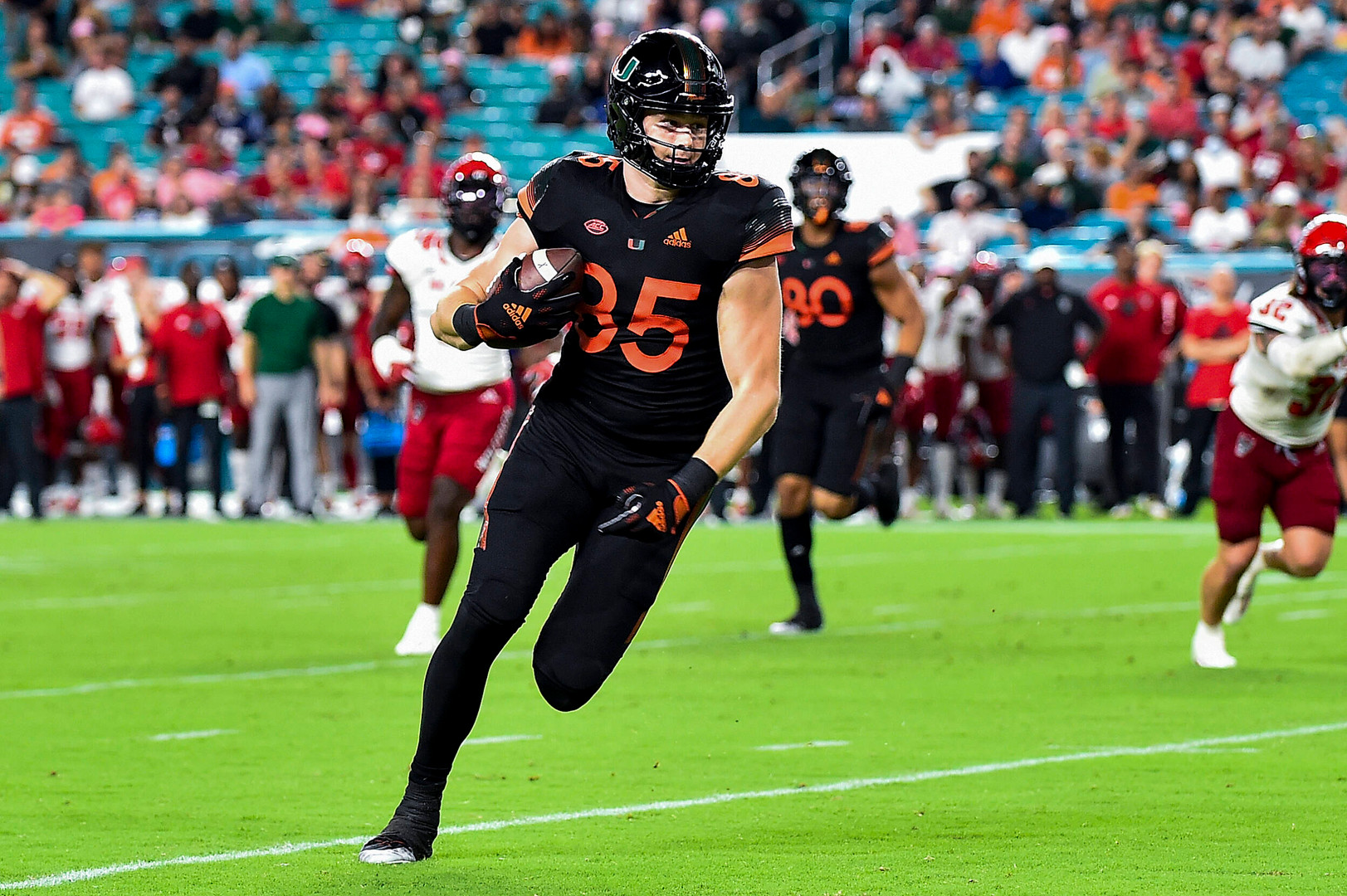 CORAL GABLES, Fla. – His whole family is from East Lansing and so, of course, they were there.
Will Mallory knew they'd traveled south and were rooting for him and the Hurricanes when Miami hosted Michigan State earlier this year and he'd hoped to give them a reason to cheer.
Instead, after the game, he put on a brave face when he joined his family for dinner and hoped against hope that none of the televisions overhead would show the play he hoped to forget.
Earlier that day, with the Hurricanes looking to add to their second-quarter lead and put pressure on the Spartans, Mallory – a veteran tight end who was wide open in the end zone – dropped a sure touchdown pass from quarterback D'Eriq King.
Three plays later, the Hurricanes missed a field goal and on Michigan State's ensuing drive, the Spartans scored, took a 10-7 lead and never trailed again in what was eventually a 38-17 win.
Mallory, who entered the season with high expectations after the departure of fellow tight end and close friend Brevin Jordan, was devastated.
"It hurt a lot," said Mallory, who had 329 receiving yards and four touchdowns as a junior in 2020. "I'm pretty good at bottling things up and not showing it, but that was definitely a really, really hard time for me."
Things didn't get much better shortly thereafter.
Mallory didn't have a catch in Miami's win over Central Connecticut State. He didn't have a catch in a heartbreaking loss to Virginia, either.
In a matter of weeks, the game Mallory had loved all of his life, had grown up around thanks to his father and grandfather, had stopped being fun.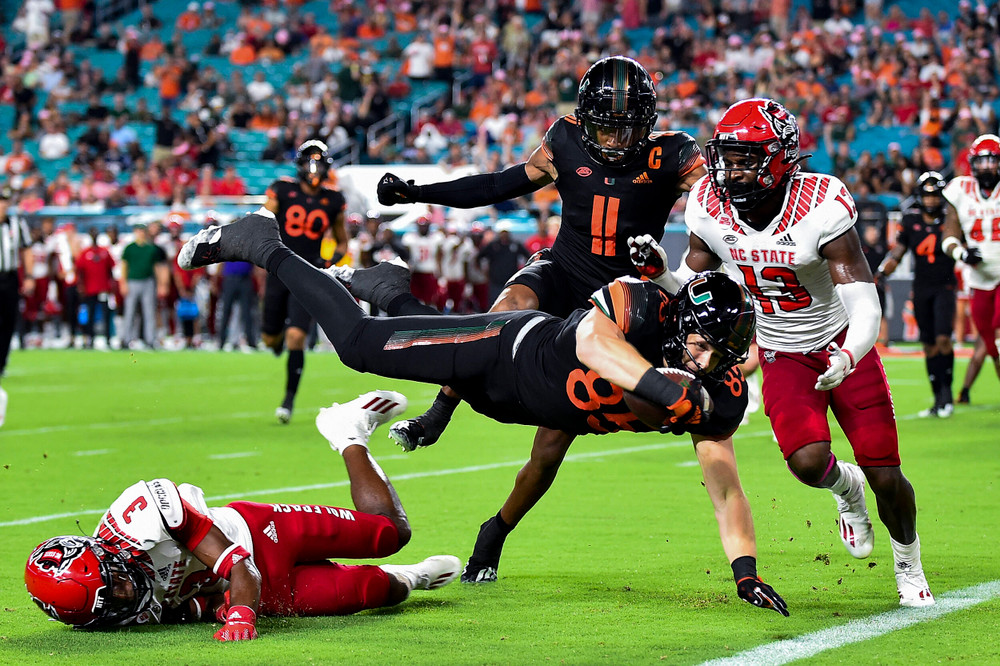 Still, he put his head down and tried to do his best in practice, focusing on the little things he knew could help him break through.
"He was humble. He worked as hard as he could. He worked on being a better blocker. He worked on doing all the things that are boring, that nobody cares about, the little things," Miami offensive coordinator Rhett Lashlee said of Mallory. "He just went to work. He didn't worry about catching balls or what came his way…We weren't consciously pushing it to him because we just wanted him to work through this."
That work on the practice field helped. So, too, did encouragement from teammates and coaches. His family provided support as best it could, with his parents traveling to every game and his sister in the Netherlands calling to check in as often as possible.
Finally, against North Carolina, there was a shift.
Mallory made a pair of catches. And while the Hurricanes ultimately came up short in a heartbreaking loss, their 25-point second-half offensive showing was encouraging.
The tight knew both he and his teammates were on the verge of breaking through.
"You never want it to end that way, but that was the first game this year where I was like 'Okay, I'm starting to feel better, starting to have fun again," Mallory said. "I knew then we were on the right path to getting better."
He wasn't wrong – and a reminder from one of his teammates helped drive that point home.
Second-year freshman quarterback Tyler Van Dyke, who took over as Miami's starter after King was injured in the loss to Michigan State, pulled Mallory aside for a conversation.
Like Mallory, he'd endured his share of ups and downs this season. But as the quarterback reminded the tight end, the two of them could settle in and make the plays they expected of themselves.
That moment came last Saturday at Hard Rock Stadium when the Hurricanes notched their first ACC win of the season with a 31-30 upset of then-18th-ranked North Carolina State.
Van Dyke had a career night, throwing 325 yards and four touchdowns. Mallory caught one of those touchdowns, a 5-yarder early in the third quarter that gave the Hurricanes a 21-17 lead.
It was the tight end's first score of the season and it felt like a weight had been lifted.
"I knew I had to make it happen. I was like, 'They're giving you a shot. You have to make it happen,'" Mallory said. "Getting in was a relief. It was everything for this team, not just myself. What we've been through this year, seeing all the guys happy and playing well…[Charleston] Rambo doing his thing. Tyler doing his thing. The guys on defense, the true freshmen doing their thing. That game wasn't just a happy moment for myself, but for the whole team and all the coaches…Being in that locker room and seeing the smiles on everyone's faces just meant so much to me."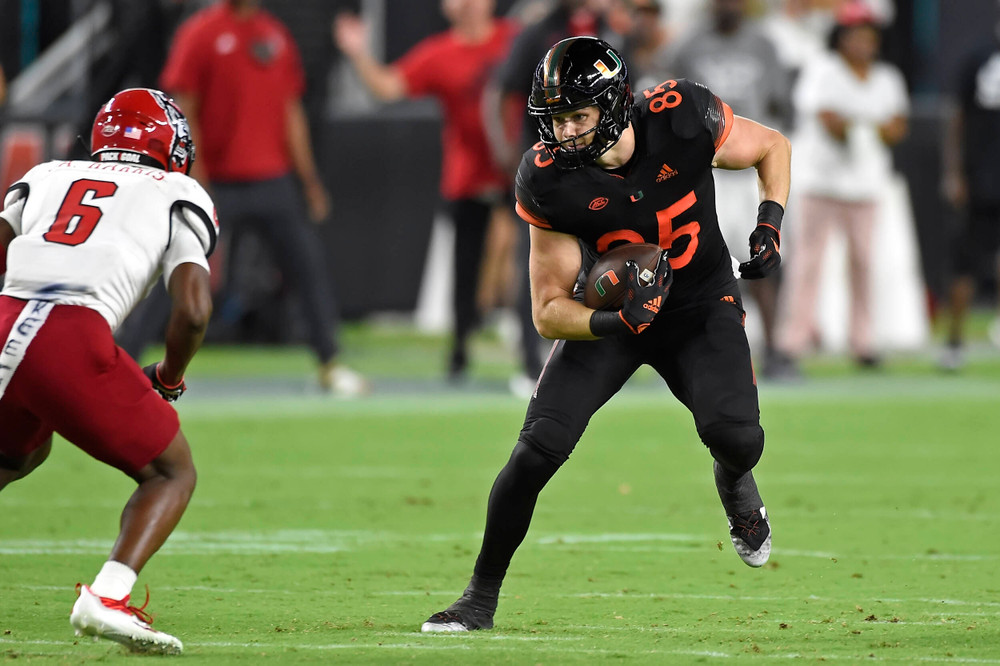 The touchdown grab wasn't Mallory's only big play of the night.
With the Hurricanes facing a third-and-16 and needing a first down on their final possession to run the clock out and keep NC State's offense off the field, Van Dyke turned to Mallory again.
This time, the two connected for 21 yards. Three plays later, game over and for Miami, a win.
"I think [Mallory's] a great example of a guy who just came to work, did everything right over the last month and it's funny how the ball finds those guys in those moments, like the last play of the game, really," Lashlee said.
As much as Saturday's performance meant to him, though, Mallory knows his job now is to continue improving and to continue helping the Hurricanes move forward.
Six ACC games remain on the schedule, starting with Saturday's matchup against 17th-ranked Pittsburgh in the Steel City.
To keep their hopes of playing for a conference title alive, the Hurricanes know they have to keep winning. Mallory is determined to do whatever he can to make that happen.
"We still have to remember where we are and we still have something to prove every single week. We've got a chip on our shoulder. We've just got to get in there and play like we did last week," Mallory said. "We know we're a good second-half team. We know we're going to put up points and we're going to finish. We just have to start fast and keep the momentum that we have…I have to make plays when my number is called on. I need to be the guy they can rely on. That's something I want to keep improving on. I want to be a guy that can make up for what happened in the beginning of the season. Obviously, you forget about the past. But at the same time, you have to learn from it and I just want to do whatever I can to help the team and help us get better at the end of the day."