"We Needed Someone to Rally Around"
MIAMI GARDENS, Fla. – This time, when the clock expired, there was no heartbreak.
Instead, Mike Harley mobbed his quarterback in celebration. Other Hurricanes soon followed.
And amidst all the hugs, the high fives and the congratulations, Tyler Van Dyke beamed.
The second-year freshman knew this 31-30 win over 18th-ranked North Carolina State was just what Miami needed after back-to-back last-second losses to Virginia and North Carolina.
And that victory, that moment with his teammates meant more to Van Dyke than any of the glittering numbers he'd just put up in was, so far, the best performance of his young career.
"I feel like a lot of guys had my back," Van Dyke said. "I feel like I'm really taking charge of the offense, more than I have been the past couple weeks. Our team is a confident team and there is a lot of fight in each and every guy."
Van Dyke, who took over as Miami's starter after veteran quarterback D'Eriq King was injured in Miami's loss to Michigan State, completed 25 of 33 passes for 325 yards and four touchdowns.
He led the Hurricanes on a scoring drive to open the game, connecting with Charleston Rambo on a 25-yard touchdown to give Miami a quick lead, something the Hurricanes haven't been able to do in their previous conference games.
And more importantly, after the Wolfpack took a 27-24 lead in the opening minutes of the fourth quarter, Van Dyke engineered another scoring drive that, again, ended with Rambo in the end zone.
That touchdown made the difference, ultimately. But Van Dyke made so many other big plays that had an impact Saturday night.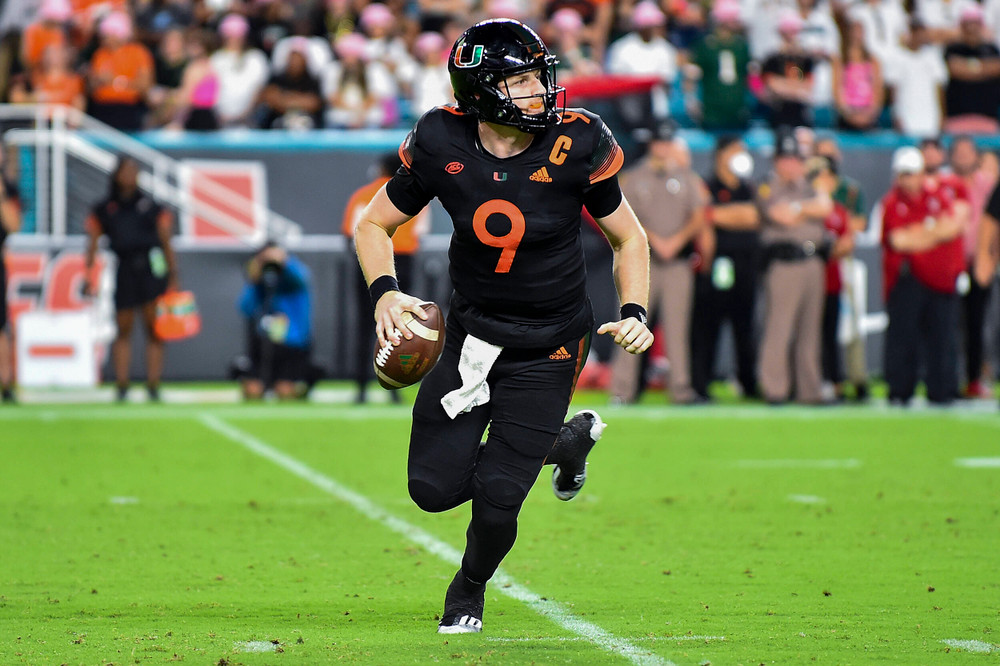 A 53-yard scoring pass to Jaylan Knighton. A 60-yard connection with Rambo in the opening minutes of the second half that, moments later, led to a 5-yard touchdown pass to Will Mallory. And a 21-yard connection with Mallory in the game's final minutes that gave the Hurricanes a needed first down and the opportunity to run out the clock.
So often when his team needed a play, Van Dyke stepped up and delivered.
No wonder the Hurricanes couldn't wait to congratulate one of their newest leaders.
"I think they all mobbed him because they respect his courage. To me, to be a young guy like that, it's hard to be the starting quarterback at the University of Miami. There's a lot of pressure that comes with that," Hurricanes head coach Manny Diaz said. "For him to step up in a leadership role, like he's done, to try and own that, this team was waiting for someone like that to follow and they're just so excited about him not just doing it, but that he was able to lead us to victory."
Added Rambo, "He's a ball player and a competitive guy who wants to get a win. Just, a guy like that at quarterback is always going to be better for the team. So, having him at quarterback and having his pregame speeches motivates us. We just go out there, protect Tyler, be great and catch all the balls he throws. We're there for Tyler regardless. We love Tyler at quarterback."
And this week, especially, the Hurricanes (3-4, 1-2 ACC) rallied around their young quarterback.
In the days leading up to Saturday's game, Van Dyke made headlines both in South Florida and in North Carolina when he confidently praised his offense and said that while the Wolfpack (5-2, 2-1) had one of the nation's top defenses, he still believed North Carolina State would have a hard time stopping the Hurricanes.
Diaz, knowing the comments would likely fuel the Wolfpack, didn't chastise his quarterback.
Instead, he shared Van Dyke's words with the rest of the Hurricanes in a team meeting. His hope? That Miami's players would be motivated by what their quarterback said, too.
It turns out, they were.
The Hurricanes totaled 420 yards of offense against an NC State defense that, coming into the game, allowed opponents an average of just 292.7 yards per game. The Wolfpack had also been holding opponents to 201.8 passing yards per game – a number Van Dyke surpassed.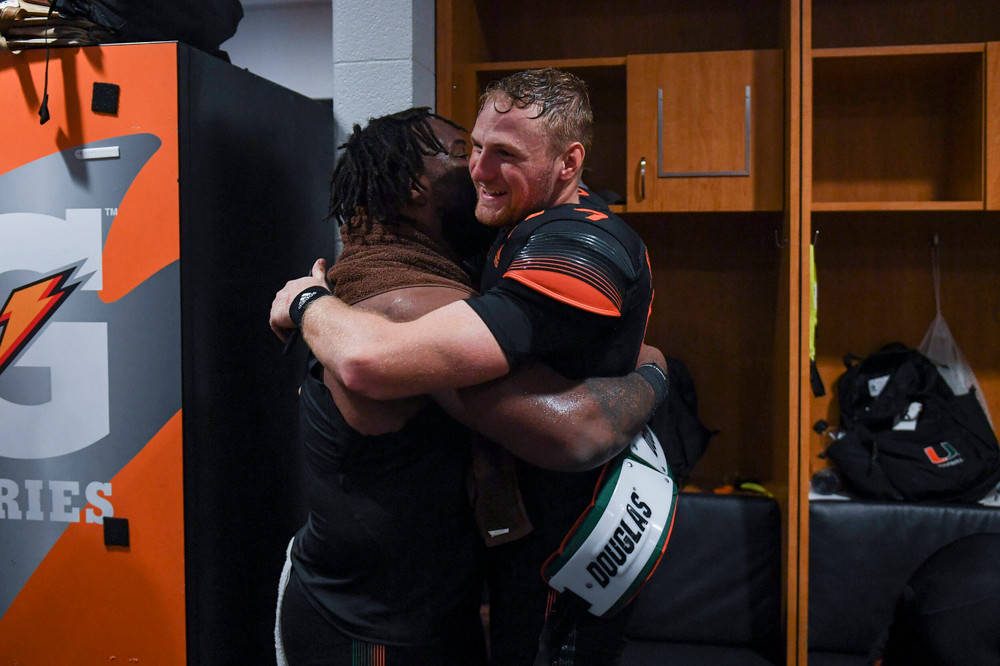 For Van Dyke, knowing he had the support of his coaches and teammates made a difference.
"At first, I feel like I didn't really say anything wrong. They took it differently. I didn't mean to say it like that, but, I was surprised Coach Diaz did that," Van Dyke said with a smile. "Team meeting and he put it on a PowerPoint and read what I said. It was about confidence. I feel like that really helped us tonight, to get that energy."
Said Diaz, "You don't normally see a quarterback with two career starts in conference, both losses, come out and say 'Hey, we did this, we did that, we expect to do this.' And we kind of took that midweek with our team. It's [going to] rile up NC State's guys. Let's let it rile up our guys because since we lost D'Eriq, that's been our thing. We've been waiting for someone to make a play. If you look at the last two games, once someone made a play, man, we were hell on wheels from that point on. We came out a little tentative because we were lacking our leader. We were lacking the star. And Tyler this week, with what he said and the confidence he exerted, that's the confidence in my mind that our team had been missing. That's the confidence that we had not been playing with in the first half of games. We doubled down what he said. We followed what he said…We needed someone to rally around and that's what Tyler did today."
As well as Van Dyke and the Hurricanes played Saturday, though, they know there is still much work to do.
Next week, Miami will travel to face 23rd-ranked Pittsburgh, which handed Clemson a 27-17 loss on Saturday. After that, the Hurricanes still have ACC games against Georgia Tech, rival Florida State, Virginia Tech and Duke on the schedule.
The Hurricanes – and Van Dyke – understand they have to continue building on what they did against North Carolina State.
The quarterback, of course, is plenty confident Miami will keep fighting.
"We just have to use that confidence. Our offense played great. Our defense played great and made some really key stops," Van Dyke said. "We're still going to get better. We're still going to watch film and learn from our mistakes. We've just got to keep getting better."