Del Castillo Headlines Preseason All-America Trio
CORAL GABLES, Fla. – For the second straight year, Adrian Del Castillo was named a first-team preseason All-American.
Del Castillo headlines a trio of Hurricanes named to Collegiate Baseball's Preseason All-America Teams. First baseman Alex Toral and RHP/UT Ben Wanger each earned second-team All-America recognition, giving Miami multiple Collegiate Baseball preseason All-Americans for the second consecutive season. The Canes had four selections a year ago, as Del Castillo and Toral were joined by third baseball Raymond Gil and right-handed pitcher Brian Van Belle among the honorees.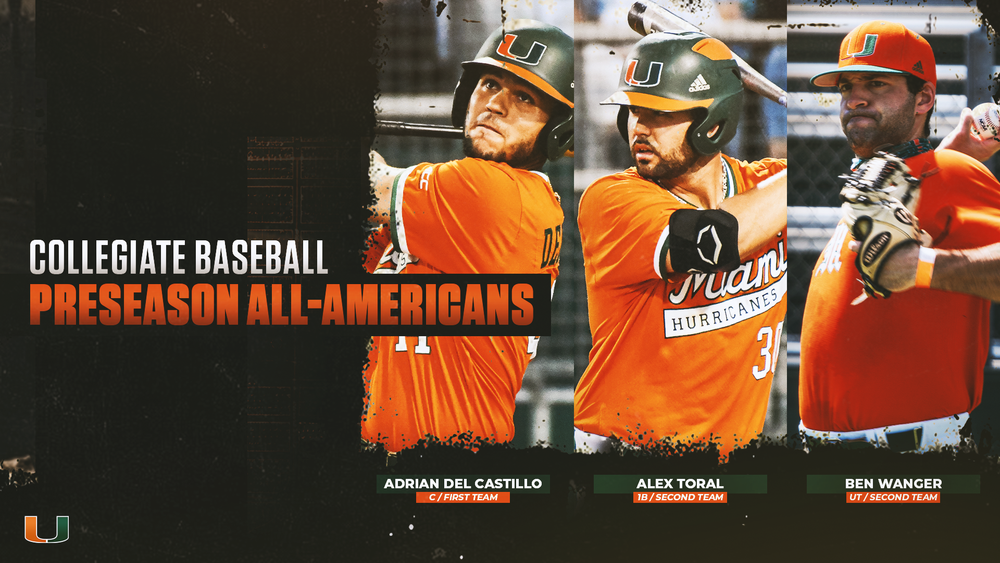 One of the best hitters in America, Del Castillo is considered among the top prospects in the 2021 MLB Draft class. The third-year catcher has been a hitting machine in his two years at The U, hitting .336 with 24 doubles, 14 home runs and 87 RBI over 77 games played. In a 16-game shortened season a year ago, Del Castillo led the Hurricanes with a .358 batting average and was tied for the team lead in runs scored (13) and hits (19), while his 15 RBI tied for second on the club.
A 2020 Preseason All-American by four different publications, Del Castillo was an offensive juggernaut in his debut season with the Canes. The standout finished the 2019 season batting .331 with 78 hits, 22 doubles and 72 RBI, all team-bests. The Miami native also scored 58 runs and clubbed 12 homers, while striking out just 24 times in 236 at-bats. A versatile player who saw time in right field, catcher, designated hitter and third base, he tied for the team lead with 22 multi-hit games and was second on the team with 18 multi-RBI performances.
Del Castillo's 72 RBI were the second-most by a UM freshman in program history, finishing just four shy of Ryan Braun's record 76, set in 2003. The 72 runs batted in were also the most by a Miami freshman since Yonder Alonso drove in 69 as a freshman in 2006. His 18 multi-RBI games were the most by a Hurricane freshman since Zack Collins posted 15 in 2014. A Freshman All-America selection by four publications, Del Castillo earned a host of awards after his collegiate debut season, including Second Team All-ACC, ACC All-Freshman Team, ABCA All-Region and All-Starkville Regional Team honors.
Already one of the top power hitters in the nation a year ago, Toral brings his big bat back to the heart of Miami's lineup after leading the team with five home runs and 16 RBI in 16 games a year ago. The fourth-year junior posted a .296 batting average in 2020, while leading the team with a .593 slugging percentage and was second on Canes with .435 on-base percentage.
Toral flexed his muscle at the plate in 2019 for the Canes, hitting an ACC-leading 24 home runs that ranked third in Division I and helped propel Miami to a conference-high 85 homers on the year. The herculean first baseman's 24 homers moved him into a tie with Yonder Alonso for the second-most home runs by a Hurricane in a single season.
In addition to his prolific power numbers, Toral hit .293 with six doubles, 47 runs scored and 67 RBI. The Davie, Fla., native's 19 multi-RBI games led the Canes and he also posted 15 multi-hit performances. An outstanding performance in his first NCAA tournament earned Toral a spot on the 2019 All-Starkville Regional Team.
Wanger, who was a Collegiate Baseball second-team All-American a year ago at USC, is expected to take over as Miami's closer this season. A year ago at USC, the right-hander served as the Trojans' closer, recording three saves, good for second-most in the Pac-12, and a 0.00 ERA. Wanger did not allow an earned run in his six relief appearances, striking out eight batters and walking one in 6.1 innings pitched.
The sixth-year graduate transfer is a versatile player who can also help with his bat. Wanger slashed .410/.500/.564 in 2020, leading the Trojans and finishing fifth in the Pac-12 in batting average. The left-handed hitter drove in eight runs and scored five, hitting four doubles and one triple in his brief stint at USC. Prior to his time with the Trojans, Wanger was an All-Ivy selection as a relief pitcher and first baseman at Yale.
Miami is expected to be one of the top teams in the country in 2021. The Hurricanes came in at No. 6 in Collegiate Baseball's Fabulous 50 NCAA Division I Pre-Season Poll, as announced Monday.