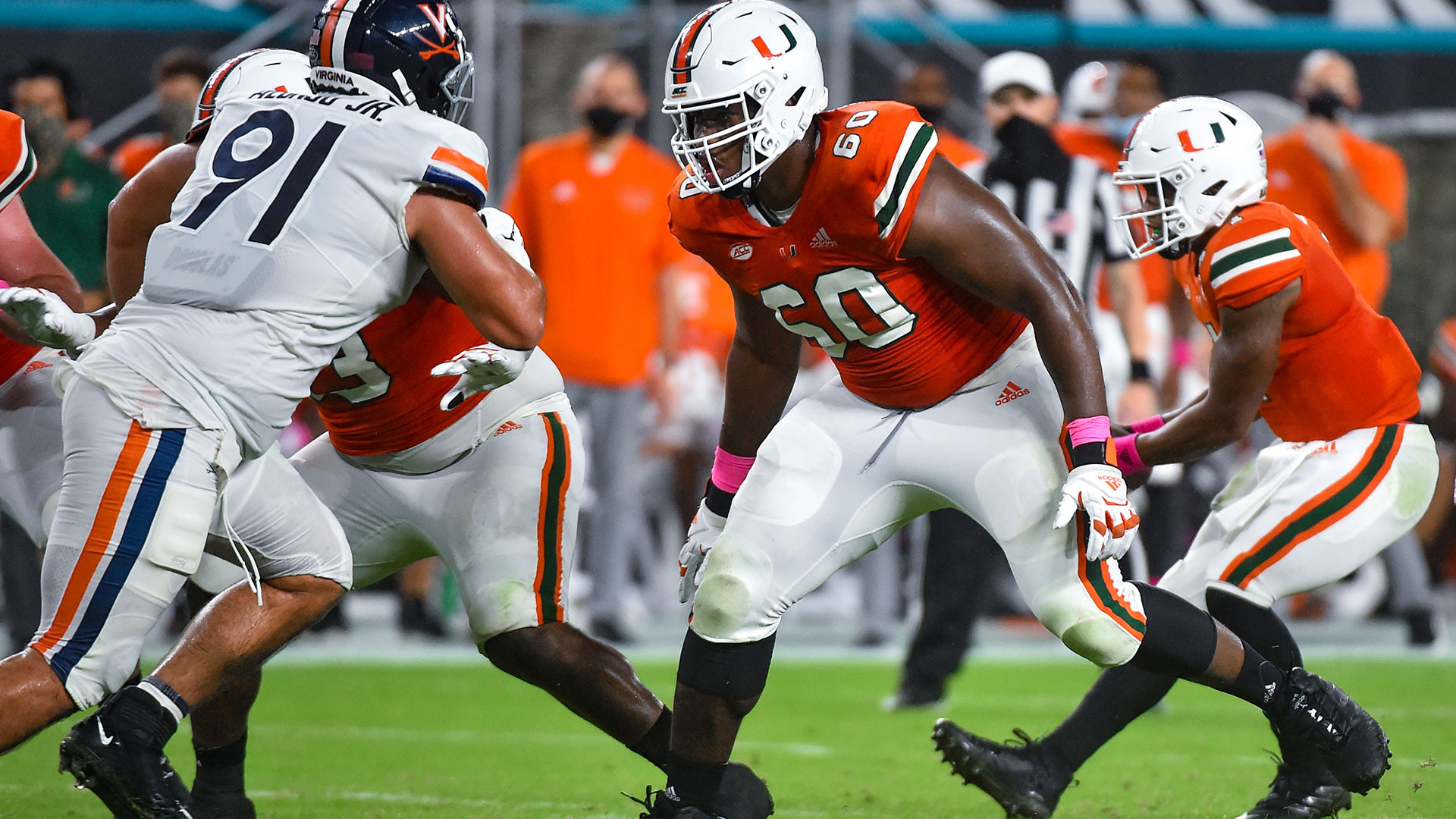 CORAL GABLES, Fla. – Zion Nelson isn't exactly one to mince words, especially when it comes to discussing some of the challenges he's endured during his time as a Miami Hurricane.
After being thrown into the fire as a 13-game starter during his freshman year last season, Nelson found himself out of the starting lineup when the Hurricanes opened this season against UAB. The offensive lineman didn't start against Louisville either and he wasn't happy about it.
But instead of sulking, the 6-foot-5, 312-pound sophomore looked inward.
"I just had to get the right mentality and be patient and keep working hard every day," Nelson said. "The guy who started ahead of me obviously could do things better than me. So, I just wanted to improve on those things before I could even thinking about coming up to coach and asking 'Why am I not getting playing time?' I really knew the reason."
That introspection and that willingness to work paid dividends and his coaches took note.
When Miami took the field for its third game of the season, Nelson was back as the Hurricanes' starting left tackle. And that night against Florida State, he was part of a unit that helped Miami's offense total 52 points, 200 rushing yards and average 6.1 yards per play.
Nelson has been a regular in the starting rotation since and has continued to earn praise from his coach, who says the sophomore has become one of Miami's consistent offensive linemen, despite the fact he's had to play at multiple positions while teammates have dealt with injuries.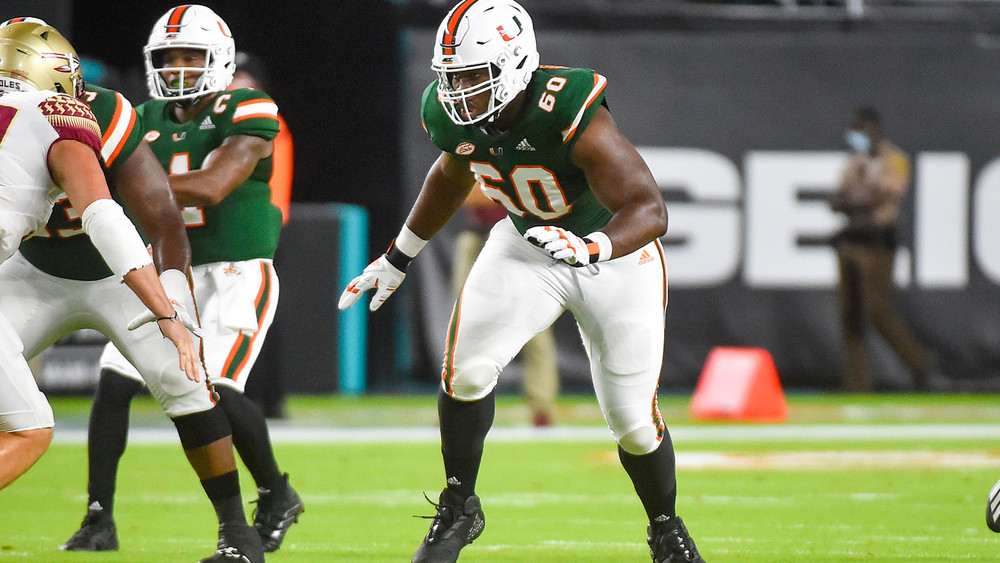 "He's a guy that is going to try and do everything you ask as a coach. You start pairing up the fact that you're a good person with good character, along with work ethic and natural ability and that's a guy that usually just wants to keep getting better and better," offensive line coach Garin Justice said of Nelson. "That's the biggest thing with us. Zion has great attention to detail and when we go to practice, the things we coach you can see him try his best to implement it. He does it to the best of his ability and you've seen him just steadily improved as the year has gone along."
As the ninth-ranked Hurricanes continue preparing for Saturday's ACC showdown with Virginia Tech in Blacksburg, Miami is again counting on Nelson to continue his strong play while helping protect quarterback D'Eriq King, who is coming off one of the best single-game performances by a Miami quarterback in program history.
In last week's 44-41 comeback win at NC State, King completed 31 of 41 passes for 430 yards and five touchdowns while rushing for another 105 yards.
He became just the third quarterback in ACC history with a 400-yard, 100-yard rushing game, joining former Louisville star Lamar Jackson and former Clemson star Tajh Boyd. King put together just the 13th 400-yard passing game in Miami program history and became just the second Hurricanes quarterback to throw for 400 yards and five touchdowns in a game.
In all, the Hurricanes totaled 620 yards of offense against the Wolfpack, and Nelson says he and his fellow linemen are determined to help their quarterback continue to build on those numbers.
"He's amazing. Sometimes, I don't even believe what he can do," Nelson laughed. "I'm just thinking, 'How many people can do that?'"
There's no doubt King's mobility and skill have helped make Nelson and his fellow linemen's jobs a bit easier this fall. But Nelson doesn't take the line's improved performance this year for granted.
A season ago, Miami's young offensive line endured its share of struggles. And Nelson and his teammates felt the sting of the criticism directed their way, especially by those outside the program.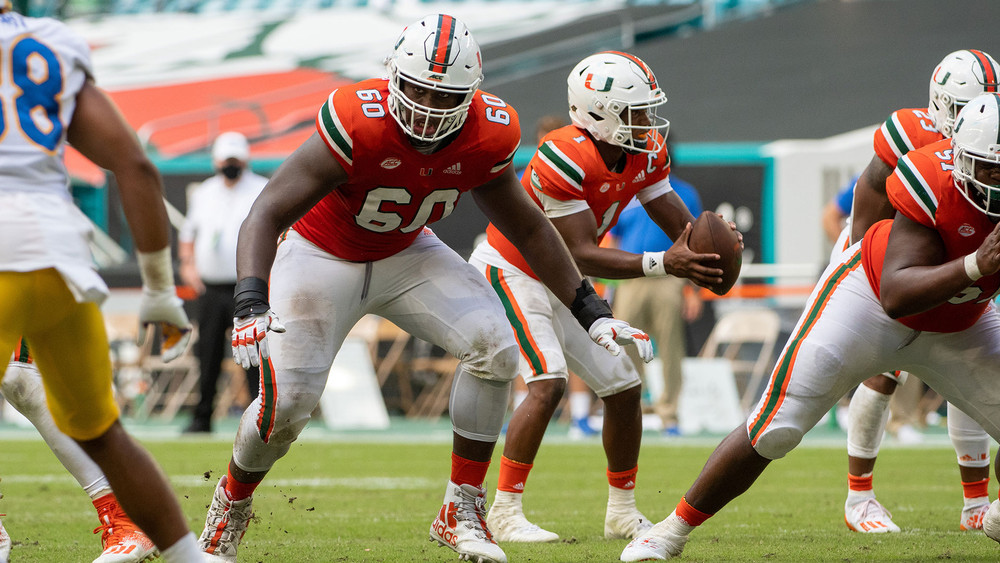 But, he says his experiences a year ago helped drive him to improve, even when he was away from his teammates earlier this year when the COVID-19 pandemic closed Miami's campus and ended spring practice.
During his time back home in Sumter, South Carolina, Nelson did his best to stay in shape, substituting bricks in backpacks as weights until he was able to find a gym he could use on his own.
There was time spent studying film. He worked on his technique. He tried to learn, as best he could, how to be a better player.
"The quarantine did him very well as far as his physical condition and again, that's a credit to him for putting the work in over that time at home," Justice said. "But I think the biggest thing you're starting to see is now, he's finally confident in what he's doing. Whereas before things moved fast, things were quick. He probably knew what to do, but was probably a little unsure of himself. Now he has confidence in his fundamentals, techniques and assignments and that's allowing the game to finally slow down for him. When that happens, that's why he's having the success he's having now."
Now, Nelson says he's determined to continue that trend of improvement, especially as the Hurricane continue their second-half push and eye a potential berth in the conference championship.
"For us, it's kind of like we want to make a statement," Nelson said. "Last year, we weren't all that great. We want to not only prove to ourselves, but to everybody else, that we're a really good offensive line. I think we've made a statement that we're better, but there's definitely a lot more that we can do."