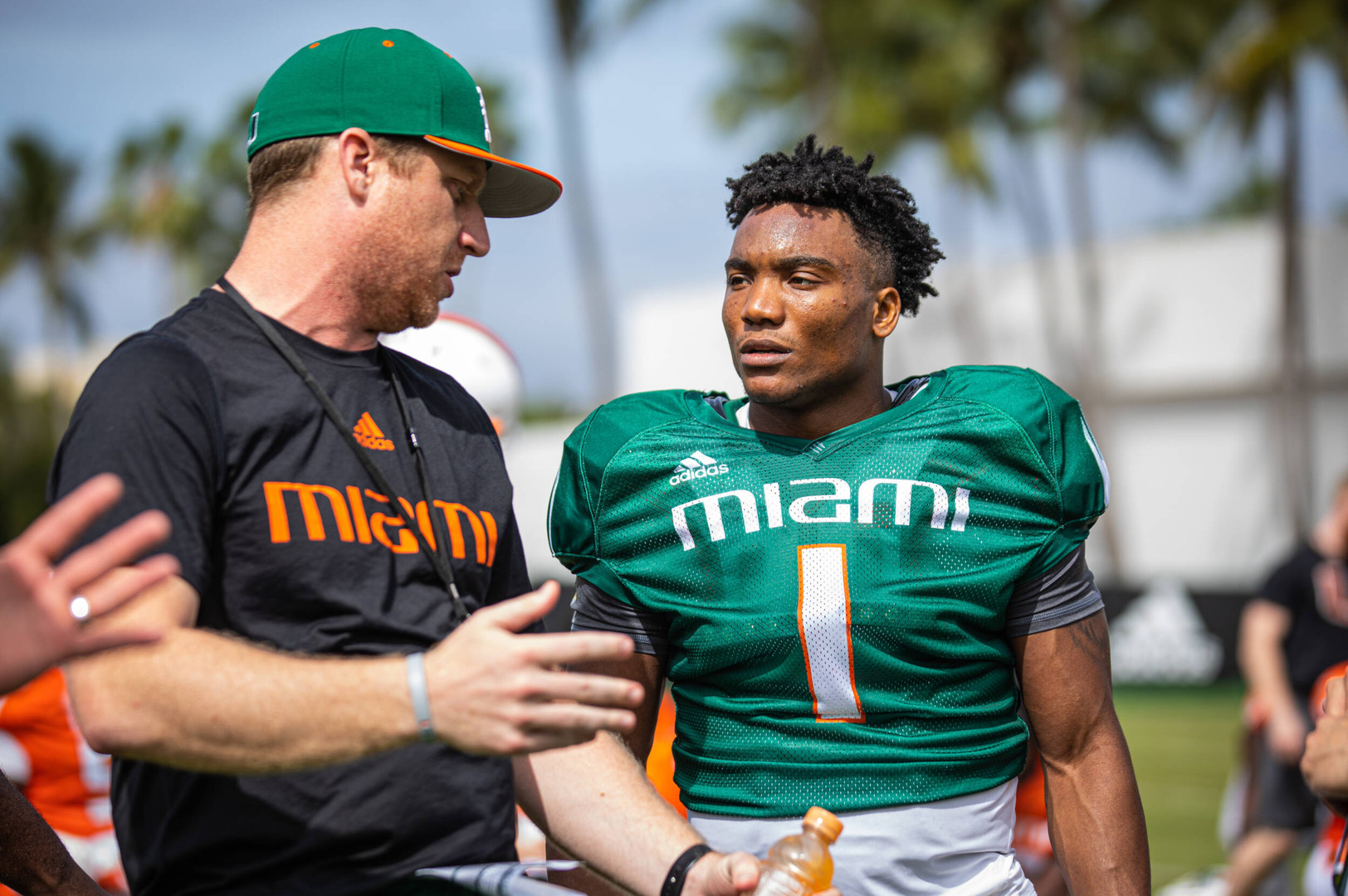 CORAL GABLES, Fla. – He arrived with a singular focus and a fierce determination.
A surreal six months later, D'Eriq King has now checked off one of his biggest preseason goals.
He is officially the starting quarterback at the University of Miami.
"It meant a lot. I had no idea they were going to tell me that today, but it was pretty exciting," King said Monday evening, hours after head coach Manny Diaz and offensive coordinator Rhett Lashlee shared the news of their quarterback decision with players. "As soon as they told me, I thought about my dad, how proud he would be of me right now. … Everyone started clapping and cheering, so that made me feel pretty good. It was a special moment."
For King, Monday's announcement was plenty emotional.
While earning the starting job is meaningful in its own right, it carried extra weight for the quarterback who earlier this year, lost one of his closest friends and his first coach – his father.
Before his death, Eric King encouraged his son to consider playing at Miami, telling King he had the potential to help the Hurricanes once again become a college football force.
King heeded his father's advice and in January, enrolled at Miami as a graduate transfer. He brought with him a dazzling resume from his time at Houston where he totaled 78 touchdowns, 4,295 passing yards and 1,421 rushing yards in 22 starts for the Cougars.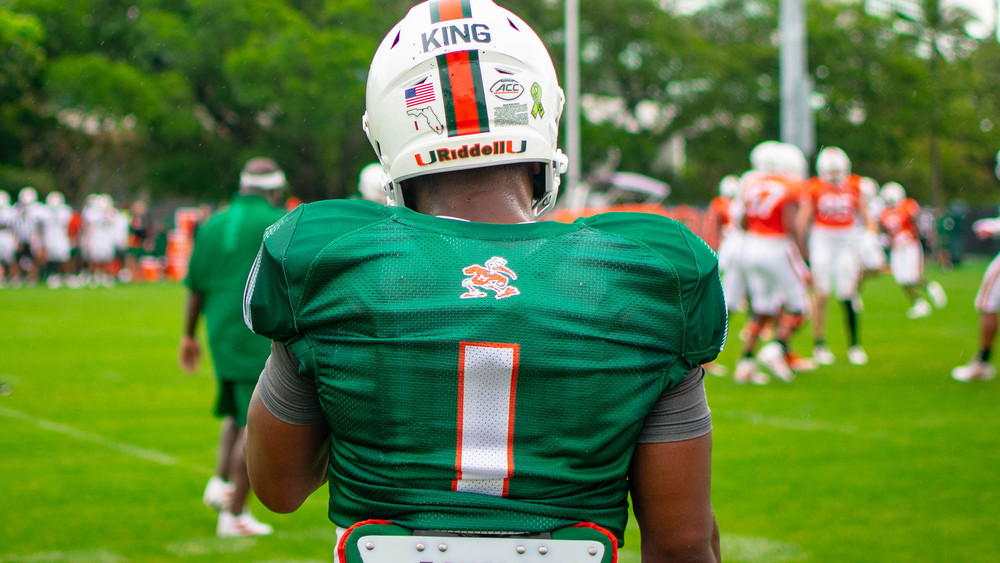 Once on campus, King dove into offseason workouts. He worked to get to know his new teammates. And he began learning Lashlee's fast-paced offense which he'd seen up close when the offensive coordinator was at SMU, an American Athletic Conference rival of Houston's.
"I think the sky is the limit for this offense. Coach Lashlee is a great offensive mind. He lets guys be free and play freely," King said. "There are a lot of opportunities to make plays. We just have to do it. I think this offense can be one of the top offenses in the country. … I know there's a lot of talent here, a lot of guys that can run and make plays, block, all of that."
In March, King suited up for his first practices as a Hurricane, but the quarterback and his new teammates managed just four workouts before the COVID-19 pandemic closed Miami's campus, forcing the Hurricanes to scatter across the country.
But even away from his coaches and his teammates, King's work continued.
He trained on his own in Houston, was there for every virtual team meeting and used group text messages for daily check-ins with each of Miami's offensive position groups, from running backs and receivers to tight ends, offensive linemen and his fellow quarterbacks.
All of that, combined with the experience, leadership and skills King has shown since joining the program were enough to show Diaz and Lashlee the quarterback was ready for the responsibility of being Miami's starter.
"D'Eriq's hard work both on and off the field has earned him the starting quarterback position," Diaz said. "His leadership qualities have been evident since he arrived on campus, continuing through mat drills, spring practice, our virtual meetings and summer activities. We're excited to see him lead this offense and I know his teammates are excited as well."
Said Lashlee, "I think everything he's done since he arrived has been exactly what you'd expect. … He's just carried himself very well. I think his teammates really like him and respect him, which is a big deal. He's done a good job of beginning to earn that respect from those guys. I think when Coach Diaz and I spoke about it, everything he's shown us so far has shown that he's that guy that is ready to be that leader for us., And it's such a unique year, everything's different and with the information we have so far, we felt like it was best for our offense and our team to go ahead and have some clarity in an area we felt we could give them clarity."
As much as yesterday's moment meant to King, the quarterback knows that it's now that his work at Miami will truly begin.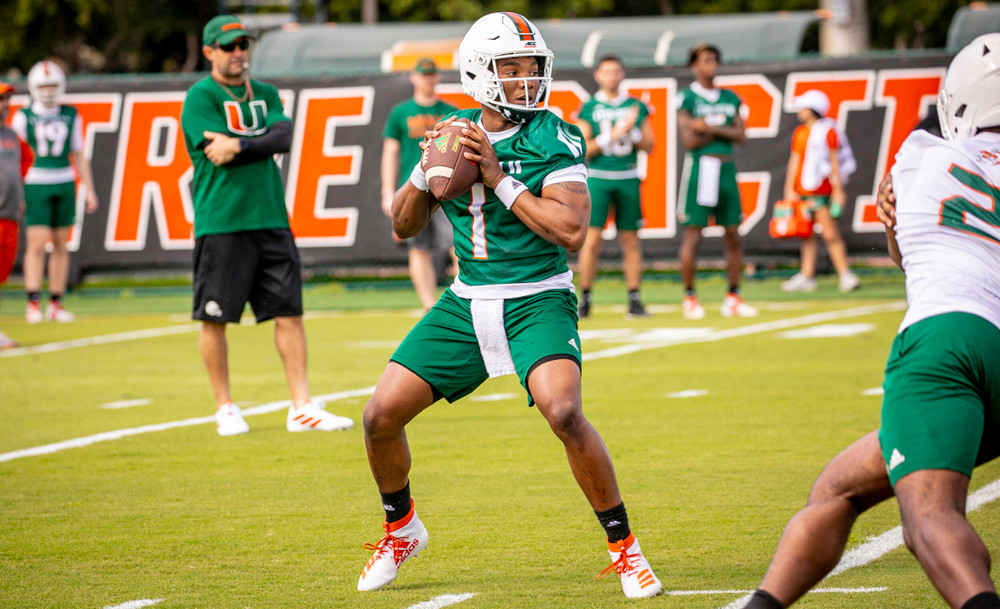 He is embracing the challenges ahead and says he is more than ready to do his part to continue the legacy of Hurricanes greats that have come before him.
And King, who was recently named to the 2020 watch lists for both the Davey O'Brien Award and the Maxwell Award, has already sought advice from some of those greats as he continues improving.
"I've talked to some former players. Edgerrin James, obviously Ed Reed and I knew Vince Wilfork a bit, so I've talked to him," King said. "It's crazy, especially talking to Edgerrin James and Ed Reed. Those are two Hall of Famers, two of the greatest players to ever play the game. When I talk to them, it's still surreal. … When I first got here, during winter workouts, I was throwing routes on air and Ed Reed was like, 'Man, if I'm back there, I'm picking it off.' He gave me little tips and I was like, 'That's really Ed Reed telling me what I should do.'"
Now, King notes, it's time to take what he's learned – from his father, his coaches, and yes, Ed Reed – and put it all into motion.
"I just want to win as much as possible. I know that sounds boring, but that's honestly all I want to do," King said. "I want to have a winning season. … I want to help change the program around. I want to win as big as possible and help my teammates get where they want to go.
"Four, five years ago, I never thought I'd be the University of Miami quarterback. Being named the starter feels surreal. I still can't believe it. But I'm excited and ready for whatever's coming."