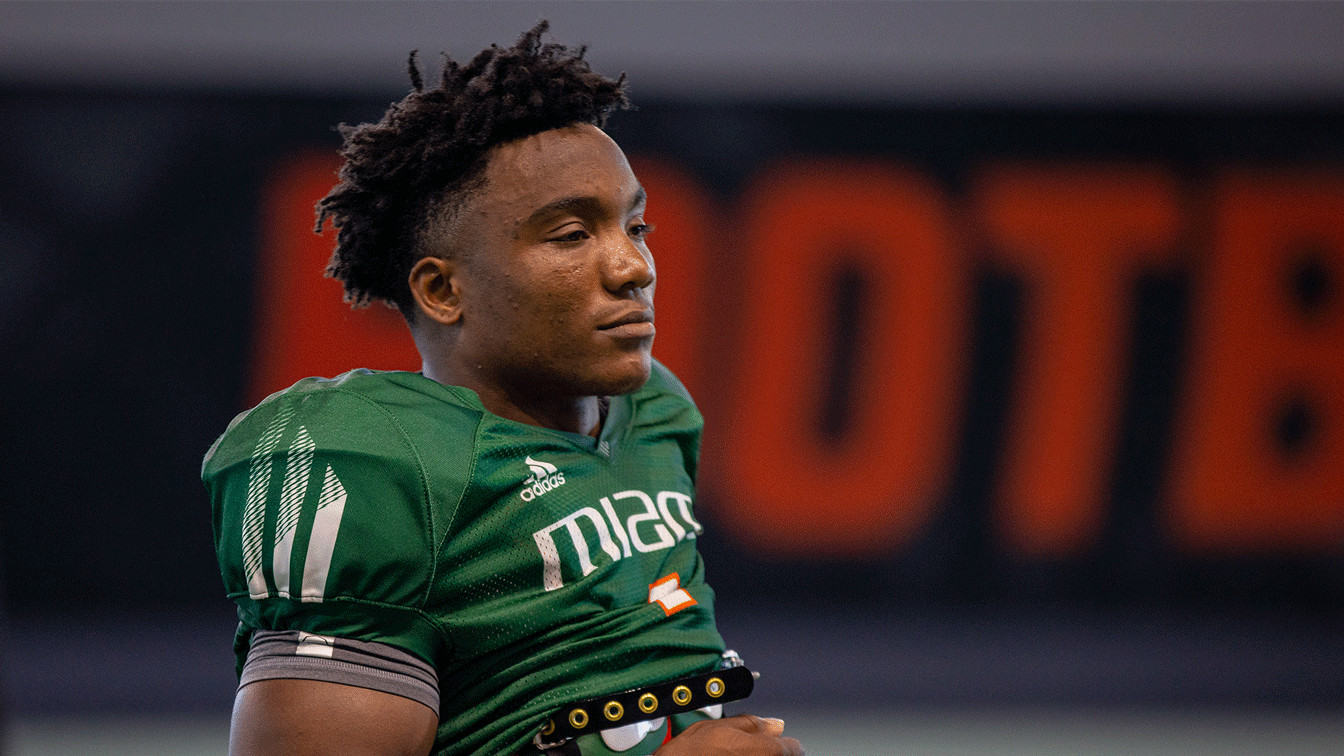 By Christy Cabrera Chirinos
HurricaneSports.com
 
CORAL GABLES, Fla. – He was just a preschooler when his father introduced him to the game.
 
Eric King walked through the door of his family's home one day, handed the youngest of his four children a football and helmet and that was it.
 
D'Eriq King was hooked.
 
"He slept in that helmet, with his football, that whole night," recalled Keshon King, D'Eriq's older brother. "He wouldn't take it off, for any reason. He'd be in bed, with his blankets all over him, sleeping with his helmet on. He did it for about a week straight. That's really when he started to love the game."
 
Eighteen years later, that love is still there. Eighteen years later, his father's influence remains.
 
It was Eric King who coached D'Eriq for much of his career, helping shape his son into a four-star quarterback who was regarded one of the nation's top 250 prospects coming out of Manvel High School in Texas.
 
It was Eric King who encouraged his son to persevere when some coaches, analysts and scouts told D'Eriq that maybe, because of his 5-foot-11 frame, he should consider playing a position other than quarterback.
 
And it was Eric King who, when his son began weighing his options as a graduate transfer, suggested D'Eriq should look at the University of Miami.
 
"He saw the same things in Miami that I did," D'Eriq King chuckled. "He grew up in the 80s and 90s and saw all those guys that played here. … We could be great here, that's what he told me."
 
That potential and the chance to play in the fast-paced, up-tempo system run by new Hurricanes offensive coordinator Rhett Lashlee proved too attractive to ignore.
 
So, in January, D'Eriq King – who in his 22 starts at Houston accounted for 78 total touchdowns and a combined 6,346 passing and rushing yards – made the decision to leave his hometown and head east.
 
He enrolled in Miami's graduate program and began taking classes. He found himself a place to live with roommate and fellow graduate transfer Quincy Roche. And he dove into offseason workouts, quickly commanding respect from the teammates he was still getting to know.
 
"The first thing they saw is that when D'Eriq got here, and with no great fanfare, went in the locker room, went in the weight room, went into our offseason program and just went to work," Hurricanes coach Manny Diaz said.  
Everything seemed to be going as well as King could have hoped. Then, unexpected, unimaginable news from home.
 
Eric King had died. D'Eriq King flew back to Houston immediately.
 
Football had to wait.
 
In that moment, what mattered most was being with his devastated, tight-knit family, including Keshon and his two older sisters, Erica and Calandria.
 
Together, the King children did their best to comfort each other and their mother, Cassandra, who was already enduring her own personal struggle – chemotherapy for a battle with breast cancer.
 
In their grief, Eric King's family did its best to carry on, together.
 
Erica and Calandria temporarily moved in with Cassandra. When D'Eriq returned to Coral Gables to resume classes and rejoin the Hurricanes, Keshon came with him, keeping his younger brother company during those first difficult days back.
 
"It's been tough. This is his first time moving away from Houston, so we've always been just about 10, 15 minutes from each other," Keshon said. "He knew what he was getting himself into when he moved to Miami. He knew he was going to be away from his family. But he also knows that we'll always support him in whatever he wants to do … He knows we have his back and we're only a flight away."
 
That support has been a help, of course. That his new football family has rallied around him has provided comfort, too.
 
The Hurricanes pushed back the start of spring practice so King could make a second trip back home to attend his father's funeral. Lashlee traveled to Houston with him for the service and teammates sent countless messages to remind him that while he'd soon be more than 1,100 miles from home, he was far from alone.
 
"He has 100 brothers here for him, every single day," said Hurricanes center Corey Gaynor. "There's a lot of guys in that locker room and we're all together, almost every single day. We're connected by one rope. We're all brothers."
 
Added Roche, "He has a family here and that's what it's all about. This team has embraced us in the five, six, seven weeks we've been here. We're already part of the family. I think that's been a big help to him."
 
The other big help, of course, has been playing the game his father taught him.
 
Two days after Eric King's funeral, D'Eriq was on the field for his first practice as a Hurricane.
 
He threw passes, ran plays and frustrated defenders, including his roommate. When he wasn't in a particular drill, he was often at the side of offensive assistant Jonathan Brewer, asking questions and studying everything happening around him.
 
During a water break, he had a spirited conversation with Gaynor. And he excitedly cheered every good throw made by each of his fellow quarterbacks, N'Kosi Perry, Tate Martell, Peyton Matocha and Tyler Van Dyke.
 
His grief is still there. His heart remains heavy. He knows his father more than likely would have called him before Monday's practice to encourage him and wish him well.
 
That that call never happened stings. But, getting back into the routine of football has given King a respite he doesn't take for granted.
 
On the field, there is peace, even if it's brief. There is motivation, too, because he knows his father would expect nothing less than for him to be at his best.
 
"He was always my coach, hard on me. If he was here right now, he'd tell me to go out there and practice as hard as I can and get better," King said. "I think that's what he'd want me to do, so that's what I think about every single day.
 
"He's been coaching me since I was four. … But, beyond football, he was just a great dad. He was like my best friend. And he was the comedian of our family. He kept everybody together. He did so much and he loved my mom so much. … We're a really, really, really, really close family."
 
Those who know him best would say that family shaped D'Eriq King into the competitor he is.
 
Eric and Keshon both played football. Cassandra was a college basketball player at Grambling State and was, given her participation in more than a few powderpuff leagues, one of D'Eriq's earliest throwing targets. Calandria played basketball, too.
 
Everything in the King home was a competition, from card games to driveway basketball. Table tennis matches became notoriously intense, with D'Eriq often emerging as the victor.
 
And even though he's only been at Miami for a handful of weeks, it hasn't taken long for his new teammates to see he's serious about football and serious about what he wants to do here.
 
"He's everything you ask for in a quarterback and I feel like this is his kind of offense. He's a fast-paced type of guy so everything he says, you've got to buy into it and move in quick," receiver Mike Harley said. "And the way our offense is designed, he can run it, keep it, throw the ball. He's dynamic. He has everyone on their toes. … You never know what he's going to do. He's keeping the defense on their toes and keeping us on our toes, too."
 
Quipped linebacker Zach McCloud, "A lot of quarterbacks, I make fun of them for that position. They're protected in practice and things like that, but, he's a football player. … He threads the needle so well. You can be right up on the guy and he'll throw it to the dude's fingernails. He's going to get it right where it needs to be and he's really increasing the level of competition, overall, in that room. I'm ready to see what's going to happen with him."
 
His coaches have been impressed as well.
 
King's encouraging tone and positive attitude have helped set the tone in a quarterback room that has, in recent seasons, struggled with issues of youth and inexperience.
 
His willingness to learn as much as he can about everyone around him and his consistency in the face of his personal loss have been noticed, too.
 
"I think it really goes back to his mom and dad. They've done a nice job instilling a lot of those qualities that you want in your son, to understand there's a lot of adversity in life," Lashlee said. "Things rarely go like you think or want them to and it's not so much what happens to you, but how you handle it. I think he's done a really good job of processing everything he's going through and allowing himself to be real and emotional and grieve. … The way his mom and dad raised him has probably helped him get through this so far."
 
But, both the quarterback and the Hurricanes know their journey together is just beginning.
 
D'Eriq will, this fall, play in his first game at Miami and while his mother and siblings will be there, he knows his father won't. If the Hurricanes do what King believes they can, he won't get to physically share that moment with the one person who taught him so much about both football and life.
 
Still, D'Eriq King knows his father's inspiration will never leave him.
 
Right now, that is enough.
 
"My dad is the reason I'm at Miami right now. He's the one that told me to come here," King said. "It's motivating, I'll say that. It is what it is right now. I'm hurting. My family's hurting. … But I'm taking everything that happened to me this year and turning it into something positive."