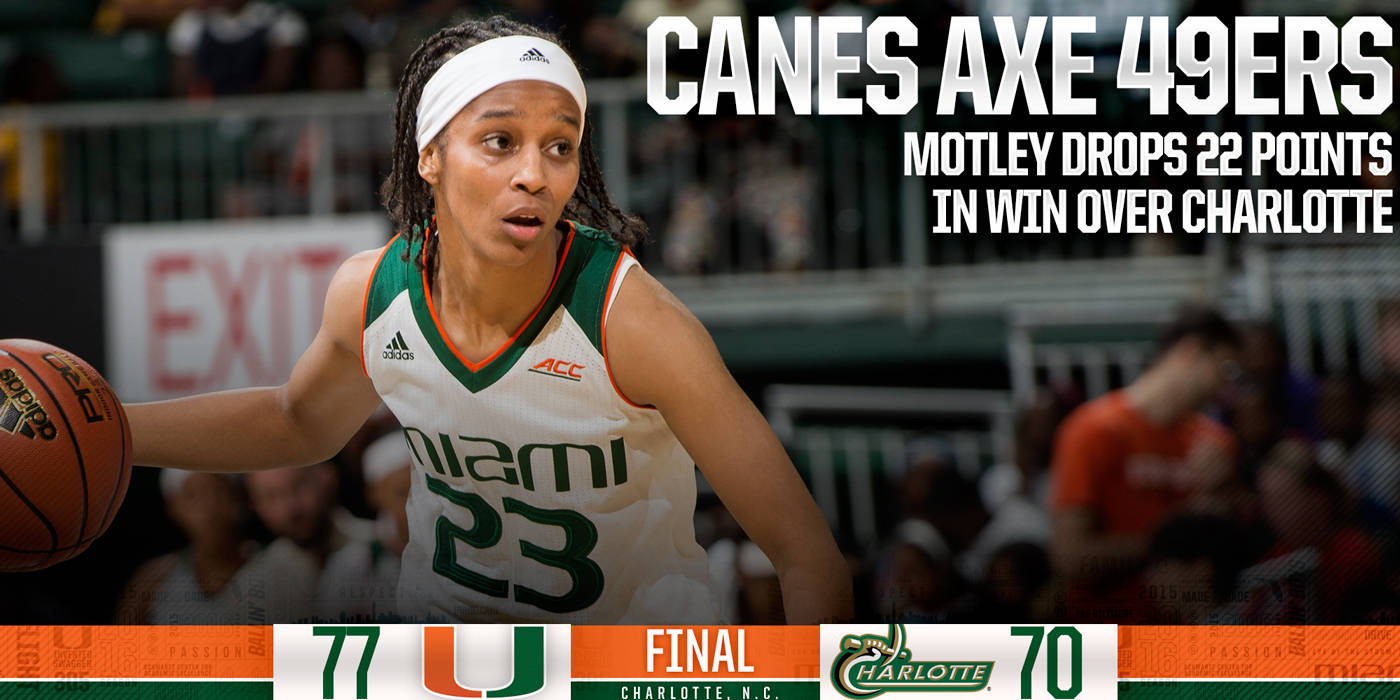 Miami7770
Charlotte
SCORE BY QUARTER
Team
1
2
3
4
F
MIAMI
22
13
22
20
77
CHARLOTTE
16
23
22
9
70
TEAM STATS
 
FGs
31-68
26-6
3FGs
5-21
5-13
Free Throws
10-17
13-17
Rebounds
46
34
Blocks
1
3
Steals
9
7
Assists
16
12
Turnovers
13
12
INDIVIDUAL LEADERS
 
POINTS
 
 
REBOUNDS 
 
Motley
22
 
Hof
15
Gordon
24
 
Gordon / Alexander
10
 
ASSISTS
 
 
BLOCKS 
 
Thomas / Davenport
11
 
Hof
1
Raventos
6
 
Olley
2
 
3FG
 
 
STEALS
 
Thomas
2-6
 
Motley
3
Gordon
3-4
 
Raventos
3
CHARLOTTE, N.C. – The University of Miami women's basketball team moved to 5-0 for the fifth time in program history with a 77-70 comeback win over Charlotte Monday night at Dale F. Halton Arena. 
Junior guard Adrienne Motley scored a team-high 22 points, including 18 in the second half, and freshman forward Emese Hof logged the first double-double of her young career, finishing with 11 points and 15 rebounds.
"We changed a couple things and gave her a little bit more space, but when Money Mot needs to answer the bell, she answers the bell," Miami head coach Katie Meier said. "That's what makes her the player that she is. Then, Emese just was so dominant. She's great in terms of her IQ and then we kind of basically [told her to] hit the glass because I thought that we were getting [hurt there] and Emese came in and really got physical." 
Sophomore forward Keyanna Harris gave Miami a big boost off the bench in the opening period, scoring six straight Hurricane points in a matter of two minutes. The half dozen was more than she scored in all but one full game previously in her career. A buzzer-beating jump shot by Motley gave Miami 22-16 lead through 10 minutes of play.
After trailing for just seven seconds in the first 13 minutes of the game, the Hurricanes fell behind 26-24 with 5:36 left in the second period on a layup by Charlotte (2-2) freshman guard Laia Raventós. Miami tied the score twice before the break, but did not regain the lead and trailed 39-35 entering the locker room at the half.
Junior guard Jessica Thomas and Hof scored all 13 of the Hurricanes' points in the second period, with Thomas posting nine, including a pair of 3-pointers. Charlotte senior forwards Kira Gordon and Alexis Anderson each posted double-digit points in the first half, with 13 and 11, respectively.
The 49ers opened the third period on a 10-2 run, capped by back-to-back 3-pointers, to take a 49-37 edge with 8:29 left in the frame. However, the Hurricanes bounced back quickly, going on a 16-7 run of their own. The stretch included seven points by Motley to help make it 56-53 Charlotte with 3:58 remaining in the third period.
A layup by Harris with 1:08 on the clock got Miami within two, 59-57, and gave the Riviera Beach, Fla., native 10 points for the first time in her career. The 49ers scored the last two points of the frame and led 61-57 entering the final period
"I trusted my team a little bit there, down 12 just a minute and a half into the half. I just let it play out," Meier said. ". . . We go on the road for these types of tests. Had I been wrong it would have been a lesson for me and we would take that lesson into ACC play, but what was is I think we didn't look for a 12-point play. We just knew we had to get some stops and we just kind of were more efficient on the offensive end."
Miami regained the lead with exactly four minutes to play, going ahead 70-68 on a layup by redshirt junior forward Keyona Hayes. Once they went ahead, the Hurricanes would not fall back behind. The Canes closed the game on a 17-3 run in the final 7:55 to earn the victory
Along with Motley, Hof and Harris, two other Hurricanes logged double digit points, as Thomas finished with 11 and Hayes added 10
Gordon led all scorers with 24 points for the 49ers and Alexander chipped in 17 for Charlotte, which is where Meier spent the first four years of her head coaching career.
"I made a lot of coaching errors in this building. You get your feet wet [as a new head coach], and they were so good to me," Meier said. "[Charlotte has] a great administration and they're still here and they came and met me at shootaround today. Cara [Consuegra], their coach, I think she's very talented and I think they have an amazing team. So, I didn't have time to be too nostalgic though because I kept seeing them on film, I had barely a day to prepare and I could not believe how talented they were.
With their three-game road swing in the books, the Hurricanes will head back to Coral Gables, Fla. and begin a five-game homestand Friday at 1 p.m. against UW-Milwaukee at the BankUnited Center
To stay updated on the University of Miami women's basketball team throughout the 2015-16 season, follow @CanesWBB.
MIAMI HURRICANES POSTGAME NOTES

·         As has been the case in every game this year, Miami's starting lineup consisted of Erykah Davenport, Hayes, Motley, Thomas and Michelle Woods.
·         The all-time series between Miami and Charlotte is now even at 1-1.
·         Meier is now 264-179 in her 15 seasons as a head coach, including 188-134 in her 11 years at Miami.
·         As aforementioned, this is the fifth time in program history Miami has started 5-0. The Hurricanes previously did so in 2009-10, 2003-04, 1989-90 and 1979-80.
·         The Hurricanes have won their first three road games of the season for the third time in the last 26 years. It is the seventh time ever the team has done so, joining 2009-10, 2003-04, 1989-90, 1981-82, 1979-80 and 1973-74.
·         The Hurricanes now have more road victories (three) than they amassed last season (two).
·         Harris set career highs in points (10) and field goals made (five), passing her previous highs of nine and four respectively, both of which came vs. Illinois State (11/28/14).
·         Harris also set a career high with three rebounds (previous high two, recorded multiple times, most recently at Loyola Chicago, 11/21/15).
·         Hof's 15 rebounds were more than any Hurricane had all of last season, as the high was Davenport with 13 vs. Washington (3/20/15). She is the first Miami player with 15-plus rebounds in a game since Keyona Hayes had 15 vs. Stetson (3/20/14).
·         Hof has recorded seven-plus rebounds in four of the first five games of her career.
·         Miami now has had two double-doubles this season—Hayes vs. Bethune-Cookman was the other—after having two all of last year. Both last season came from the same player, Jassany Williams.
·         The Hurricanes had a 26-7 edge in bench points.
·         Nigia Greene has made a 3-pointer in her first shot attempt of both games she has played this season.
·         After attempting no free throws in the first four games of the season and the first three periods against Charlotte, Motley took six in the fourth quarter of the game and made five.
·         Motley, who logged 20-plus point for the 14th time in her career, is now 19 points away from 1,000 as a Hurricane.
·         Motley set or tied season highs in points (22), rebounds (five), assists (four), steals (three), free throws made (five), free throws attempted (six) and minutes (35).
·         This marked Woods' 100th game played in a Miami Hurricanes uniform and she also eclipsed 600 points as a collegian.
·         Hayes moved past 550 points at Miami and finished one rebound shy of her 10th-career double-double.
·         Davenport surpassed 150 rebounds and 500 minutes played in her career.
·         Laura Cornelius eclipsed 100 minutes played as a Hurricane.