University of Miami Athletics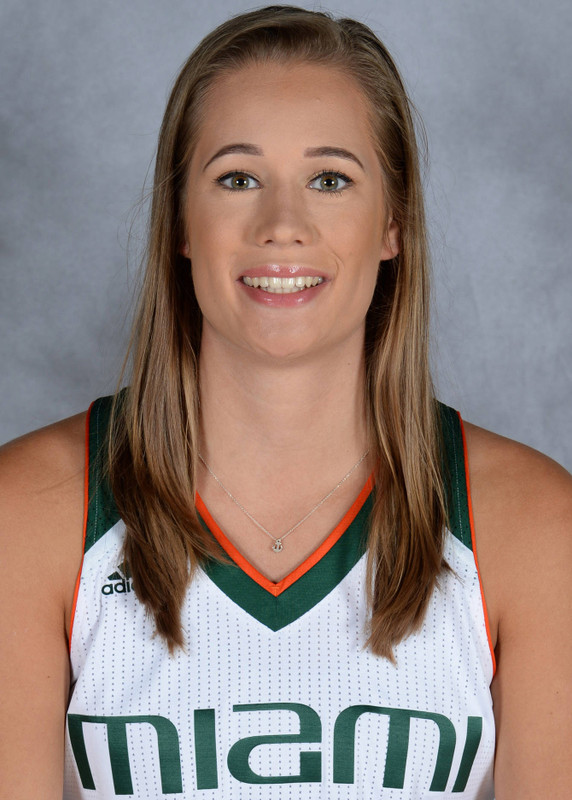 As a Redshirt Junior (2018-19): All-ACC Academic Team … Florida Sunshine Classic All-Tournament Team … Miami Thanksgiving Classic All-Tournament Team
As a Junior (2017-18): Team co-captain redshirted due to left leg injury.
As a Sophomore (2016-17): All-ACC Academic Team … Miami Thanksgiving Tournament All-Tournament Team
Played in 31 of 33 games and earned six starts … Scored in double figures 10 times, including posting 20-plus twice … Led Miami in 3-point percentage (min. 1 3PM per game, 37.3) and placed second in assists (2.8) … Ranked third on the team in minutes (25.8) and 3-pointers made (44) … Finished fourth among Hurricanes in scoring (8.0), steals (1.2) and defensive rebounding (2.5), as well as tied for fifth in field goals made (87) … Recorded the most 3-pointers made (six), 3-pointers made without a miss (six) and field goals made without a miss (eight) by a Hurricane all season … Led or co-led Miami in scoring four times, in rebounding twice and in assists eight times … Posted a top-10 single-season 3-point percentage for the second year in a row, tying for No. 10 in the Miami record book … Connected on six 3-pointers in a game without a miss for the second straight season, something no other Hurricane has done even once … Logged the 17th and 18th occurences in program history of a Miami player making at least six 3-pointers in a game … Lone player in the ACC all season to make eight field goals in a game without a miss and to make six 3-pointers without a miss … Ranked No. 14 in the conference in 3-point percentage and placed No. 10 in ACC-only play (39.1) … In conference action only, also finished No. 11 in assist/turnover ratio (1.26:1) and No. 13 in assists (3.1) … Making her first start as a collegian, logged a career-high-tying seven assists, good for a game best, at No. 19/19 Kentucky (11/11) in the season opener … Had a team-best 12 points on 5-of-7 shooting, plus a co-season-high three steals, tying for the game lead, in a team-high 27 minutes versus Albany (11/13) … Missed Miami's game at St. John's (11/20) due to her participation in the 2017 FIBA EuroBasket Qualifiers with the Dutch National Team and then did not play in the following game versus Grambling State (11/25) due to a coach's decision … Upon returning to the court, scored a game-high 22 points, then a career best, against Texas Tech (11/27), shooting 8-of-13 from the field, including 6-of-10 from long range, with both marks co-career-highs in makes … Logged 11 points and three assists in the overtime triumph at No. 9/10 Ohio State (12/1) … Scored 13 points versus Loyola Chicago (12/6) … Pulled down a team-best six boards at FIU (12/16) … Tallied a season- and game-high 24 points in just 21 minutes at Pittsburgh (1/2), hitting all eight of her field goal attempts, including finishing 6-of-6 from beyond the arc … Scored nine points and dished out a co-game-high five assists, with just one turnover, in 34 minutes in the win at RV/No. 23 NC State (1/5) … Posted eight points at No. 9/8 Louisville (1/15) … Recorded a team-best six assists versus No. 7/6 Notre Dame (2/8) … Finished with 13 points and six rebounds against No. 15/16 Virginia Tech (1/11) … Playing a career- and game-high 36 minutes, registered 19 points, shooting 5-of-8 from 3-point range, and grabbed six boards versus North Carolina (1/26) … Notched 15 points, tying for the team lead, against Boston College (1/29), shooting 5-of-6 from the floor, including 3-of-4 from beyond the arc … At Wake Forest (2/2), logged eight points, a co-team-best five assists and a season-high-tying three steals … Scored 14 points against Clemson (2/12) … Had 10 points and a game-leading five assists at No. 13/14 Duke … Tallied six boards at Virginia Tech (2/23) … Scored eight points, grabbed a co-game-best five boards and tied her career high in free throws made by finishing 4-of-4 at the line versus Georgia Tech (3/2) in the ACC Tournament opener … Logged nine points and a team-high four assists in the ACC Tournament quarterfinal win over No. 8/12 Florida State (3/3) … Pulled down a season-best seven rebounds against FGCU (3/18) in the first round of the NCAA Tournament.
As a Freshman (2015-16): Played in all 33 games, logging double-digit points in six of them … Led the team in 3-point percentage (42.3) and finished third in 3-pointers made (47) … Also tied for third on the team in assists (2.5) and ranked fifth in minutes (22.4) … Posted the third-best 3-point percentage in a single season in program history … Tied the school record with four 3-pointers made in an NCAA Tournament game … Became the first Hurricane to make six 3-pointers in a game without a miss and was the eighth (16th occurrence) with at least a half-dozen 3-pointers in a contest … Finished third in the ACC in 3-point percentage and also ranked third in conference-only games with a 43.6 percent clip … Ranked fourth among ACC freshmen in assists … One of two ACC players to make six 3-pointers in game without a miss and the only one to do so in an ACC contest … Made her Hurricane debut against Wright State (11/13), finishing with six points and four assists in 24 minutes … Scored eight points and dished out a game-high five assists at Old Dominion (11/17) … Logged her first double-digit scoring game with 10 points against Milwaukee (11/27), shooting 4-of-4 from the floor and 2-of-2 at the stripe … Tallied a co-game-high five assists to go along with two assists, her first-career multi-steal game, versus UMass Lowell (12/6) … Scored 12 points in the win over Indiana (12/20) … In the first ACC game of her career, shot 6-of-6 from 3-point range and 2-of-2 at the line to tally a season-high 20 points in the victory against NC State (12/30) … Posted five assists and a season-high three steals versus Pittsburgh (1/7) … Poured in 17 points and shot 5-of-8 from 3-point range at Clemson (1/10) … Filled the stat sheet in Miami's win at North Carolina (1/17), tallying 13 points, a team-best eight rebounds and a season- and game-high seven assists in a season-high 34 minutes … Registered co-game-high five assists versus No. 10/10 Louisville (2/25) … Scored 18 points on 7-of-11 shooting from the floor, including 4-of-6 from beyond the arc, in the NCAA Tournament against South Dakota State (3/19).
High School/Prior to Miami: Graduated from Caland Lyceum … Played for CTO Amsterdam in Women's First Division in the Netherlands … Averaged 15.8 points, 6.1 rebounds, 3.3 assists and 2.7 steals per game in 2013-14 … Listed by ProspectsNation.com as a five-star prospect and the third-best international prospect in her class, including the top point guard … Named to the Women's First Division All-Star Team in 2014 and helped her team reach the playoff semifinals … Set the CTO Amsterdam career records for points, assists and steals, as well as ranked third in rebounds … Named the Rookie of the Year in the Dutch Eredivisie in 2012-13 after posting 12.0 points, 4.3 rebounds, 4.0 assists and 1.6 steals per game … Helped her team advance to the playoff semifinals that season … Recorded 6.7 points, 3.3 rebounds, 2.8 assists and 1.0 steal per game in 2011-12 … In July 2015, led the FIBA U19 World Championship in assists (6.7) and ranked fifth in average efficiency rating (18.1) … Part of the first Dutch team regardless of age or gender to win a top-flight medal at a European Championship, earning bronze at the FIBA U20 European Championship in July 2015 … Ranked eighth in the tournament in 3-point percentage (42.9) and ninth in assists (2.9) … Averaged 11.4 points per game at the FIBA U19 World Championship in July 2013 … Selected to the All-Star Five at the FIBA U18 European Championship Division A in July 2013 after finishing first in free throw percentage (85.2), seventh in 3-point percentage (40.0), eighth in field goal percentage (42.7) and ninth in assists (3.0) … Also played in four other FIBA competitions from 2010-15, for a total of eight.
Personal: Full name is Laura Cornelius … Born Feb. 8, 1996 … Parents are Ernst-Jan Cornelius and Marie-Louise Cornelius-DeJonge … Father is an agriculture official and mother works at a law firm … Has a younger brother, Stefan … Majoring in public health … Favorite athletes are Stephen Curry because of his shooting ability and great skills, and LeBron James because of his strong mentality and athleticism … Best sports memory is winning the bronze medal at the 2015 U20 FIBA European Championship Division A … Chose Miami because of its basketball program and high-level academics … Committed to Miami over Duke, Gonzaga, Iowa State and Kansas State.