University of Miami Athletics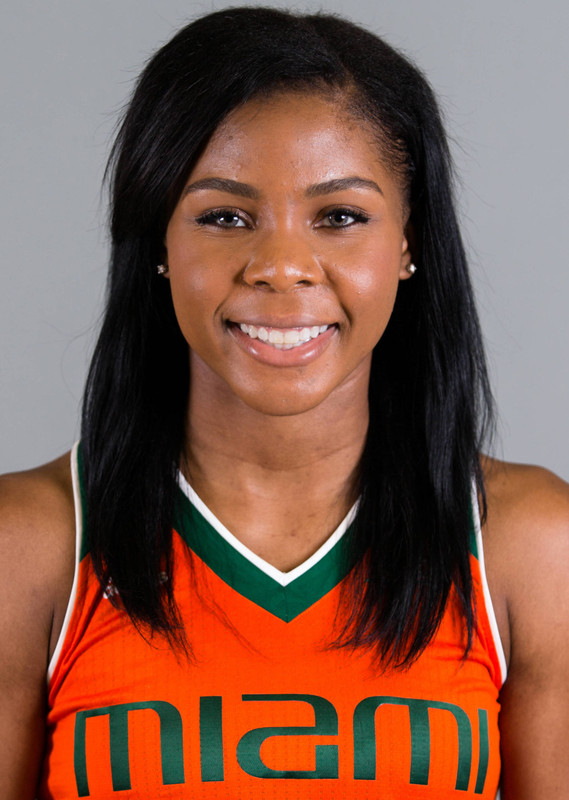 As a Redshirt Senior (2015-16): 2015-16 Senior CLASS Award candidate
Team co-captain was one of three Hurricanes to start all 33 games … Scored in double digits nine times and posted the first double-double of her career … Led the Hurricanes in free throw percentage (min. 1 FTA per game, 79.1) … Finished second on Miami in assists (3.1) … Ranked third on the team in steals (43), blocked shots (11) and minutes (25.7) … Fourth among Hurricanes in 3-pointers made (30) and fifth in scoring (6.5) … Had the most assists in a contest (nine) by a Miami player all year … Finished ninth in the ACC in assist/turnover ratio (1.33:1) … In the season opener against Wright State (11/13), tallied 14 points, a game-high seven steals and six rebounds, while shooting 4-of-6 from 3-point range and committing only one turnover … Scored a co-season-high 17 points to go along with a co-game-high three steals versus Bethune-Cookman (11/15) … Tied her season high with 17 points against La Salle (11/29), while also shooting 3-of-4 beyond the arc and tying for the game lead with seven boards … Posted seven points, a game-high eight rebounds and a co-game-high five assists in the B1G/ACC Challenge win over Illinois (12/2) … Recorded 10 points against No. 4/4 Baylor (12/19) … Registered her first-career double-double with 10 points and a career- and game-high 10 rebounds versus FIU (12/22) … Nearly logged a triple-double against Pittsburgh (1/7), finishing with 11 points, a co-game-high nine rebounds and a career- and game-high nine assists … Had eight points and six rebounds versus eventual NCAA runner-up Syracuse (2/1) … Tallied nine points at third-ranked Notre Dame (2/14) … Scored 11 points against Pittsburgh (3/3) in the ACC Tournament … Recorded eight points, a game-high six assists and a season-high four steals in the ACC Tournament win over No. 14/10 Florida State (3/4) … Had 13 points and shot 4-of-4 from the stripe in the ACC Tournament against No. 2/3 Notre Dame (3/5) … Registered a co-game-high five assists in the NCAA Tournament versus South Dakota State (3/19) in the final game of her career.
As a Redshirt Junior (2014-15): Played in all 33 games with 15 starts and posted double figures in points 13 times, with 10 in the final 17 games … Ranked second on the team in total assists (73), free throws made (77) and free throws attempted (112), plus third in made 3-pointers (36) … Finished third on Miami in both points (8.5) and minutes (25.9) per game … Started the season opener against Oakland (11/14) in her return to the court after missing 2013-14 due to injury … Scored 11 points in the road opener at Middle Tennessee (11/17), setting then-career highs in free throws made (seven) and attempted (13) … Scored a then-season-high 17 points against UCLA  (12/18), connecting on three shots from 3-point range to also set a then-season best … Led all scorers by tying her then-season best with 17 points in Miami's victory over Florida A&M (12/28) and also set new then-season bests in assists (four), made 3-pointers (four) and made field goals (six), and her 80 percent shooting from beyond the arc tied the eighth-best mark in program history (min. 4 3PA) … Matched her then-season high with a game-high four assists in the Miami Holiday Tournament championship game win over LSU (12/29) … Recorded four assists for the third-straight game and also set a then-season best with seven rebounds against Boston College (1/4) … Scored nine points in the victory over fourth-ranked Notre Dame (1/8) … Netted 12 points in the win against Clemson (1/15) … Scored 12 points and dished out a game-high five assists, good for a then-season best, in Miami's win against Virginia (1/21) … Posted 10 points at fourth-ranked Louisville (1/25) and also tied for the team lead in assists (three) and steals (three) … Scored double digits for the third-consecutive game, recording 11 points at Pittsburgh (2/1), and also tied for the team lead with three assists … Matched her career best with a team-high eight rebounds in the win over Virginia Tech (2/5) … Scored 15 points and grabbed a team-high six rebounds in the victory at No. 23/22 Syracuse (2/12), while setting career highs in free throws made (13) and attempted (15) … Had 13 points, with 10 in the final four minutes, including the go-ahead 3-pointer with 33 seconds left, against Georgia Tech (2/15) and also tied for the team lead with six rebounds … Tied career highs in points (20) and field goals made (seven) at NC State (2/19), as well as matched her season high in 3-pointers made (four) … Poured in a game-high 18 points and grabbed six rebounds against No. 17/14 North Carolina (2/22), her fourth-straight game with 13-plus points and five-plus rebounds … Played a career-high 36 minutes, scored 12 points and matched a career best with six assists to tie for the game high against No. 9/8 Florida State (3/1) … Recorded 17 points and shot 7-of-11 at the free throw line in the victory over sixth-seeded Washington (3/20) in the first round of the NCAA Tournament, with the seven makes tied for fifth in program history in an NCAA Tournament game and the 11 attempts tied for second … Her game-high three steals against Iowa (3/22) in the second round of the NCAA Tournament tied for the ninth-most in an NCAA Tournament game in program history.
As a Junior (2013-14): Redshirted due to chest injury.
As a Sophomore (2012-13): Scored career-best 19 points while hitting 5-of-7 3-pointers, also added four rebounds vs. North Florida (11/9) … For second-straight game, scored a new career best, pouring in 20 at Richmond (11/12) … Scored 11 points and grabbed five rebounds in Miami's win over No. 6 Penn State (11/29) … Dished out a career-best six assists to go with nine points vs. Alcorn State (12/3) … Scored 15 points to go with five rebounds and four assists vs. NC State (12/20) … Poured in 15 points, grabbed five rebounds and dished out six assists vs. Virginia Tech (2/3) … Scored nine points vs. Florida State (2/10) … Grabbed a career-best eight rebounds vs. Virginia Tech in the first round of the ACC Tournament (3/7).
As a Freshman (2011-12): In collegiate debut against Texas-Pan American (11/11), scored seven points and hit one of three UM 3-pointers, to go along with three steals … Had six steals to go with five points and three assists against Prairie View A&M (11/17) … Scored seven points with pair of assists vs. USF (11/24) … Scored freshman season-high 13 points vs. Louisiana-Monroe (12/16) to go along with five assists and three steals … In only 11 minutes at Georgetown (12/21), hit three 3-pointers in seven attempts, for all nine of her points … Grabbed season-best four rebounds vs. Holy Cross (12/28) …Scored nine points and grabbed three rebounds vs. Wake Forest (1/26) … Dished out team-high four assists at Boston College (1/29) … Scored eight points to go with three assists vs. Clemson (2/5) … Grabbed season-best five rebounds vs. North Carolina (2/8).
High School: Graduated from Community School of Naples … Ranked as high as No. 44 overall prospect by ESPN HoopGurlz and No. 10 best shooting guard by AllStarGirlsReport.com … Finished high school with 2,365 career points … Averaged 18 points, 5.5 rebounds and 4.0 assists per game at Naples Community School … Named 2A State Player of the Year during sophomore and senior years … Led team to two state championships and five district championships.
 STATS
YEAR
GP
GS
MIN
AVG
FG
FGA
PCT
3FG
3FGA
3PCT
FT
FTA
PCT
REB
AVG
AST
TO
BLK
STL
PTS
AVG
2011-12
31
0
350
11.3
29
92
.315
15
58
.259
24
33
.727
44
1.4
30
31
0
31
97
3.1
2012-13
31
15
698
22.5
62
183
.339
24
83
.289
36
62
.581
88
2.8
67
85
7
35
184
5.9
2013-14
0
0
0
0.0
0
0
.000
0
0
.000
0
0
.000
0
0.0
0
0
0
0
0
0.0
2014-15
33
15
856
25.9
83
240
.346
36
114
.316
77
112
.688
126
3.8
73
66
5
31
279
8.5
2015-16
33
33
847
25.7
75
233
.322
30
117
.256
34
43
.791
120
3.6
101
76
11
43
214
6.5
CAREER
128
63
2751
21.5
249
748
.333
105
372
.282
171
250
.684
378
3.0
271
258
23
140
774
6.0