University of Miami Athletics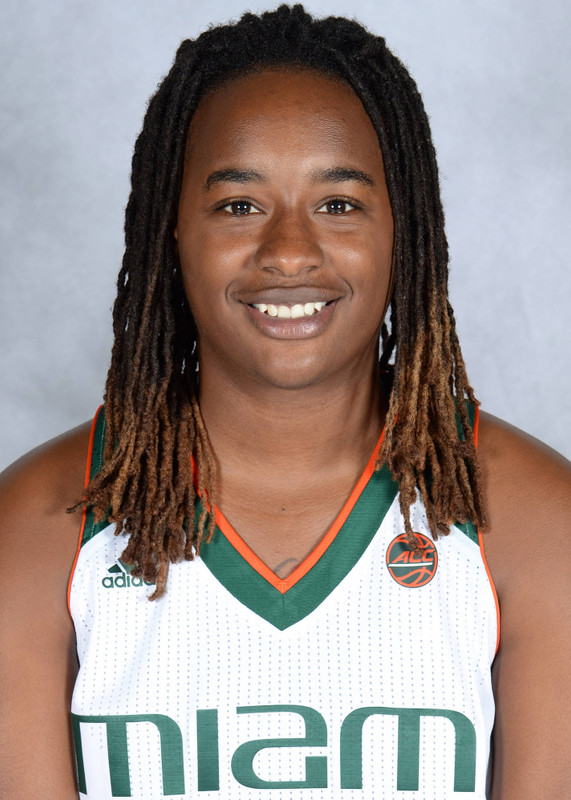 As a Senior (2016-17): Played in 26 games, including each of the first 22 … Averaged 4.0 points and 1.1 assists in 12.7 minutes per game … Scored in double figures twice … Ranked third on the team (min. 1 3PA per game) in 3-point percentage at a 37.1 percent clip, plus fourth in 3-pointers made (23) … Led Miami in scoring one time … Registered 11 points in the season opener at No. 19/19 Kentucky (11/11), connecting on a trio of shots from 3-point range … Set a new career high with three assists versus Albany (11/13) and also shot 3-of-4 from beyond the arc … Totaled six points and two steals in the home opener against Charlotte (11/16) … Tallied five points and a co-game-high two steals in a career-best 33 minutes at St. John's (11/20), also logging her first blocked shot as a Hurricane … Notched eight points and a career-high-tying three assists against Grambling State (11/25) … Posted nine points and a game-leading two steals in the overtime win at No. 9/10 Ohio State (12/1) … Scored nine points versus Old Dominion (12/4) … Against Loyola Chicago (12/6), set career highs in field goals made (five) and 3-pointers made (four), as well as tied career highs in rebounds (four) and steals (three), the latter a game high, plus scored a season- and game-best 14 points … Tallied five points and three rebounds versus Maine (12/20) … Recorded five points and three rebounds at Pittsburgh (1/2) … Notched five points at No. 9/8 Louisville (1/15) … Made the final appearance of her Miami career in the ACC Tournament in a win over her hometown team, Georgia Tech (3/2).
As a Junior (2015-16): Played in 16 games, missing 14 contests due to a right knee injury … Averaged 10.3 minutes and 2.9 points per game … Turned the ball over only seven times … Made both of her free throw attempts in the B1G/ACC Challenge win over Illinois (12/2) … Scored a season-high 10 points in a co-season-high 17 minutes against UMass Lowell (12/6), connecting on two 3-pointers and tallying two steals in the victory … Tallied eight points, including connecting on a pair of 3-pointers, and two steals in her return from injury at third-ranked Notre Dame (2/14) … Made two 3-pointers versus Virginia Tech (2/21) … Tied her season best with 17 minutes of court time against No. 10/10 Louisville (2/25) … Dished out a career-high-tying two assists in Miami's ACC Tournament win over Pittsburgh (3/3).
As a Sophomore (2014-15): Played in all 33 games with four starts and scored in double digits seven times … Shot 81.8 percent (18-of-22) from the free throw line, the best mark of any Hurricane, and also finished third on the team in total steals (35) … Scored eight points and shot 2-of-3 from 3-point range in her Miami debut against Oakland (11/14) … Scored 10 points in her first-career road game at Middle Tennessee (11/17) … Posted seven points in the first start of her career in Miami's win over North Florida (11/21) … Tied for the team lead with a career-high 16 points against Illinois State (11/28) and also posted multiple steals for third straight game, leading or sharing the team lead each time … Had 12 points in the Hurricanes' win over Jacksonville (12/6) … Scored a game-high 11 points against Coppin State (12/13), giving her double digits for the fourth time in her first nine career games … Had eight points and hit two 3-pointers in Miami's win over UCLA (12/18) … Posted 14 points and set career highs in made 3-pointers (three) and minutes played (27) against Florida A&M (12/28) … Recorded 12 points, the second-most on the team, in a victory at Virginia Tech (1/11) … Scored 11 points, tied a career best with a team-high three steals and set career highs in free throws made (three) and attempted (four) against Georgia Tech (2/15).
As a Freshman (2013-14): Missed season due to right knee injury.
High School: Graduated from St. Francis High School … Ranked No. 41 overall in the nation and eighth at position according to ESPN HoopGurlz … Averaged 18.0 points per game while leading St. Francis to a 25-6 record … Played for Peak Performance National … Named to North Fulton All-Metro Honorable Mention … As a sophomore was named Georgia All-State Class A Second Team.
Personal: Full name is Nigia Greene … First name is pronounced Nye-ZHEE-Uh … Goes by Gia … Born on Oct. 5, 1994, in Chesapeake, Va. … Majoring in electronic media … Hobbies include shopping and listening to music … Daughter of Shikena Greene.
 STATS
YEAR
GP
GS
MIN
AVG
FG
FGA
PCT
3FG
3FGA
3PCT
FT
FTA
PCT
REB
AVG
AST
TO
BLK
STL
PTS
AVG
2013-14
0
0
0
0.0
0
0
.000
0
0
.000
0
0
.000
0
0.0
0
0
0
0
0
0.0
2014-15
33
4
497
15.1
60
155
.387
29
103
.282
18
22
.818
46
1.4
14
27
0
35
167
5.1
2015-16
16
0
164
10.3
16
56
.286
11
38
.289
3
6
.500
10
0.6
6
7
0
9
46
2.9
2016-17
26
0
330
12.7
37
87
.425
23
62
.371
6
9
.667
29
1.1
16
17
2
12
103
4.0
 CAREER
75
4
991
13.2
113
298
.379
63
203
 .310
27
37
.730
85
1.1
36
 51
2
56
 316
4.2