University of Miami Athletics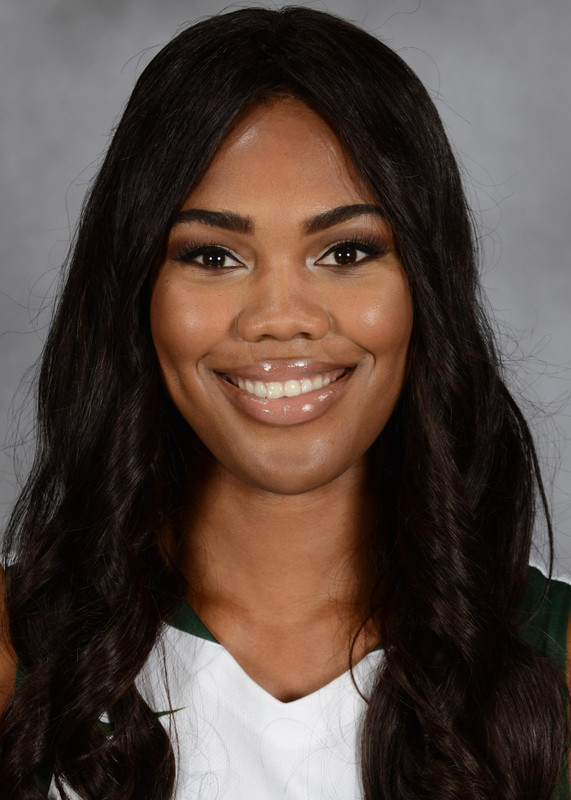 2014-15 (As a Redshirt Senior): 2014-15 All-ACC Academic Team … Miami Thanksgiving Tournament All-Tournament Team … Tulane/DoubleTree Classic All-Tournament Team
One of two Hurricanes to start all 33 games and led the team in both rebounds (6.0) and blocks (2.3) per game, good for 20th and sixth in the ACC respectively, with the 2.3 blocks ranking 37th in the nation … Finished the season with 76 blocks, the second most in school history, and ended her two-year Miami career with 133 blocks to rank third … Led the ACC with 47 blocks in conference play and ranked 15th in the ACC in all games in offensive rebounds per game (2.7) … Finished second on the team (min. 1 FTA per game) in free throw percentage (75.0) and third in field goal percentage (41.0) … Had a game-high three steals at Middle Tennessee (11/17) to match a then-career high and also tied for a game best two blocks, while leading co-leading the team with six rebounds … Recorded eight rebounds against Arizona State (11/25) … Tied for a team-best seven rebounds in the win over Illinois State (11/28) … Posted the second double-double of her career with 12 points and a game-high 12 rebounds in the Miami Thanksgiving Tournament championship game victory over Tulsa (11/29) … Led all players with a career-high four steals against Jacksonville (12/6) … Tied for a game-high nine rebounds and set a then-season best with three blocks while also recording the 150th block of her career in the win over UCLA (12/18) … Recorded 10 points and a game-high nine rebounds at Tulane (12/19) … Recorded 10 points and tied for a team-high six rebounds against Florida A&M (12/28) … Had a then-season-high four blocks as well as seven rebounds in the win over Boston College (1/4) … Set a school record and a career high with nine blocks, including six in the final six minutes, in Miami's victory against fourth-ranked Notre Dame (1/8) and also tied for the team high with eight rebounds … Led all players with eight blocks, including seven in the first half, and 12 rebounds, tying a season high, at Virginia Tech (1/11) … Recorded her second double-double of the season and her third as a Hurricane with 10 points and 10 rebounds in the win over Clemson (1/15) … Grabbed nine rebounds against Virginia (1/21) … Blocked four shots in Miami's defeat of Virginia Tech (2/5) … Scored 10 points on the road at No. 9/8 Florida State (2/8) … Recorded nine points and five rebounds in Miami's win at No. 23/22 Syracuse (2/12) … In the victory over Georgia Tech (2/15), she grabbed three offensive rebounds on one possession in the final minute and then hit Michelle Woods for a go-ahead three-pointer … Tied for the team lead with eight rebounds at NC State (2/19) … Posted a game-high four blocks and tied for the team lead with nine rebounds against No. 17/14 North Carolina (2/22) … Scored nine points and tied for the team high with five rebounds at Wake Forest (2/26) … Recorded a team-high six rebounds and a game-high five blocks on senior day against No. 9/8 Florida State (3/1), surpassing 200 blocks as a collegian as well as moving up to fourth on the career blocks list at Miami and into second on the single season list … Scored eight points, tied for the game high with eight rebounds and led all players with five blocks in the ACC Tournament second round win over Virginia (3/5) … Set career highs with 16 points and seven made field goals against Notre Dame (3/6) in the second round of the ACC Tournament, plus posted a team-high six rebounds … Became the second player in program history to block multiple shots in multiple NCAA Tournament games when she recorded a team-high two against third-seeded Iowa (3/22) in the second round.
2013-14 (As a Redshirt Junior): Started 11 of 31 games … Averaged 5.5 points, 5.4 rebounds and 0.8 assists in 19.1 minutes per game … Totaled 169 points, 167 rebounds, 26 assists in 592 minutes … Finished fourth in ACC with 57 blocked shots (1.4 per game) … Hit 45.5 percent (71-156) of shots from field and 55.1 percent (27-49) at free throw line … Started 4 of 16 ACC games … In ACC play averaged 4.7 points and 4.1 rebounds … Totaled 75 points, 10 assists and 66 rebounds … Hit 49.3 percent (35-71) of shots from field and 33.3 percent (5-15) at free throw line … Recorded two double-doubles (12/28/13 vs. Morgan State, 1/9/14 vs. Florida State) … Led team in rebounding in 10 games … Season highs: 12 points vs. Florida State, 1/9/14; 16 rebounds vs. Middle Tennessee, 11/15/13; 6 blocked shots vs. New Mexico, 12/29/13; 33 minutes played vs. Florida State 1/9/14.
2013-13 (As a Junior): Transferred from Auburn University … Sat out season due to NCAA transfer rules.
2011-12 (As a Sophomore): Played in all 30 games, starting in nine … Scored 105 points, averaging 3.5 per game … Had a season high of 12 points and neared a double-double with eight rebounds against Troy … Started and logged nine points, five rebounds, and two blocks in the season-opener at Mercer … Tied her season-high of eight rebounds at FIU … Pulled down 111 rebounds averaging 3.7 a game … Blocked a career-high seven shots at Duke, tying for 13th all-time at Auburn in single-game blocks … Her 57 blocks rank in a tie for third all-time among Auburn sophomores in single-season blocks … Finished the season ranked fourth in the SEC, 47th in the country, in blocks with 1.9 per game … Had five games with four or more blocks.
2010-11 (As a Freshman): Played in all 32 games, starting nine … All nine starts came in the final nine games of the season … Scored 118 points, averaging 3.7 per game; also pulled down 120 rebounds for 3.8 per game … Blocked 23 shots on the season, ranking her 10th all-time at Auburn in single-season blocks by a freshman … Made her collegiate debut in the season-opener against Mercer, scoring nine points with six rebounds, two blocks and two steals … Earned her first collegiate start at LSU, scoring six points with two rebounds and two blocks in 19 minutes … Came off the bench to score a season-high 13 points against South Alabama … Pulled down a season-high 12 rebounds against Alabama… Dished out a season-high two assists at Tennessee Tech in the WNIT … Blocked two shots in eight different games and tallied three steals each against Florida State, Ole Miss and South Carolina … Named to the SEC First-Year Academic Honor Roll and an Auburn Academic Top Tiger.
High School: Ranked as the No. 59 overall prospect in the country by ESPN HoopGurlz and is the seventh-best post prospect in the nation … Also received a top-100 ranking from the All-Star Girls Report, coming in at 83rd … Recognized as an ESPN Rise Magazine Player to Watch as she led her team to a state runner-up finish as a junior … The state championship appearance was the first for any team, boys or girls, at her high school … Named All-Sun Sentinel First Team and Miami Herald First Team … Also been recognized as part of the FAB 5 of Broward County … Averaged 18.9 points, 10.0 rebounds and 3.0 blocks per game as a senior … Was runner-up for Florida Class 5A Player of the Year … All-State First Team selection … Three-time All-Big 8 Tournament Team selection … Played for the South Florida Lady Jaguars club team … Led the team to a runner-up finish at the 2005 USSA Girls National Invitational Tournament and was MVP the next year at the USSA Treasure Coast State Qualifier … Named MVP of the South Florida Lady Jaguar Tournament and the Big Orange Classic in 2009.
 STATS
YEAR
GP
GS
MIN
AVG
FG
FGA
PCT
3FG
3FGA
3PCT
FT
FTA
PCT
REB
AVG
AST
TO
BLK
STL
PTS
AVG
2010-11 (Auburn)
32
9
481
15.0
45
113
.398
0
0
.000
28
52
.538
120
3.8
7
39
23
26
118
3.7
2011-12 (Auburn)
30
9
451
15.0
42
106
.396
0
0
.000
21
34
.618
111
3.7
7
29
57
20
105
3.5
2012-13
0
0
0
0.0
0
0
.000
0
0
.000
0
0
.000
0
0.0
0
0
0
0
0
0.0
2013-14
31
11
592
19.3
71
156
.455
0
0
.000
27
49
.551
167
5.4
26
26
57
13
169
5.5
2014-15
33
33
692
21.0
71
173
.410
0
0
.000
39
52
.750
199
6.0
4
31
76
31
181
5.5
CAREER
126
62
2,216
17.6
229
548
.418
0
0
.000
115
187
.615
597
4.7
44
125
213
90
573
4.5