University of Miami Athletics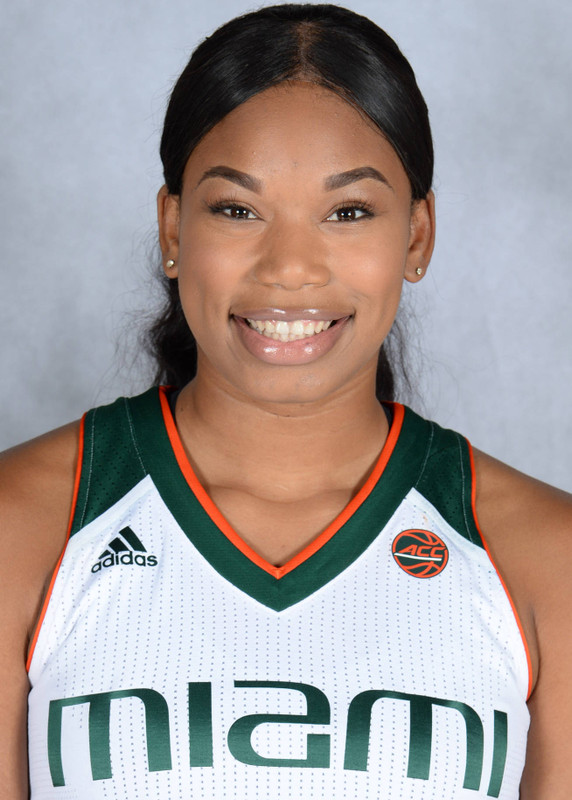 As a Senior (2017-18): One of four Hurricanes to play in all 32 games … Earned 18 starts, including the first eight and final seven contests … Logged double-digit points nine times, including 16-plus twice, and had one double-double … Tallied five-plus rebounds 18 times, with seven-plus in six outings … Dished out five assists on five occasions and was the lone Hurricane with seven-plus twice … Had five-plus steals a team-best four times, all in the season's first 13 games … Led Miami in steals (2.1) and ranked second in assists (2.5) … Finished third among Hurricanes in rebounding (4.5), tied for third in made 3-pointers (15), ranked fourth in minutes (24.3) and placed fifth in made field goals (89) … Led the Hurricanes in assists and steals 11 times each, as well as scoring and rebounding twice apiece … Tied for the most minutes (36), assists (eight) and steals (six) by a Miami player in a single game … One of three Hurricanes to make multiple 3-pointers in a game without a miss … Tied for the third-most assists (six) in an NCAA Tournament game in program history … Set the program ACC Tournament record with eight assists in a game, as well as tied for second in free throw percentage (.875), by shooting 7-of-8 to tie for third and fourth, respectively, in makes and attempts … One of eight ACC players to average two-plus steals per game, placing eighth in the conference … Ranked fourth in steals (2.5) at the ACC Tournament … Totaled seven points and six rebounds in the season opener versus FIU (11/10) … Logged 10 points and a game-high five steals against Vermont (11/12) … Tallied game highs in assists (six) and steals (five) to go along with five boards versus New Orleans (11/21) … Posted 10 points, six rebounds, three assists and a team-best three steals against Maine (11/24) … Logged five assists and a game-high-tying three steals in the win over Michigan State (11/30) … Had nine points and a team-best four assists against St. John's (12/3) … Stuffed the stat sheet with six points, seven rebounds, a co-game-high five assists and a team-high-tying three steals versus Alabama State (12/15) … Pulled down six boards in a co-team-high 29 minutes of action against Sacramento State (12/18) … Amassed a co-game-high 14 points plus a career- and a game-high six steals in 32 minutes versus Southern Illinois (12/20), finishing 6-of-8 from the floor, including 2-of-2 beyond the arc … Notched a game-best five steals against Bethune-Cookman (12/28) … Grabbed six boards in the victory over No. 14/15 Duke (12/31) … In the triumph over Syracuse (1/18), logged 16 points, five rebounds, a co-team-high three assists and a game-high-tying three steals while making a career-best seven field goals … Registered seven points, a then-career-high nine rebounds and a co-team-high three assists in a team-leading 26 minutes at Boston College (1/21) … Logged her first-career double-double with 13 points and a career- and game-high 10 rebounds at Virginia Tech (1/28), also shooting 4-of-5 from both the field and the line … Scored a co-team-high and career-high-tying 17 points on 7-of-11 shooting, tying her top mark in makes, in the win over No. 23/23 NC State, including notching the game-winning bucket in the closing seconds, also grabbing a co-team-high seven rebounds, making two 3-pointers and recording three steals … Finished with 13 points against No. 12/12 Florida State (2/11) … In a then-career-high 35 minutes versus Pittsburgh (2/15), tallied her third straight double-digit scoring game with 13 points to go along with six rebounds, a co-game-high seven assists and a co-game-high three steals … Dished out a team-best four assists in a team-leading 30 minutes at Virginia (2/18) … Scored nine points in a co-team-high 28 minutes against Virginia Tech (2/25) in her last home game … Registered 13 points to go along with career highs in assists (game-high eight), free throws made (seven) and attempted (eight) in 33 minutes of action in the ACC Tournament second round win over Wake Forest (3/1) … Recorded seven rebounds and a game-leading three steals against No. 11/11 Florida State (3/2) in the ACC Tournament quarterfinals … Tallied eight points, eight rebounds and a team-high six assists in a career- and co-game-high 36 minutes in her final outing, an NCAA Tournament matchup with Quinnipiac (3/17).
As a Junior (2016-17): Played in all 33 games and started 27, including each of the final 12 … Averaged 4.8 points, 3.5 rebounds, 1.0 assist and 1.8 steals in 20.1 minutes per game … Recorded double-digit points four times … Placed second on the team in steals, plus fourth in rebounding and offensive rebounding (1.5) … Ranked fifth on Miami in both assists, blocks and minutes … Led or co-led the Hurricanes in rebounding five times and co-led the team in assists once … Became the fourth player in program history to make multiple 3-pointers in an NCAA Tournament game without a miss … Scored 11 points on 5-of-10 shooting and grabbed four rebounds versus Albany (11/13) … Registered a game- and career-high nine rebounds and a co-season-high three assists in a team-best 27 minutes against Charlotte (11/16) in the home opener … Grabbed five rebounds and a co-game-high two steals at St. John's (11/20) in the first start of her career … Posted seven points, a game-high eight rebounds and a game-best four steals in 26 minutes versus Grambling State (11/25) … Had eight points, six boards in the overtime victory at No. 9/10 Ohio State (12/1), shooting 2-of-2 from beyond the arc for her first outing with multiple made 3-pointers … Notched six points and five rebounds ar FIU (12/16) … Totaled six points, four rebounds and a co-game-high three steals versus Coppin State (12/19) … Tallied nine points against Maine (12/20) … Posted five points, four rebounds, a season-high-tying three assists, good for the team lead, and a co-team-high two steals versus seventh-ranked Florida (12/29) … Grabbed a co-team-best six rebounds at Pittsburgh (1/2) … Set career highs in points (17), field goals made (six) and free throws made (four) versus North Carolina (1/26), finishing 6-of-9 from the field and 4-of-4 at the line in 27 minutes of court time … Logged four rebounds and a game-high-tying five steals against Boston College (1/29) … Put up 10 points at Wake Forest (2/2) … Tallied eight points, five rebounds and a game-leading five steals versus Virginia (2/9) … Recorded six points and a co-team-high five rebounds against Clemson (2/12) … Registered five points and six boards at Virginia Tech (2/23) … Tied a career best with a game-high two blocked shots in a career-high 29 minutes versus FGCU (3/18) in the opening round of the NCAA Tournament, also tying for the game lead with two steals … Finished with 10 points on 4-of-5 shooting, including making both of her 3-pointers, against Quinnipiac (3/20) in the second round of the NCAA Tournament, plus tallied a co-game-high two steals.
As a Sophomore (2015-16): Played in 32 of 33 games … Averaged 2.9 points and 1.9 rebounds … Tallied 22 steals … Shot 26-of-39 at the free throw line … Ranked fourth on the team in free throw percentage (min. 1 FTA per game, 66.7) … Recorded her first double-digit scoring game with 10 points on a career-high five made field goals at Charlotte (11/23) … Set a career best with five rebounds against Milwaukee (11/27) … Posted 10 points for the second time in her career a win against Coppin State (12/4), while also matching her career best with five rebounds and shooting 4-of-5 at the stripe… Scored eight points against UMass Lowell (12/6) … Logged a career-high and co-game-high four assists in a career-best 21 minutes the Hurricanes' victory over FIU (12/22) and also shot 4-of-4 at the line … Posted three steals in a game for the first time against No. 10/10 Louisville (2/25), while also setting a career high with six free throws attempted … Scored six points in Miami's NCAA Tournament game versus South Dakota State (3/19).
As a Freshman (2014-15): Played in 23 games and finished the season with 25 points, 15 rebounds, 14 steals and eight assists … Connected on 8-of-11 free throws in her first season at Miami … Made her Hurricane debut against Oakland (11/14), recording two steals … Posted the first points, rebound and assist of her career in the win over North Florida (11/21) … Set several season highs against Illinois State (11/28), including minutes (17), points (nine), assists (three), field goals made (four) and field goal attempts (five), as well recorded her first block and made 3-pointer … Scored her first career points in ACC play at No. 9/8 Florida State (2/8) … Scored five points, the second-most of her season, to help Miami to a win at No. 23/22 Syracuse (2/12) … Had three assists at Wake Forest (2/26), tying for the team lead and matching her season high, while also setting season bests in free throws made (three) and attempted (three).
High School: Graduated from William T. Dwyer High School … Averaged 20.4 points, 9.3 rebounds, 4.1 assists and 5.3 steals as a senior … Ranked as a three-star prospect and a top-25 forward recruit by ESPN HoopGurlz … McDonald's All-American Game nominee … Named the Palm Beach Post Large Schools Player of the Year as a junior, as well as the Sun Sentinel 8A Player of the Year … Palm Beach County Athletic Association First Team selection as a junior … Won a district title and finished as the state runner-up her junior year … First team all-conference as a sophomore … Second team all-county and Outstanding Rookie of the Year as a freshman … Member of the track and field team … Set the school record in the high jump and made regionals … Named to the honor roll … Notable Dwyer alumni in athletics include eight-year NBA veteran Alonzo Gee, four-year NFL veteran Matt Elam and Nick O'Leary of the Buffalo Bills.
Personal: Full name is Keyanna Renika Harris … Nickname is Keke … Born Feb. 14, 1995 … Parents are Lamar Harris and Beverly Clayton … Has an older sister, Shamar, and an older brother, Chris … Sister played basketball at Lynn University … Cousin of former NBA player Jumaine Jones … Majoring in criminology … Loves to dance … Lists former Miami All-American Shenise Johnson, a current standout with the Indiana Fever, as her role model and favorite athlete.