University of Miami Athletics
Gino DiMare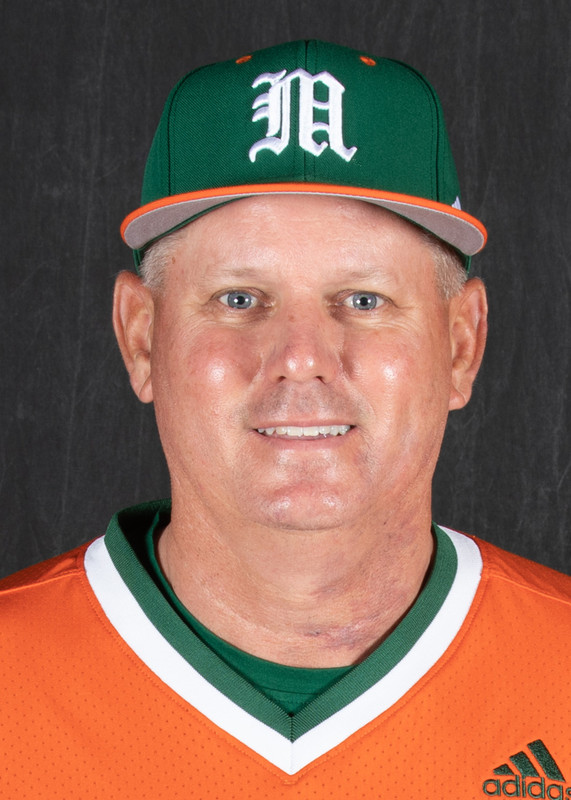 Gino DiMare became the ninth head baseball coach in University of Miami history, elevating to the helm of the program prior to the 2019 season.
DiMare previously served as associate head coach in charge of hitting, as well as the baseball program's recruiting coordinator. Overall, 2023 will mark DiMare's 24th year as a member of the Hurricanes baseball staff. DiMare rejoined the University of Miami baseball program after three years away from the program in 2011. Prior to his exit in 2008, DiMare served as the Canes recruiting coordinator and hitting coach over his final nine seasons. He held the title of assistant head coach during the 2008 season – a year the Canes won the Atlantic Coast Conference championship before advancing to the College World Series.
In DiMare's four seasons at the helm of the Hurricanes, Miami has proved to be one of the top teams in the country, qualifying for the postseason in each year the NCAA tournament was held.
The 2022 Hurricanes earned a national seed and hosted a regional for the first time since 2016. Miami tallied a 40-20 overall record, leading the ACC with 20 conference wins. The Hurricanes were ranked as high as No. 2 nationally, notching a 14-game winning streak, which is the program's longest in eight years.
In a year that began with a series victory at preseason No. 1 Florida, Miami finished the regular season second in the ACC Coastal and returned to the postseason for the second time under DiMare's leadership in 2021.
During the shortened 2020 campaign, the Hurricanes went 12-4 and ended the year ranked fifth by Baseball America. A preseason pick to win the Coastal, Miami won all three contests in conference play before the COVID-19 pandemic shut down the season prematurely.
The Hurricanes had an impressive first season under DiMare, winning 41 games and qualifying for the NCAA postseason for the first time since 2016. Miami received the 46th postseason berth in school history and reached the Starkville Regional final before falling to No. 6 Mississippi State. The Hurricanes amassed an 18-12 mark in ACC play in 2019, winning seven conference series and turning in their best conference record since 2016.
The 2019 Canes hit an ACC-best 85 home runs on the season, the most since Miami hit 106 in 2010. First baseman Alex Toral smashed a conference-leading 24 home runs on the season that ranked third in Division I and moved him into a tie with Yonder Alonso for the second-most home runs by a Hurricane in a single season.
Twelve different Hurricanes hit at least one home run in 2019, sparking an explosion of power from the Miami bats that matched the 2018 season home run total of 23 after just 15 games in 2019. The Canes' 85 homers were more than the combined team home run total of 58 from the previous two seasons (35 in 2017 and 23 in 2018).
Four All-America honorees have emerged under DiMare's watch — Chris McMahon (2020), Brian Van Belle (2020), Carson Palmquist (2021, 2022) and Andrew Walters.
All four of those players garnered All-ACC recognition as well, joining Michael Amditis (2019), Adrian Del Castillo (2019, 2021), Raymond Gil (2019), Brian Van Belle (2019), Christian Del Castillo (2021), Yohandy Morales (2021, 2022), Anthony Vilar (2021), Jacob Burke (2022), CJ Kayfus (2022) and Karson Ligon (2022).
Since DiMare was elevated to head coach ahead of the 2019 campaign, 12 Hurricanes have been selected in the MLB Draft, including first-round pick Slade Cecconi in 2020.
DiMare's teams have excelled in the classroom as well, as 15 student-athletes have earned a spot on the ACC All-Academic team, with three players earning multi-year bids. Additionally, Christian Del Castillo was named an Academic All-American in 2021.
With DiMare as associate head coach, the Hurricanes qualified for their second straight College World Series berth and 25th in program history in 2016. Under DiMare's guidance as hitting coach, five field players (Zack Collins – first round, Willie Abreu – sixth round, Brandon Lopez – 10th round, Jacob Heyward – 18th round, Johnny Ruiz – 28th round) were selected in the 2016 MLB First-Year Player Draft. Collins was named a first-team All-American by several publications, and became Miami's first first-round draft pick since Yasmani Grandal in 2010 when he was selected by the Chicago White Sox with the No. 10 overall pick.
In 2015, DiMare guided the Hurricanes to the No. 1 national ranking in offense. Miami scored 547 runs over the season, which ranked first nationally at an average of 8.16 runs per game. Miami's offense, which ranked No. 7 nationally in batting average (.307) and No. 2 in on-base percentage (.417), led the way to the team's 24th College World Series appearance in program history and second straight ACC Coastal Division title.
DiMare's impact on the program was felt immediately upon his return in 2012, as the first recruiting class under his watch was ranked among the top 10 by two national publications. Miami's incoming 2012 freshman class was ranked No. 10 by Baseball America, its first top-10 ranking from BA since 2006, and No. 9 by Collegiate Baseball. One of those newcomers, third baseman David Thompson, earned Freshman All-America honors from Perfect Game following the conclusion of the 2013 season.
Previously, DiMare helped recruit and coach players such as Yonder Alonso, Ryan Braun, Jon Jay, Gaby Sanchez, Danny Valencia and Jemile Weeks – all of whom have reached the big leagues in recent years. DiMare's accomplishments on the recruiting scene during his nine years in the capacity of recruiting coordinator are as impressive as the Hurricanes' annual postseason results. His 2001 class was rated among the top five nationally and his 2003 class was ranked among the top 15 nationally.
UM's 2008 recruiting class, which was targeted primarily by DiMare, was ranked second by Collegiate Baseball and fifth by Baseball America prior to the 2007 season. That includes Braun, the 2005 ACC Player of the Year and Cesar Carrillo, the ACC's Pitcher of the Year that same season. Braun and Carrillo were also Miami's two first-round draft picks in 2005. DiMare has also kept Florida's top talent home, including 2006 first-round pick Chris Perez (Holmes Beach) and second-round pick Jay (Miami).
DiMare's offensive teams also proved to be some of the best in the history of the Hurricanes program. UMiami's offense ranked among the top 10 in school history in eight of DiMare's nine seasons as the club's hitting instructor. The 2005 team hit .321, the seventh-best team batting average in school history and the 2004 squad finished the season with a .330 batting average, which ranks fourth in school history. UM's .310 average in 2006 was only bested by five teams that were not under the guidance of DiMare, dating back 62 years.
The 1999 Hurricanes posted the third-best batting average in school history with a .333 mark, while the 2000 team finished with a .323 batting average that ranks sixth all time. Miami batted .315 in 2003 and .314 in 2002 (10th). The 2008 team that advanced to the College World Series and spent much of the season atop the national collegiate baseball polls finished the year hitting at a school eighth-best .320 average, while also ranking tied for second in home runs (106), fourth in slugging percentage (.541), eighth in total bases (1,202) and RBI (517), tied for ninth in doubles (135) and 10th in hits (711).
DiMare has long been associated with the Miami baseball program. First, he was a fan as a kid growing up in South Florida. Then, DiMare was a player for the Hurricanes following a stellar career at Miami Westminster Christian. He was a standout outfielder for the Canes from 1989-92, with a career batting average of .290. He currently ranks among UM's leaders in career games played (243), career stolen bases (93) and total sacrifices (36). In 1991, DiMare led the Hurricanes with a .353 batting average.
Following his career in Coral Gables, he was signed as a free agent by the Boston Red Sox. He played the 1992-93 seasons in the Red Sox minor league system in Winter Haven and Ft. Lauderdale. Upon returning to Miami, DiMare spent the 1996 season as an assistant coach at Westminster – the 1996 High School National Champions. DiMare then returned to UM in 1997 and was a volunteer coach for three seasons, in charge of outfielders and base running.
DiMare currently resides in Miami with his wife Denise and four daughters: Nicolette, Gianna, Giselle and Gina.