University of Miami Athletics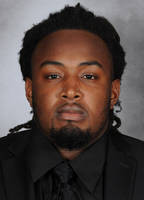 2013 (Senior): Played in all 13 games, making one start at defensive tackle … Tallied 24 tackles with 1.0 tackle-for-loss and one fumble recovery … Had three assisted tackles vs. FAU … Recorded two tackles each against Florida, Savannah State and USF … Also recovered fumble in road win at USF … Tied season high with three tackles at Florida State and Virginia Tech … Made one tackle vs. Louisville in Russell Athletic Bowl … Recorded at least one tackle in all 13 games … Earned letter.
2012 (Junior): Played in 10 of 12 games along the defensive line … Had 13 tackles (seven solo stops), one QB hurry and one fumble recovery … Posted two tackles in season debut at Boston College … Also had two tackles at Georgia Tech, Notre Dame and Virginia Tech … Recovered fumble against Virginia Tech … Earned letter.
2011 (Sophomore): Missed season with lower extremity injury.
2010 (Redshirt Freshman): Played in 10 games, making starts against North Carolina and Maryland … Recorded three tackles and one tackle-for-loss … Earned letter.
2009 (True Freshman): Sat out first season at Miami and participated on practice squad, redshirted to retain eligibility.
High School: Recorded 90 tackles (65 solo, 25 assisted), 14 sacks, one interception, 10 forced fumbles and three fumble recoveries as senior at Westwood and also started along offensive line … Named all-area first team defense as senior… Named to Mobile Press-Register's Super Southeast 120 … Ranked by Rivals.com as 18th-best DT and 37th-best player in Florida for class of 2009 … Rated by Scout.com as 39th-best defensive tackle for class of 2009 … Earned Defensive Line MVP honors in 2008 Nike Camp in Gainesville … Class 4A All-State first feam … Coached by Waides Ashmon.
 ROBINSON CAREER STATISTICS
SEASON
G-GS
UT
AT
TT
TFL
YDS
SACK
YDS
FF
FR
PBU
INT
YDS
2010
10-2
2
1
3
1.0
1
0.0
0
0
0
0
0
0
2011
 Did not play (injured)
2012
10-0
7
6
13
0.0
0
0.0
0
0
1
0
0
0
2013
13-1
7
17
24
1.0
1
0.0
0
0
1
0
0
0
CAREER
33-3
16
24
40
2.0
2
0.0
0
0
2
0
0
0