University of Miami Athletics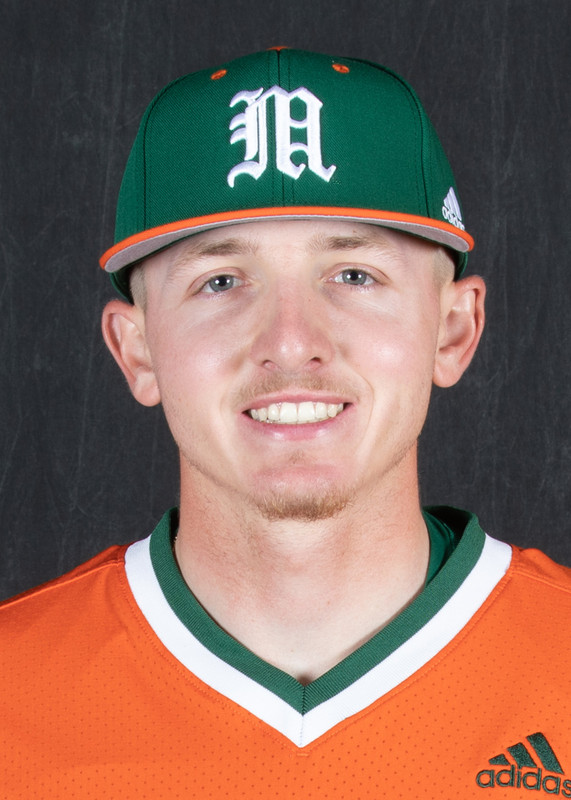 The asterisk next to 2020 and 2021 season bios indicate the NCAA's decision to grant an extra year of eligibility for student-athletes in light of the COVID-19 pandemic; the student-athlete's year of eligibility did not "advance" from 2020 to 2021 due to this NCAA ruling.
*Sophomore (2020): Started all 16 games as Miami's left fielder and primary leadoff hitter in shortened 2020 college baseball season…Had 13 hits, three doubles, 12 runs scored and six RBI…Led team with four stolen bases…Ranked third on the team with a .419 on-base percentage…Reached base in final eight games of the season…Had a hit and a run scored in sweep-clinching win over Rutgers (Feb. 16)…Posted a career-best four walks in win over Kent State (Feb. 19)…Doubled and scored a run vs. No. 2 Florida (Feb. 21)…Had two hits and an RBI in win over Towson (Feb. 28)…Posted seven hits, five runs scored and four RBI in Pitt Series (Mar. 6-8)…Had game-winning double in 2-for-4 day vs. Pitt (Mar. 7)…Tied career-high with three hits and drove in career-best three RBI, including the game-winning run, vs. Pitt (Mar. 8).
True Freshman (2019): Made 60 starts in the outfield and was Miami's primary leadoff hitter…Hit .276 with nine doubles, one triple and four home runs…Scored a team-high 68 runs… Led the Canes with 61 walks and a .446 on-base percentage…Had a team-high 28 stolen bases, which are the most by a Hurricane since Zeke DeVoss stole 32 bases in 2011…Opened career with a 2-for-4 game vs. Rutgers (Feb. 15)…Had a hit and a stolen base in series finale vs. Rutgers (Feb. 17)…Had a hit and two runs scored in win over FAU (Feb 20)…Singled and scored a run in win at Florida (Feb. 22)…Had two hits and two stolen bases in win over UMBC (Mar. 2)…Posted first career three-hit game and hit first career home run in win over Appalachian State (Mar. 6)…Went  5-for-13 with four runs scored in series against Georgia Tech (Mar. 8-10)…Walked three times and stole two bases in win over Jackson State (Mar. 13)…Stole five bases in three games at North Carolina (Mar. 15-17)…Went 2-for-4 with a season-high three stolen bases vs. NC State (Mar. 23)…Hit leadoff homer in win at FAU (Mar. 27)…Scored three runs in series opener at Pitt (Mar. 29)…Went 4-for-10 with three runs scored in three games vs. Florida State (Apr. 5-7)…Went 2-for-4 with a double and two runs scored in win over FGCU (Apr. 9)…Was 2-for-5 with a homer in series opener at Virginia (Apr. 13)…Had a hit and two stolen bases in win over FGCU (Apr. 16)…Went 4-for-11 with three runs scored at Louisville (Apr. 18-20)…Homered in series opener vs. Bethune-Cookman (May 3)…Scored season-high four runs in series finale vs. Bethune-Cookman (May 5)…Had two hits and stole two bases in series-clinching win at Wake Forest (May 11)…Had a hit and two runs scored in regular season finale vs. Duke (May 18)…Went 2-for-5 with two runs scored in ACC tournament opener vs. Virginia (May 23)…Singled in NCAA tournament debut vs. Central Michigan (May 31)…Had a hit in Starkville Regional final vs. Mississippi State (June 2).
High School: Played varsity baseball for four years…Batted over .400 in sophomore, junior & senior year…Team captain senior year…Team MVP 2017 & 2018…2017 high school district champions.
Personal: Parents are Rene and Kellee Lala…has two siblings Tyler and Ashlee…intends to major in sport administration.