University of Miami Athletics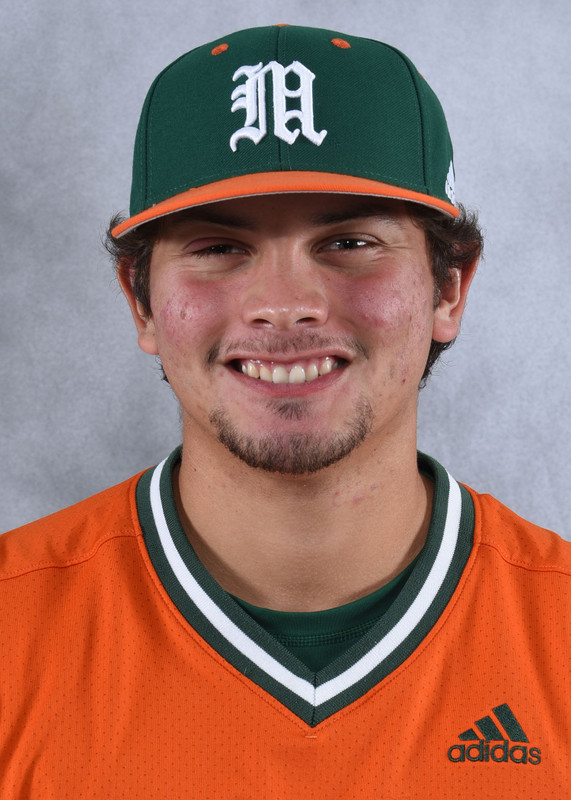 Junior (2020): Appeared in 10 games, making two starts at designated hitter for the Hurricanes in shortened 2020 college baseball season…Also saw time at first base and as a pinch hitter…recorded three hits, a run scored and a .333 on-base percentage in 13 at-bats…Had a pinch-hit single against No. 2 Florida (Feb. 21)…Went 1-for-3 with a run scored in first start of the season, a sweep-clinching win over Towson (Mar. 1)…Had a hit in start against Pitt (Mar. 8)
Sophomore (2019): Played in 20 games, making one start…Hit .200 with a double, a home run, four runs scored and four RBI…Started at catcher in opening weekend series finale vs. Rutgers (Feb. 17)…First of the season was a pinch-hit single at Pitt (Mar. 30)…Went 1-for-2 with an RBI against Bethune-Cookman (May 5)…Hit pinch-hit two-run homer vs. UCF (May 8)…Had an RBI at Wake Forest (May 13)…Went 1-for-2 with a double and a walk in NCAA tournament debut against Central Michigan (June 2) at the Starkville Regional.
2018 FRESHMAN ALL-AMERICA (Collegiate Baseball Newspaper)
True Freshman (2018): Served as Miami's starting catcher for majority of season and delivered impressive first year…Batted .291 with 10 doubles, one home run and 24 RBI…Drew 17 walks…Named team's Rookie of the Year…Tied for second on team with 14 multi-hit games and tied for lead with six multi-RBI games…Led Hurricanes with .306 average in ACC play…Made first start of career vs. Maine (March 2) and drew one walk…Doubled for first hit of career (1-for-5) in Game 2 vs. Black Bears (March 3) to open 14-game hitting streak…Totaled career-high four RBI in finale vs. Maine (March 4)…Had first multi-hit performance of career (2-for-4) in Game 2 of doubleheader vs. Notre Dame (Marc 10)…Went 2-for-4 and scored one run with one double in win at Duke (March 18)…Set career mark with three hits (3-for-5) in win vs. Virginia (March 23)…Led team with seven hits (7-for-12) in sweep of Cavaliers (March 23-25)…Had one double and two RBI at Georgia Tech (March 31)…Finished 2-for-5 vs. FAU (April 4)…Tied career mark with three hits (3-for-6) and added two RBI in come-from-behind win at Clemson (April 13)…Added two hits (2-for-4) in finale vs. Tigers (April 14)…Posted career-high five RBI and connected on first homer of career in win at Florida State (April 29)…Tied career mark with three hits (3-for-6) and added four RBI in win over Bethune-Cookman (May 6)…Totaled six hits in series with Wildcats (May 4-6)…Scored a least one run in five straight games from May 6-13…Went 1-for-4 in ACC Championship matchup with Clemson (May 24) in Durham, N.C.
High School/Prep: Three-year varsity letterwinner at West Broward…Helped lead team to 2016 district championship…Earned honorable mention all-county recognition from Sun Sentinel and Miami Herald in senior year…Named 9A-12A all-district…Batted .293 with one home run and 19 RBI in final year…Recorded on-base percentage of .382.
Personal: Parents are Isaac and Melinda…Has one brother, Ivan, and one sister, Rosali, who graduated from Miami…Intends to major in entrepreneurship.