University of Miami Athletics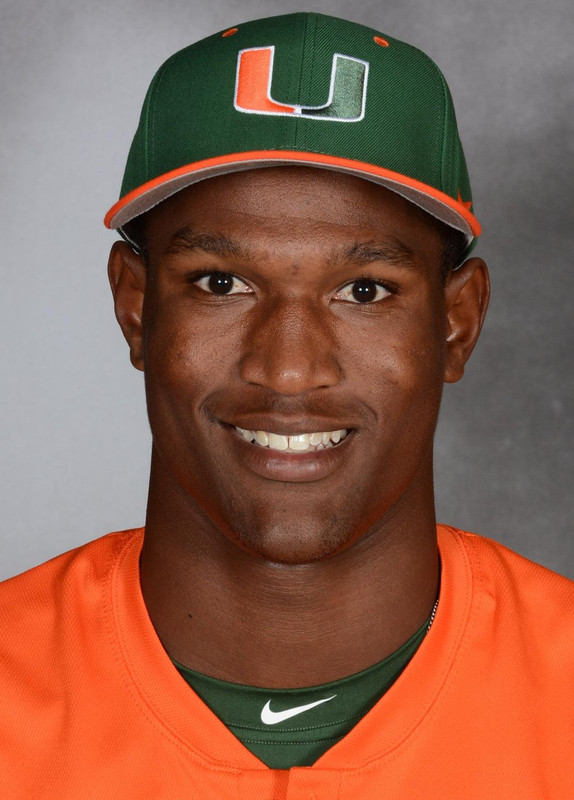 2014 ALL-ACC SECOND TEAM
2014 ALL-ATLANTIC REGION SECOND TEAM (ABCA)
2014 ACC CHAMPIONSHIP ALL-TOURNAMENT TEAM
Senior (2014)…
Selected by Washington Nationals in seventh round of 2014 MLB First-Year Player Draft (No. 214 overall)…Named second-team All-ACC outfielder after spectacular senior season…Only player to start all 63 games…Led or tied for team lead in several offensive categories, including batting average (.305), at bats (246), runs (53), hits (75), doubles (16) and total bases (114)…Ranked second on team with seven home runs…Tied for third in RBI with 29….16 steals and on-base percentage of .405 were both second-best…21 multi-hit games were most of any Hurricane…Hit two home runs – both solo shots – in series against Florida (Feb. 21-23)…Recorded career-best 10-game hitting streak from March 5 – March 18…Scored career-high-tying three runs against Georgia Tech (March 14)…Made game-saving catch in eighth inning against Virginia (March 22), earning No. 1 spot on ESPN SportsCenter Top 10 plays…Tied career high with three hits in back-to-back games against Pitt (April 11-12)…Tied career high with three runs against Panthers (April 11)…Named ACC Player of the Week on May 12 after dominant series against Duke Blue Devils…Went 2-for-5 with career-high five RBI – including career-first grand slam – against Blue Devils (May 10)…Named to All-ACC Championship team after finishing week 8-for-13 (.615)…Set career high with four hits in ACC Championship matchup with Clemson (May 22)…Went 2-for-3 with two runs in NCAA Coral Gables Regional win over Bethune-Cookman (June 1). 

Junior (2013)…
Saw action in 57 games, including 49 starts…Recorded 28 hits in 146 at bats (.192 average), with five doubles, two triples, one homerun and 12 runs batted in…Ranked second on team with 12 steals (12-for-17)…Hit only home run of season against Milwaukee (Feb. 24), a two-run shot…Went 2-for-3 in series opener against Duke (March 8)…Stole two bases in series finale against Virginia Tech (March 24)…Recorded season high three RBI in 7-0 win over Clemson (April 21)…Went 2-for-2 and tied season high with three RBI in 5-0 shutout of Boston College (April 27)…Finished series against Georgia Tech with five hits in 10 at bats (.500)…Started all six postseason games in centerfield.
Sophomore (2012)…
Saw action in every game but one, recording 58 starts on the year…Started nearly every game in centerfield for the Hurricanes, recording a .984 fielding percentage on the year…Recorded 214 at-bats and 58 hits, good for second-most on the team in both categories…Batted .271, recording the fifth-highest average among regular starters…Registered 11 doubles, two triples and two homeruns while posting a .373 on-base percentage…Ranked fourth on the team with nine stolen bases…Recorded a career-best nine-game hitting streak from March 25 through April 7…Connected on his second career homerun in the team's second game of the season in a 2-for-5 showing against Rutgers (Feb. 18)…Tied a career-high with three runs scored in a midweek win over Illinois State (March 7)…Also matched his career-high with three hits, including a double, in a home win over Albany (Feb. 26)…Went 2-for-4 with two doubles and two RBI's in a win over Maryland (March 24)…Scored two runs in the team's series-opening win over North Carolina (April 6)…Pounded three hits in the team's series finale on the road at Florida State, including two doubles…Scored at least one run in eight consecutive games from May 6 through May 18, a stretch that included a six-game hitting streak…Went 3-for-4 in the team's rubber match victory over Wake Forest (May 13)…Belted a two-run homerun against North Carolina during the ACC Tournament, a shot to leftfield that proved to be the game-winning hit…Scored two runs in the team's ACC Championship loss to Georgia Tech in Greensboro, N.C….
Freshman (2011)…
Played in 58 games on the year, while making a start in 44 of those contests… Started in the outfield the final 24 games of the year… Made a diving catch in the NCAA Gainesville [Fla.] Regional that was named to ESPN SportsCenter Top 10 plays… In fact, the play was named Best of the Best four consecutive weeks on SportsCenter… Also made a SportsCenter Top 10 play with a diving catch in the first game of a doubleheader at North Carolina (Apr. 23)… Ended the year batting .271 – sixth-best on the team… Drove in 24 runs on 42 hits while scoring 30 times on the year… Pounded out eight doubles and added a homer while slugging .342 for the year… Swiped five bases in seven attempts… Fielded at .960 with 91 putouts and four assists from his outfield position… Picked up his first collegiate hit against the top-ranked Florida Gators (Mar. 5), reaching base twice in the contest and representing the only base runner in the contest for the Canes… Pounded out three hits in the second game of a doubleheader sweep at North Carolina (Apr. 23) in three at-bats with a RBI… Posted a season-high tying three hits in six at-bats at Boston College (Apr. 3)… Scores six runs in two games against Hofstra (May 6-7) and posted three RBI against the Pride in the second game of the series… Went 2-for-4 with two RBI against Georgia Tech (Mar. 26)… Knocked out his only home run of the season against Hofstra (May 7)… Had a 2-for-4 night with a pair of doubles and a run scored against Florida Gulf Coast (Mar. 29)… Swiped a season-high two bases as he went 2-for-4 (one double) and scoring twice against the NC State Wolfpack (Apr. 9)… Drove in a pair of runs on two hits at home against Florida Atlantic (May 17)… Collected a season-long six-game hitting streak beginning with North Carolina (May 26) in the Atlantic Coast Conference (ACC) Tournament and continuing until the final game of the season against Florida (June 5) in the NCAA Gainesville [Fla.] Regional… Brought in a season-high six putouts in the field against Jacksonville (June 3) in the NCAA-opener in Gainesville…
High School/Prep…
Played high school baseball for Coach Dave McDonald and Wheeler High School… Saw most of his time in centerfield for the Wildcats, batting .398 with six homeruns as a senior… Named to Team Georgia squad twice (2009, 2010)… Member of the Team USA Final 32… Braves 400-club member… 2010 Preseason All-American… Named as the No. 2 player in the state of Georgia by Scouts.com… Selected as the No. 25 player in the state by ESPN.com… 2010 Offensive Player of the Year… Two-time All-Region and All-County selection (2009, 2010)… Tabbed an All-State performer following his senior year… Batted .330 with two homers as a junior… Collected Offensive and Defensive Player of the Year accolades… Played summer ball for the Florida Bombers and head coach Emilio Fernandez… Summer league team won the WWBA 18-U title in 2010…
Personal…
Full name is Dale Kenneth Carey… Nickname is "D.K."… Parents are Dale and Kim Carey… Drafted by the Pittsburgh Pirates in the 21st round of the 2010 MLB Draft… Attended the same high school as University of Miami men's basketball player DeQuan Jones… Has an older sister, Kaisha…
| | | | | | | | | | | |
| --- | --- | --- | --- | --- | --- | --- | --- | --- | --- | --- |
| OFFENSE | AVG | GP-GS | AB | R | H | 2B | 3B | HR | RBI | SB |
| 2014 | .305 | 63-63 | 246 | 53 | 75 | 16 | 1 | 7 | 29 | 16-25 |
| 2013 | .192 | 57-49 | 146 | 22 | 28 | 5 | 2 | 1 | 12 | 12-17 |
| 2012 | .271 | 58-58 | 214 | 42 | 58 | 11 | 2 | 2 | 20 | 9-14 |
| 2011 | .271 | 58-44 | 155 | 30 | 42 | 8 | 0 | 1 | 24 | 5-7 |
| CAREER | .267 | 236-214 | 761 | 147 | 203 | 40 | 5 | 11 | 85 | 42-63 |