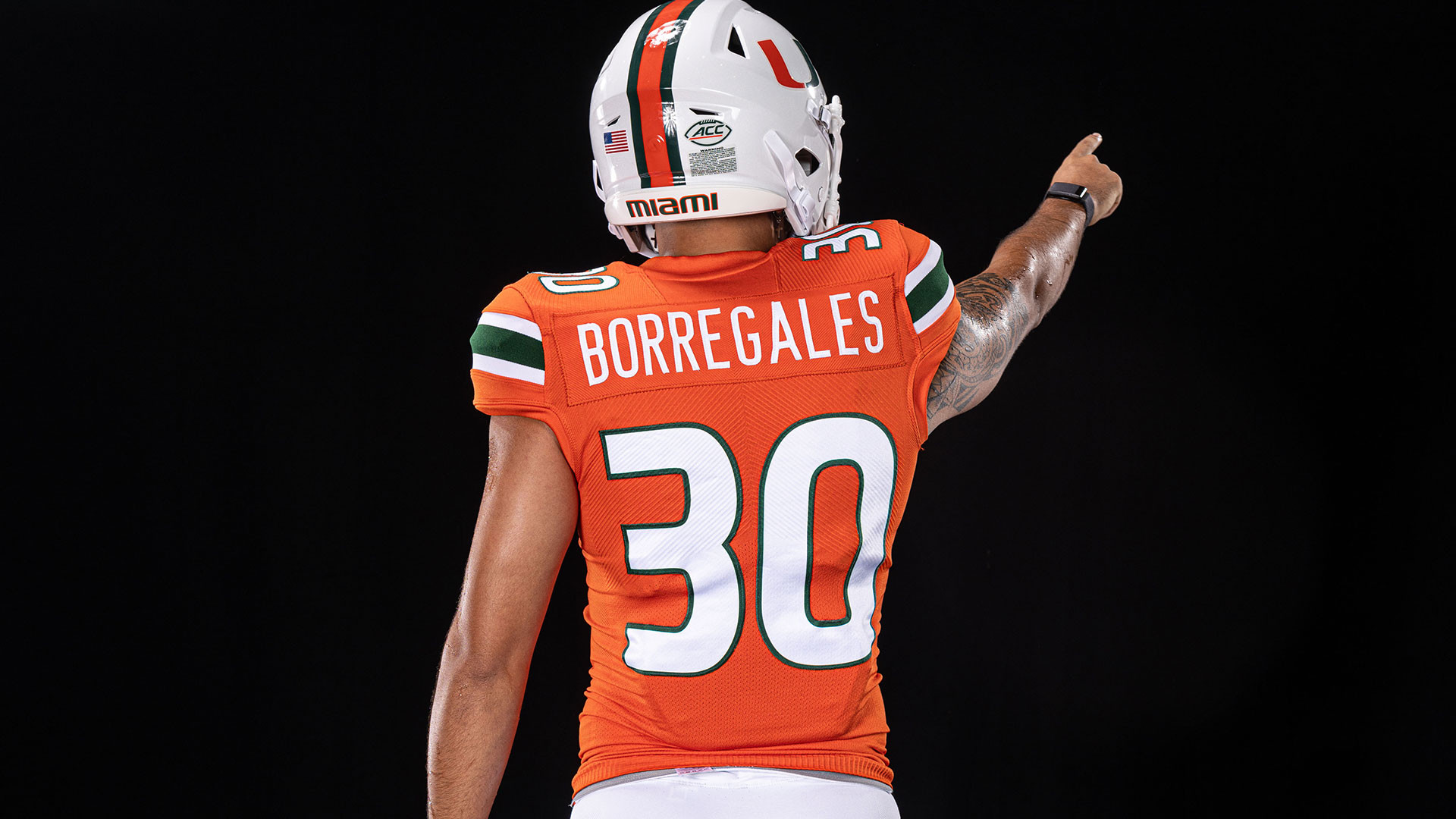 CORAL GABLES, Fla. – Andy Borregales was just a toddler when his parents made the life-altering decision to leave their native Venezuela in search of a better life in the United States.
And so, for Borregales, learning to speak both English and Spanish in multicultural Miami was perfectly natural. So, too, was playing both soccer and football – the first, one of the more popular sports in his homeland, the latter one of the sports that most defines American culture.
It was a childhood experience that Borregales says helped make him who he is today, an experience that made him proud.
These days, he can't help but feel a surge of that pride every time he looks into the stands and sees the yellow, blue and red of the Venezuelan flag flying at Hard Rock Stadium.
"I see a Venezuelan flag at Hard Rock and it's a dad and a little kid and it's just awesome, just knowing that people who [go to games] and are here, that they have a similar journey. Everything about it just amazing," said Borregales, the Hurricanes' standout kicker. "It makes me very proud, just to see it … It kind of proves that you don't have to be from this country to be someone or do something in this country. It's how you attack it, your attitude towards it."
There's no doubt Borregales has approached football – and kicking for Miami – with gusto.
In middle school, after several years of juggling both his childhood sports, he opted to focus on football. It was decision his older brother, Jose Borregales, made too.
Together, the two began perfecting their craft, with Jose often taking his younger brother to the park for Sunday workouts. They attended kicking camps across the country to hone their skills and get better together.
Jose Borregales, older than Andy by five years, navigated the college recruiting process first, signing with FIU after earning All-State recognition and starring at Miami's Booker T. Washington High School.
In his three years at FIU, Jose Borregales became the program's all-time leading scorer, a reliable force who totaled 281 points before transferring to Miami for his final collegiate season.
During the 2020 season – his lone in orange and green – Jose Borregales finished 20-for-22 on field goal attempts and was a perfect 37 of 37 on extra-point attempts. He tied a school record when he connected on a 57-yard field goal against Louisville, became Miami's first consensus first-team All-American since 2004 and was the first Hurricane to earn the Lou Groza Award, which recognizes the nation's top collegiate kicker.
And cheering him on every step of the way was Andy Borregales – who had already committed to kick for the Hurricanes himself and in 2021, confidently stepped into the role his brother vacated.
It was a transition every member of the Borregales family celebrated.
"When I got my [scholarship] to come to UM, it was a big thank you to my parents for paying for all the flights and the hotels and all the kicking camps. Those aren't cheap. They don't do many [kicking] camps in Florida, so we had to fly out everywhere," Andy Borregales said. "It was like a big thank you to them, for all of their sacrifices. I proved what I could do and having our last name on my back, everyone knowing our last name, that makes me even more proud, knowing that I'm making them proud."
In his very first game at Hard Rock Stadium, Andy Borregales connected on three of his four field goal attempts, including a 43-yarder with 2:04 left that proved the difference in Miami's 25-23 win over Appalachian State.
Those pressure-filled moments, the kicker said, are where he thrives.
"I enjoy all of it. The lead-up to it, the hold, the kick, even after. It's something you can't really replicate anywhere, in my opinion, that feeling of making a kick and hearing the crowd and everything," Andy Borregales said. "You know everyone's eyes are on you and your operation, your holder, snapper, the line. Their eyes are just glued onto whatever's happening, whatever you're doing. And it feels good. … That feeling of making a kick, you're not really nervous, but you're very antsy in a way and then you kind of feel relieved and excited as you make it."
This season, Andy Borregales, a preseason All-ACC selection, is 9-of-10 on field goal attempts and has connected on 21 of his 22 extra point attempts. He hit a season-long 50-yard field goal in Miami's win over Texas A&M last month and no one's been prouder of his success than his family – in particular, his older brother.
"I've watched him grow up as a person and as an athlete. I saw him when he first started kicking and to see the progress where he is now, it's unbelievable how much work he's put in to be where he's at now," Jose Borregales said. "For him to go out there every Friday night, and perform the way he does, it's always a sight to see and it's a reminder of where he started and where he's at now. … Proud doesn't even do it justice, you know?"
For his part, Andy Borregales says he only wants to continue building on the legacy his brother left at Miami and on the success he's had as a Hurricane himself.
Like his brother, he wants to see his name hanging in the rafters of the Carol Soffer Indoor Practice Facility. And he wants a Lou Groza Award of his own.
Andy Borregales also wants to keep inspiring youngsters in South Florida's Venezuelan community to dream big – and know they too, can find success on the football field.
According to ProFootballReference.com, only two football players from Venezuela – kickers Pat Ragusa and Alan Pringle – have made it to the NFL, where the pair combined to appear in just four games.
The Borregales brothers hope they can change those numbers together and if they're able to, well, they know that will just continue to help the game of football grow in their community and beyond.
"Everyone always asks us, 'Who's the better kicker?' I always say it's him. He always says it's me," Andy Borregales said. "We're competitive, but at the same time, we love each other. We're always going to support each other and lift each other up."