Defense Delivers Against Wildcats
MIAMI GARDENS, Fla. – The Hurricanes arrived at Hard Rock Stadium on Thursday night knowing they were coming off not just a short week of preparation, but a physical game.
Miami's big win over Texas A&M last Saturday took its toll on the defense, with All-American safety Kamren Kinchens, a player whose teammates often refer to as the Hurricanes' "heart and soul," sidelined with an injury. Also out were defensive linemen Akheem Mesidor, Branson Deen and Nyjalik Kelly.
But on Thursday night against Bethune-Cookman, Miami's defense was still a force.
The Hurricanes held the Wildcats to just one score and 165 yards of total offense, most of which came in the game's final minutes.
The ultimate result? A 48-7 win for the 22nd-ranked Hurricanes, who once again in this young season, showed their ability to handle the adversity that's come their way.
"I mean, a lot of guys on our team are banged up from the last game, so we practiced, we worked hard and whether you're a one, a two or a three [on the depth chart], you've always got to be ready to play because you never know what's going to happen," said linebacker Francisco Mauigoa, who finished with four tackles. "I think a lot of guys came up and showed up today."
Said Miami head coach Mario Cristobal, "You'd like to have those guys back as soon as you can. Overall, a lot of guys stepped up and we probably played 10 or 11 guys [on the defensive line] and they are going to need to play. As the season goes on, more and more guys get banged up."
The win over the Wildcats gave some of the new faces on Miami's roster a chance to shine.
Freshman defensive lineman Rueben Bain, Jr., who earned consistent praise from both his teammates and coaches throughout preseason camp, made his first start and recorded the first sack of his Miami career.
Redshirt freshman defensive back Jaden Harris made his first start, notched a tackle, and earned praise from Cristobal after the win, while freshman defensive lineman Jayden Wayne and sophomore defensive back Jadais Richard each notched four tackles.
In all, 25 players on the Miami defense made at least one tackle Thursday night, with four players – Bain, Chase Smith, Jared Harrison-Hunte and Jacob Lichtenstein – all recording sacks. Lichtenstein also recovered a fumble, and both Mauigoa and Thomas Gore forced fumbles.
After the win, Mauigoa said more than a few of the defensive veterans – including safety James Williams and linebacker Corey Flagg, Jr. – stepped in as some of the unit's vocal leaders in the locker room with Kinchens out.
"I think we kind of attacked it and emphasized it and a lot of guys really grew up in the past few days," Mauigoa said. "Knowing there were some guys banged up was just a part of the adversity and guys really stepped to the plate."
Said Bain, "Our preparation every week is the same. We treat all opponents the same. We work hard every day, all day, all week in practice. … We're just putting our heads down and working."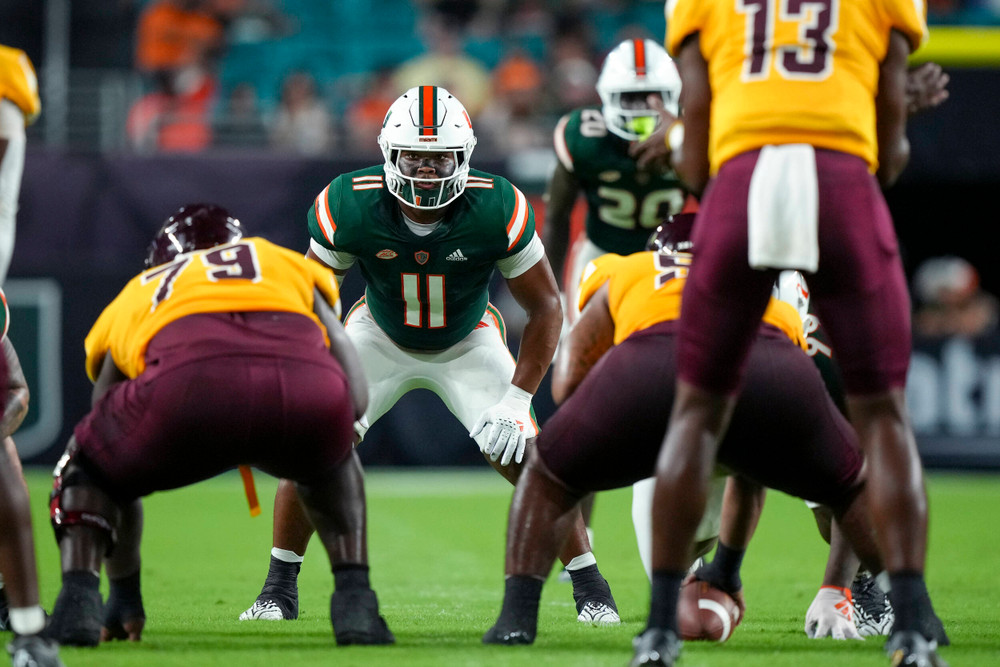 The key now for the Hurricanes moving forward is to continue to build on the success they've had in their first three games.
Miami has held its first three opponents to a combined 43 points and a total of 813 yards. Those are positives, the Hurricanes know.
But there is room to continue growing and continue improving.
That's exactly what the focus will be on now as Miami prepares for its first road game, a nonconference showdown against Temple next week in Philadelphia.
"Defensively, a lot of guys got better. I thought our back end is playing really, really well. They're playing at a high level," Cristobal said. "They communicate really well and without Kam today. Regardless, whoever you play, when you're down a starter, especially one of that magnitude, who communicates the way he does, lines us up like he does, I thought those guys did really well."