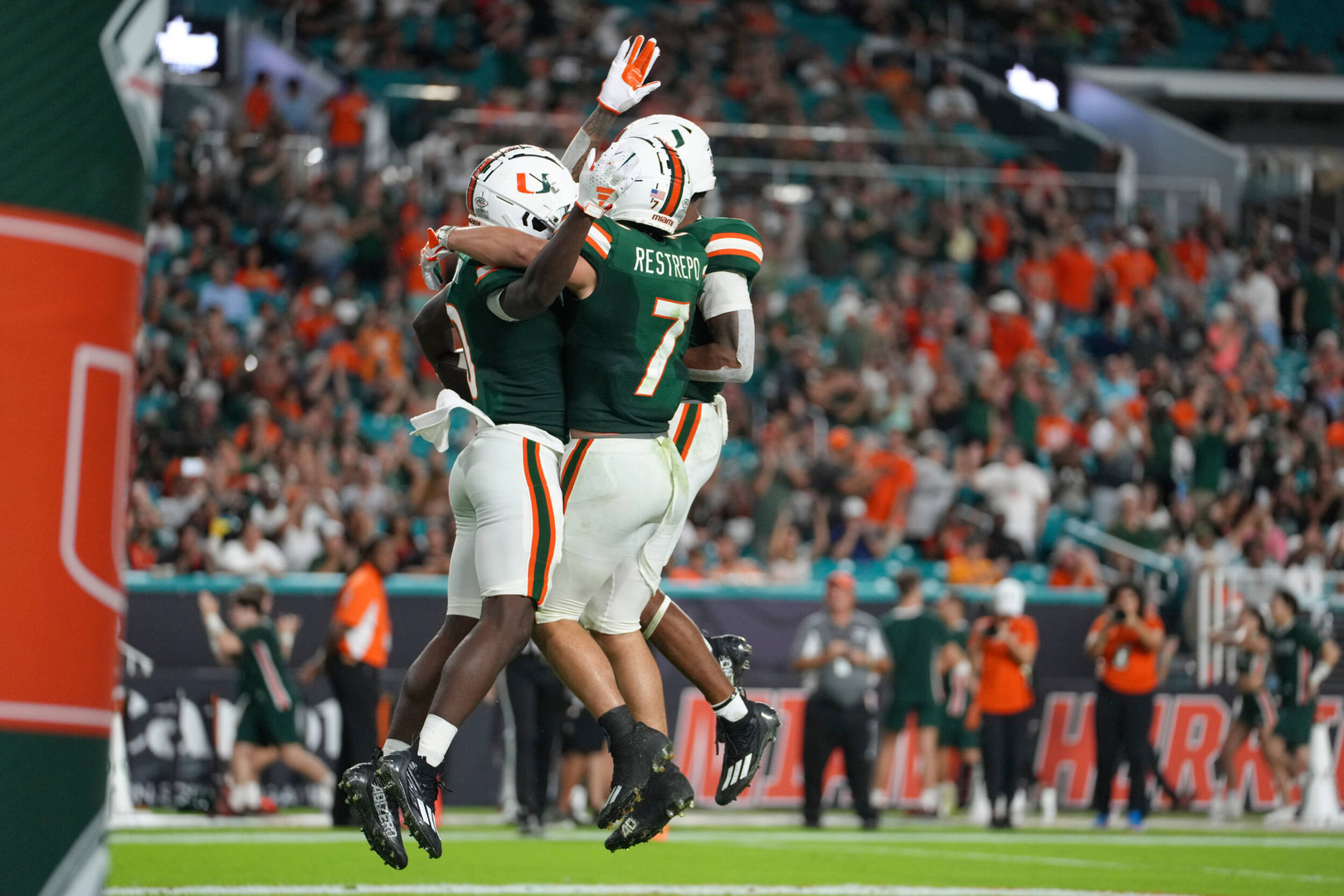 MIAMI GARDENS, Fla. – In a short week, the Miami Hurricanes made short work of the opposition.
Back at Hard Rock Stadium just five days after their win over Texas A&M, the Canes jumped on Bethune-Cookman early and cruised to a 48-7 win over the Wildcats Thursday night before a crowd of 40,077.
No. 22 Miami improved to 3-0 on the season, while Bethune-Cookman dropped to 1-2. The Canes moved to 7-0 all-time against the Wildcats with an average margin of victory of 41.8 points. The only opponent that the Canes have more wins against without a loss is Rutgers (11-0).
Miami racked up 589 total yards, while limiting Bethune-Cookman to just 165 yards and eight first downs. The Canes, who entered the game averaging 8.2 yards per play — ranking fourth in FBS – averaged 8.4 yards per play. Miami scored five touchdowns in six red zone trips.
"I thought early on we started taking control of the game," head coach Mario Cristobal said. "Not a ton of explosive plays but we methodically drove the ball down the field. The defense played relatively well. They gave up some yards in the middle early, but tightened up and it wasn't until the last few drives that they held them to under 100 yards. Overall, a lot of guys played."
Quarterback Tyler Van Dyke completed 19 of 23 passes for 247 yards and two touchdowns in one half of action. He also rushed for a 10-yard score. Van Dyke now has 419 career completions, passing former Heisman Trophy winner Vinny Testaverde for 10th on Miami's all-time list. Emory Williams also saw action at quarterback, completing 9 of 11 passes for 102 yards.
Running backs Don Chaney, Jr. and Ajay Allen paced a balanced rushing attack. Chaney rushed for 73 yards on just seven carries with a four-yard touchdown. Allen had 68 yards on 12 carries and scored twice. Chris Johnson also scored his first career touchdown on a 21-yard run in the fourth quarter. Overall, the Canes gobbled up 240 yards on the ground, averaging 6.7 yards per tote.
Wide receiver Xavier Restrepo posted his second straight 100-yard receiving game, snagging six passes for 120 yards after posting a career-high 126 yards against the Aggies. Fellow wideouts Jacolby George (15 yards) and Brashard Smith (27) each had touchdown receptions.
Miami's defense amassed 10 tackles for loss and limited the Wildcats to just 33 rushing yards. In the first half, the Canes forced the Wildcats to punt on all five of their first half possessions, holding them to two first downs and 36 total yards. Bethune finally got on the scoreboard on its final possession of the game. Linebacker Francisco Mauigoa paced the team with four tackles and a forced fumble, while fellow linebacker Chase Smith posted four tackles and one sack. Defensive end Thomas Gore had three tackles and two TFLs.
"I like the way we're evolving," Cristobal said. "You know, our offense has played a little bit different each week. The more we can show the ability to run the ball inside and outside, to push the ball down the field but also stretch it horizontally, it's hard to defend. The way the quarterback is playing, Tyler is playing at such a high level, that makes it difficult. He knows where to go with the ball. He knows if this trouble is coming and you don't have any way to pick it up that this is your outlet, this is your alert. If so and so fell off and you have the chance for a chunk play, you can take it and I think that's happening a lot now because your release time is getting shorter and shorter.
"And then, defensively, a lot of guys got better. I thought our back end is playing really, really well. They're playing at a high level. They communicate really well and without (safety) Kam (Kinchens) today."
The Canes took the opening kickoff and marched 65 yards on nine plays, capping the drive with a 10-yard scamper by Van Dyke, who completed all five of his pass attempts on the drive.
Miami forced the Wildcats to punt and Van Dyke went back to work, engineering an 11-play, 93-yard trek. He connected with Restrepo on completions of 20 and 26 yards to move the ball into the red zone. Three plays later, Allen ran into the end zone from eight yards out and the Canes had a two-touchdown lead.
After another Wildcats punt, Miami needed just 2:47 to find the end zone again. Allen rushed three times for 27 yards before Van Dyke found Restrepo down the right sideline for 20 yards to the Bethune 15. On the next snap Van Dyke hit George for his first touchdown strike of the night. On three drives, the quarterback was a crisp 12 of 14 for 143 yards.
On the next drive, defensive end Jared Harrison-Hunte's sack forced the Wildcats into another three-and-out and Miami took over with great field position at its own 45. Chaney took care of the rest. He bolted up the middle for 26 yards, carried multiple defenders for a 17-yard gain to the Bethune 12, and then covered the remaining dozen yards on the next two carries. The Canes were up 27-0 with 7:34 left in the half.
Defensive end Jacob Lichtenstein registered a sack on the Wildcats' next drive and Miami got the ball back at its own 43. The Canes again reached the red zone, where Van Dyke hit a streaking Colbie Young down the middle. Safety Johnny Harris hit Young and jarred the ball loose and the Wildcats recovered in the end zone for a touchback. The officials reviewed the play for targeting on Harris but the turnover was upheld.
The Canes used their timeouts to get the ball back with 1:02 remaining. Van Dyke connected with Restrepo for completions of 23 and 24 yards to move the ball to the Bethune 27. On the next snap Van Dyke hit a wide-open Smith in the end zone to give Miami a 34-0 lead heading into halftime.
Miami outgained the Wildcats 415 yards to 36 in the opening 30 minutes.
Xavier Restrepo talks to the media after Miami's win over Bethune-Cookman.
Bethune crossed midfield on its first drive of the second half, but Mauigoa forced quarterback Tylik Bethea to fumble and Lichtenstein recovered at the Canes 31. Williams took over at quarterback for Miami and led an 11-play, 69-yard drive, which Allen punctuated with a four-yard scoring run around the left end. Williams went 4 of 4 for 57 yards on the drive.
Johnson turned on the jets on Miami's final scoring drive, racing around the right side for a 21-yard score with 6:36 left. Bethune quarterback Walter Simmons scored on a six-yard run with 1:19 remaining to prevent the shutout.
The Canes hit the road for this first time this season on September 23 when they travel to Temple. Kickoff is 3:30 p.m. on ESPN2.