Ready to Get Back on Greentree
In the months since the Hurricanes walked off the field at Hard Rock Stadium last November after their final game of the season, there's been a concentrated effort to better the program.
Miami signed a top-10 recruiting class. Hurricanes head coach Mario Cristobal revamped his staff, bringing new coordinators Shannon Dawson and Lance Guidry to Coral Gables. A number of experienced, highly touted transfers joined the roster. And more than a few of Miami's veterans – including All-American safety Kamren Kinchens and quarterback Tyler Van Dyke – continued finding their voices as leaders while the Hurricanes made their way through spring drills and their off-season training program.
On Tuesday, Cristobal, Kinchens, Van Dyke and new Hurricanes center Matt Lee – one of those newly arrived experienced transfers – were in Charlotte, North Carolina for this year's ACC Kickoff event, where they answered a number of questions from reporters on a variety of topics.
One prevailing thought from the head coach and his players? The Hurricanes are looking forward to getting back on Greentree and embracing the opportunities ahead of them.
"I feel like our culture led and driven by our team leaders has created ownership in the program," Cristobal said. "In other words, the steps that you cannot skip, those things have been in full force since the end of last season, and it's led to a great offseason, a great signing day class, best in our school's history [and] a top-ten portal class.
"Most importantly, the retainment of our top players and top leaders led to a great spring and now, has [been] a great summer. Now we're eager to get to camp so we can put all of that to good use and the bottom line is just to get to work. Not worry about anything or anyone and just get to work and put to good use this hard work that we have done."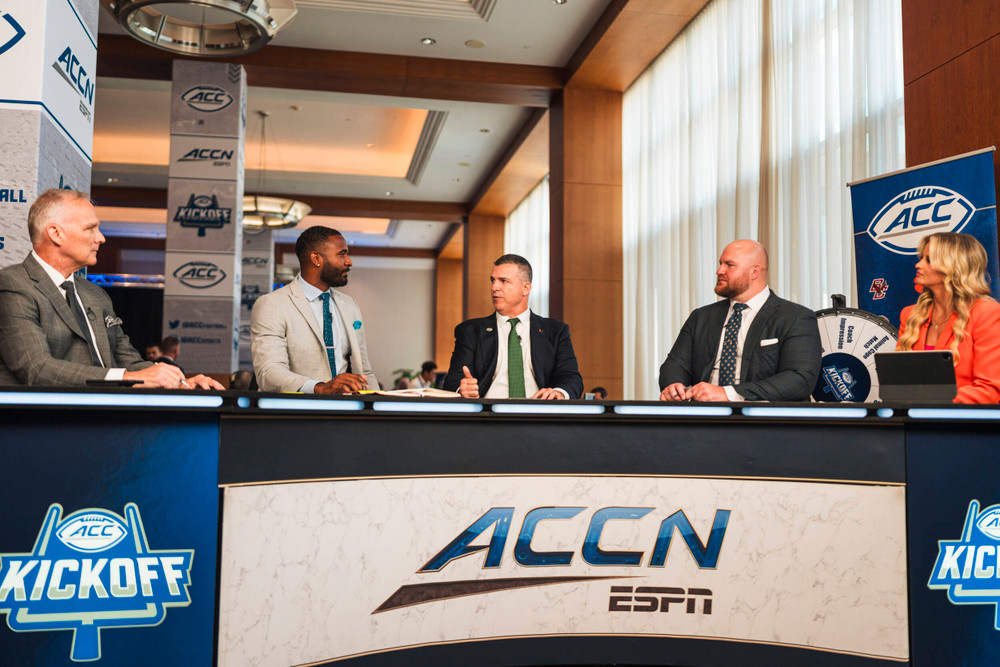 The Hurricanes will have their first opportunity to do exactly that next week when they open preseason camp and take another step forward in the preparation for their Sept. 1 season opener at Hard Rock Stadium against Miami of Ohio.
For Van Dyke, who completed 63.2 percent of his passes and threw for 1,835 yards and 10 touchdowns despite being hampered by injury last season, it will be a chance to continue learning how to best execute Dawson's offensive system.
It's a system that has been successful.
In Dawson's three seasons as Houston's quarterbacks coach and offensive coordinator, Cougars quarterbacks combined to throw 87 touchdown passes and for 10,008 yards – numbers that ranked among the top 25 nationally.
Last season, the Cougars threw for 4,082 yards, averaged 35.6 points per game and quarterback Clayton Tune set a new American Athletic Conference single-season record with 40 touchdown passes. The signal caller ranked third nationally in passing touchdowns, third in total offense (355.2 yards) and fifth in passing yards per game (313.4).
All of that, understandably, has Van Dyke excited about the potential for Miami's offense this year – though he stressed during multiple interviews Tuesday it's important he and his teammates to take each practice of camp, each day of camp as a chance to continue to grow.
"We're doing the day-by-day mentality, living in the present and working each day to get better and better," Van Dyke told WQAM-560's Joe Rose. "We're going to just take it one practice at a time, one game at a time and worry about that."
As to Miami's new offensive system, Van Dyke said he was "grateful" for the opportunity to work with Dawson this season.
"The thing I love about it is the freedom he gives the quarterback: change a run play to a pass play, pass to a run, giving receivers routes based on what the defense gives you," Van Dyke said. "So, [it] just gives the quarterback a lot of freedom. It allows you to put the ball in the hands of the playmakers. That's my job to do."
Like Van Dyke and the offense, Kinchens and the defense are working with a new system.
And like Van Dyke and the offense, Kinchens is excited to see how the Hurricanes will do under Guidry's guidance.
Last season at Marshall, where Guidry served as defensive coordinator, the Thundering Herd finished eighth among FBS programs in total defense (294.5 yards per game) and sixth in both scoring defense (16.0 points per game) and passes intercepted (18).
"I think it's been real great, kind of grasping the playbook better," Kinchens said of learning Miami's new defensive scheme. "Coach Guidry's very in-tune to making sure we grasp it. If he has to ease it down, just to build it back up, he's all about it."
Next week, Kinchens and the rest of the Hurricanes will look to build on all that they've learned over the course of the last six months and the safety said he is excited to continue growing his game – even after his All-American performance of a year ago.
"I think the biggest thing is just the physicality and, of course, the playbook, knowing it in and out. I think it's everything, just being in the film room and being a student of the game," said Kinchens, who had a team-high 59 tackles and six interceptions last season. "For the most part, [past Hurricanes greats] weren't just waking up and becoming that. It's always about something they were doing extra and that's all they try to instill in us, and Coach Cristobal, too. He always mentions those guys like Dan Morgan, Ed Reed, Sean Taylor…The thing is, just being a film junkie, that's what I'm trying to instill in my game now. Just making sure I can get better at every aspect of the game."
Why Miami?
Lee, a three-year starter at UCF who was rated as the third-highest center nationally by Pro Football Focus after earning a 90.6 pass-blocking grade and 80.6 run-blocking grade in 2022, joined the Hurricanes this offseason and said for him, the decision to come to Miami was a "no-brainer."
"Growing up, always liked the Canes. Always liked The U, everything about Miami," Lee told reporters in Charlotte about his decision to transfer. "I wasn't a direct fan, but being from Florida, you see all that stuff a lot. I've got a lot of family ties in Miami and then once I got a chance to go down and visit, do an official visit and really get to know Coach Cristobal, [offensive line coach Alex] Mirabal, TVD and the other guys I got to meet, it kind of became a no-brainer. The work ethic, the discipline, the type of guys they are, the type of guy I am, [that's] what I want to be a part of."
Setting the Tone
When asked Tuesday about his role as one of the leaders for Miami, Van Dyke shared that this year, the Hurricanes have a core group of players who will be called on to set the tone in the locker room and on the field.
That entire group, Van Dyke said, will help make a difference.
"We have a huge group of leadership council," Van Dyke said. "We have 13 guys, which grew a lot from last year…The thing I'm proud of most about this team is a lot of guys stepped up to become voices of the team, become leaders. A lot of people grew in the right direction. New guys like Matt, Brandon Deen came in, did a great job of coming in and being an older guy, being a leader to the young guys.
"Being a leader of the team, along with some of these other guys, it's special. We set the direction of the team. We get to show the young guys how to do it, show the new guys that came in how to do it. It's on us to win games."
Coach Cristobal talks Miami football on ACC Network.