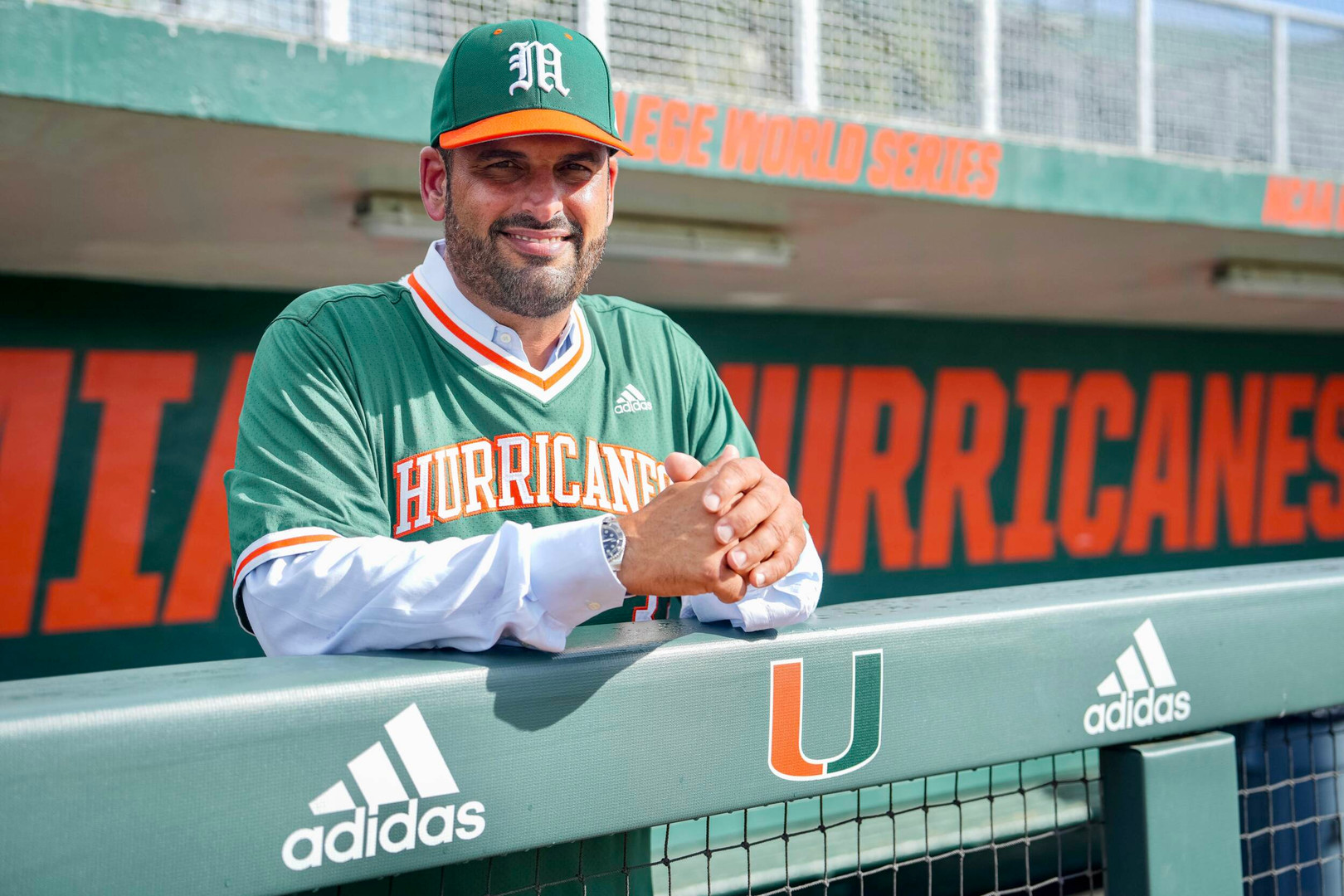 CORAL GABLES, Fla. – J.D. Arteaga's phone has, understandably, been buzzing for days.
Friends and family have called or messaged their good wishes and congratulations. So have former teammates and players. And in their own ways, each well-wisher has made him smile.
But it was a message from London, of all places, that truly left Arteaga in awe.
"Big names don't get much bigger than Alex Rodriguez, right? He heard the news, and he just did, I guess it was Sunday morning baseball because the Cardinals and Cubs played out in London, and he'd stayed behind. He's texting me, 'I can't sleep, this is unbelievable, what a dream come true,'" Miami's new head baseball coach said with a smile. "That was coming from a guy that's done it all, right? So that was pretty neat."
Those words might also be how Arteaga would describe the opportunity he has before him.
A standout pitcher for the Hurricanes and longtime assistant coach at his alma mater, Arteaga has now been entrusted to lead the program that, for more than three decades, has been an integral part of his life.
On Monday, he was named the 10th coach in school history, following the likes of Ron Fraser and Jim Morris, who led the Hurricanes to championship moments in Omaha on college baseball's biggest stage.
It will be Arteaga's responsibility to now find a way to get Miami back to the pinnacle of the sport and that, he says, isn't a responsibility he takes lightly.
"That's my only goal right now. It's my only goal and every decision we make, from today forward, is for that," Arteaga said of his mission to help Miami win a fifth national title. "Every decision we make on a player, every decision we make on even what analytics system we're going to use, we have to have an end game and we're going to take a path it is going to lead us to that…We've got to take some chances, but just understand, every decision we make is with one goal in mind and that's to get us back to where we belong."
Arteaga has plenty of experience when it comes to high-level college baseball.
As a player at Miami, he helped lead the Hurricanes to four straight Men's College World Series appearances from 1994-97. He is the winningest pitcher in program history with 43 victories and is the all-time starts leader with 72.
He ranks second in the Miami record book with 458.1 innings pitched and fifth with 343 career strikeouts. He had his number retired by Miami in 2003 and in 2007, was inducted into the UM Sports Hall of Fame.
After leaving Miami, he played professionally with the New York Mets, Houston Astros and the Texas Rangers' organizations before making the decision to return to his alma mater as an assistant coach under Morris in 2003.
Arteaga found a new kind of success in Coral Gables as a coach.
During his 21 years as an assistant at Miami, the Hurricanes have advanced to the NCAA Tournament 18 times and to the Men's College World Series six times.
He has mentored 46 draft picks, including four who were first round selections, 19 All-ACC honorees, 12 All-Americans and 12 freshmen All-Americans.
And this week, after Arteaga was named Miami's next head coach, many of those former players, along with more than a few of the current Hurricanes, were among the first to reach out and celebrate with the program's new leaders.
Among them was All-American closer Andrew Walters , who was on campus Monday and raced to his coach's office not long after the news of Arteaga's promotion was announced.
"I think he's greatly impacted my career, not only in terms of becoming an athlete, but you know, on the mental side of baseball. I feel like that's not touched on as much as it should be," said Walters, who finished the season with a career-low 1.21 ERA and a co-ACC high 12 saves. "And he's definitely a student of the game. He's played a lot of ball, watched a lot of ball and he knows a lot about what goes on in the mental side of the game as well…Being around him, he's a players' coach…Now that he is in the top spot, I think even more players are going to get to know him and learn from him as well. It's a great day."
Said Chicago White Sox catcher and two-time MLB All-Star Yasmani Grandal, who played at Miami from 2008-10, "J.D. is the true definition of a players' coach. He has a way of bringing out the best in you, which is why guys will run through a wall for him."
As exciting as the past few days have been for Arteaga, though, now the hard work begins.
The coach is currently in the process of building out his staff and working on a myriad of ways to help the Hurricanes continue growing during an ever-changing time in college athletics.
And making sure the Hurricanes keep pace on all of those fronts is a priority, said Arteaga.
"The game has changed, whether you're talking analytics or sports science or the NIL world," Arteaga said. "It's changed…We've got to make a change."
But as essential as some of those changes might be, Arteaga believes it's the coaches and the players who join him at Miami that will ultimately be the biggest factors in helping the Hurricanes return to where they want to be.
Relationships, he stresses, will be the key.
"It's a combination of everything. You have the analytics, you have the science behind it, but you still have the human nature and that has to be a part of it as well," Arteaga said. "You have to understand the people…I've always related very, very well with players, whether they've been pitchers or hitters. If you ask me what my strength is, that's my strength.
"I never let a player call me 'coach.' I don't like it. My name is J.D. Coach is what I do. Unless you want me to call you 'pitcher' or 'catcher,' you call me J.D. That's just the start…We can relate. We can talk. I want them to understand their best interest is my interest…That's all very important to me, the human element. So, we can talk analytics – and it's absolutely going to be a part of our program and the science behind it and how to improve and develop physically – but emotionally, mentally, it's still a very, very big component to me. You've got to love what you're doing and enjoy it while you're doing it. And winning's a lot better than losing."