11th-Ranked Hurricanes Secure Sweep Over Blue Hose
CORAL GABLES, Fla. — No. 11 Miami took care of business.
After dominating Friday and Saturday, the Hurricanes completed the sweep Sunday.
Miami scored early and often, pummeling Presbyterian, 12-2, at Alex Rodriguez Park at Mark Light Field.
"Our offense put up some big numbers. Obviously, we had some more home runs today," Miami head coach Gino DiMare said. "Every pitcher that came in out of the pen threw excellent. We played good defense too. Just a clean overall game and a clean weekend. We finish up exams in the next few days and then it's all baseball. It's getting close to that time. We just want to be playing our best baseball here at the end."
The Hurricanes (31-16) record tallies in five of their eight trips to the plate, highlighted by a five-run sixth inning.
Junior third baseman Yohandy Morales led the charge with a four-hit, five-RBI performance, punctuated by a three-run blast in the sixth.
Freshman Jason Torres backed up Morales with his first career four-hit game, while fellow rookie Blake Cyr cranked a homer and plated three runs in the victory over the Blue Hose (18-30).
Fourth-year junior right-hander Ben Chestnutt (6-0) earned the win in relief, tossing 3/2 scoreless. Chestnutt retired 11 of the 12 batters he faced, including the first 10.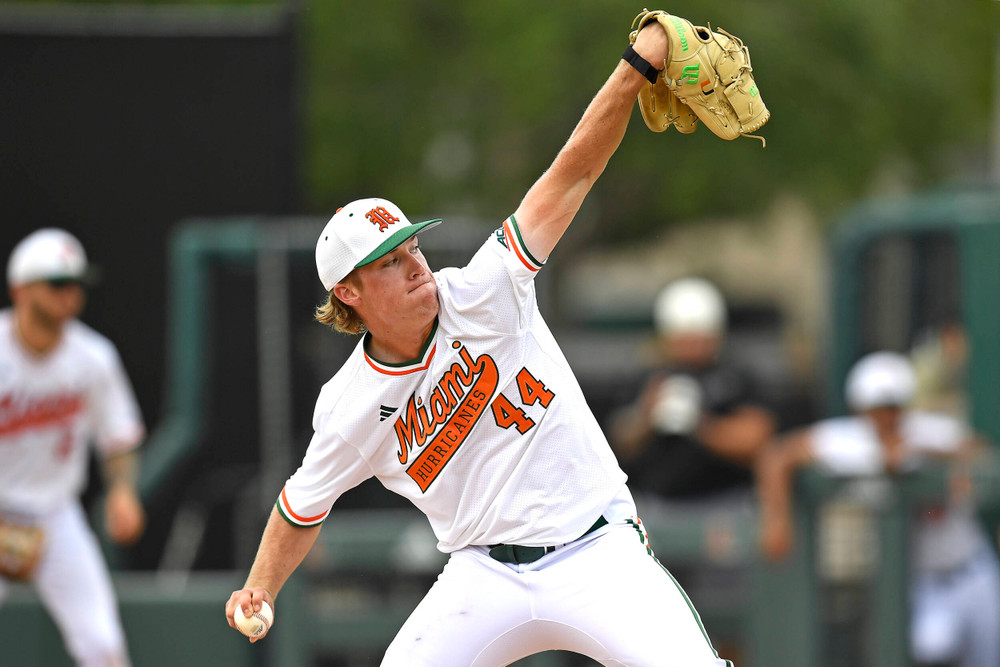 Presbyterian starter Daniel Eagen (0-1) was tagged with the loss, surrendering four runs on seven hits in 2 2/3 innings.
Across the three-game set, the Hurricanes slashed .414/.500/.694, outscoring the Blue Hose, 37-7.
Following its fourth sweep of the season, Miami will face crosstown foe FIU Wednesday. First pitch is set for 6 p.m. at Mark Light Field.
To keep up with the University of Miami baseball team on social media, follow @CanesBaseball on Twitter, Instagram and Facebook.