17th-Ranked Hurricanes Beat Bethune-Cookman, 12-6
CORAL GABLES, Fla. — The Miami Hurricanes came out swinging.
After a series win at then-No. 13 North Carolina over the weekend, Miami left no doubt Tuesday evening.
The 17th-ranked Hurricanes hammered four home runs to beat the Bethune-Cookman Wildcats, 12-6, at Alex Rodriguez Park at Mark Light Field.
"The home run has kind of been our MO for the season," Miami head coach Gino DiMare said. "If you have nine tough guys in the lineup, it makes it taxing on their pitcher. If the pitcher makes a mistake, these guys have a chance to knock it out of the ballpark. I thought our at-bats were good the first half, but we didn't quite swing it well the second half."
Miami (23-13) jumped out to a 10-0 advantage over the Wildcats (20-15) and never looked back.
The Hurricanes put up a five-spot in the second and tacked on four more runs in the third.
Junior designated hitter Ian Farrow started the scoring with a two RBI triple.
Catcher Carlos Perez followed with a two-run homer, becoming the first Hurricane to eclipse double-digit dingers this season.
Five pitches later, redshirt freshman Lorenzo Carrier socked a solo shot, his third round-tripper in the last four games.
"Getting more opportunities and seeing more pitches," Carrier said about his recent success at the plate. "I'm getting more comfortable every time I step into the box."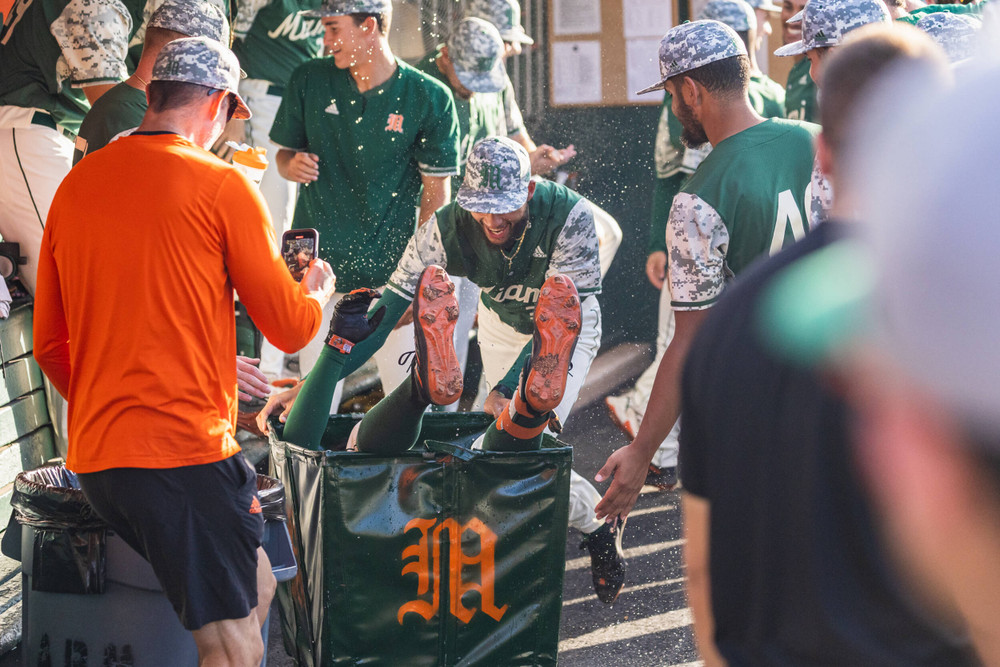 In the third, junior third baseman Yohandy Morales teed off on the first pitch of the frame, pushing the lead to 6-0.
After the Hurricanes tallied three straight singles, Carrier cleared the bases with a three-run triple.
Just like Morales two innings prior, freshman second baseman Blake Cyr clobbered the first pitch of the fifth over the fence.
"We trust every guy on the team," Morales said. "If one guy doesn't do their job, we know the guy behind us is going to back us up."
The early cushion was more than enough for fourth-year junior right-handed pitcher Ben Chestnutt (4-0).
Chestnutt limited Bethune-Cookman to one run on six hits across a career-long 5 1/3 frames.
"Ben threw well," DiMare said. "He was very efficient. I forgot to give an MVP for the game, but it should be him."
With the win, the Hurricanes moved to 19-3 at Mark Light Field, their best home start since 2016.
Miami hits the road Wednesday with a South Florida showdown at FAU. First pitch is set for 6:30 p.m.
To keep up with the University of Miami baseball team on social media, follow @CanesBaseball on Twitter, Instagram and Facebook.