Mack Garners Fourth ACC Freshman of the Week Plaudit
CORAL GABLES, Fla. – For the fourth time this spring, Mia Mack of the University of Miami women's tennis team is the ACC Freshman of the Week, as announced Tuesday afternoon by the league office.
Mack previously received the distinction on Jan. 17, Jan. 31 and March 28. She is one of only two players in the league, alongside No. 10 Reese Brantmeier of North Carolina, with four such accolades in 2023, while no one else has more than two.
The Löchgau, Germany, native helped the Hurricanes to a pair of home victories last week, going 2-0 in singles and 1-1 in doubles.
In a 7-0 triumph Thursday over Louisville, Mack paired with junior Audrey Boch-Collins to defeat Maria Campos and Sasha Gorchanyuk, 6-4, in doubles. She followed that with a 6-4, 6-3 decision against Cici Xin in singles.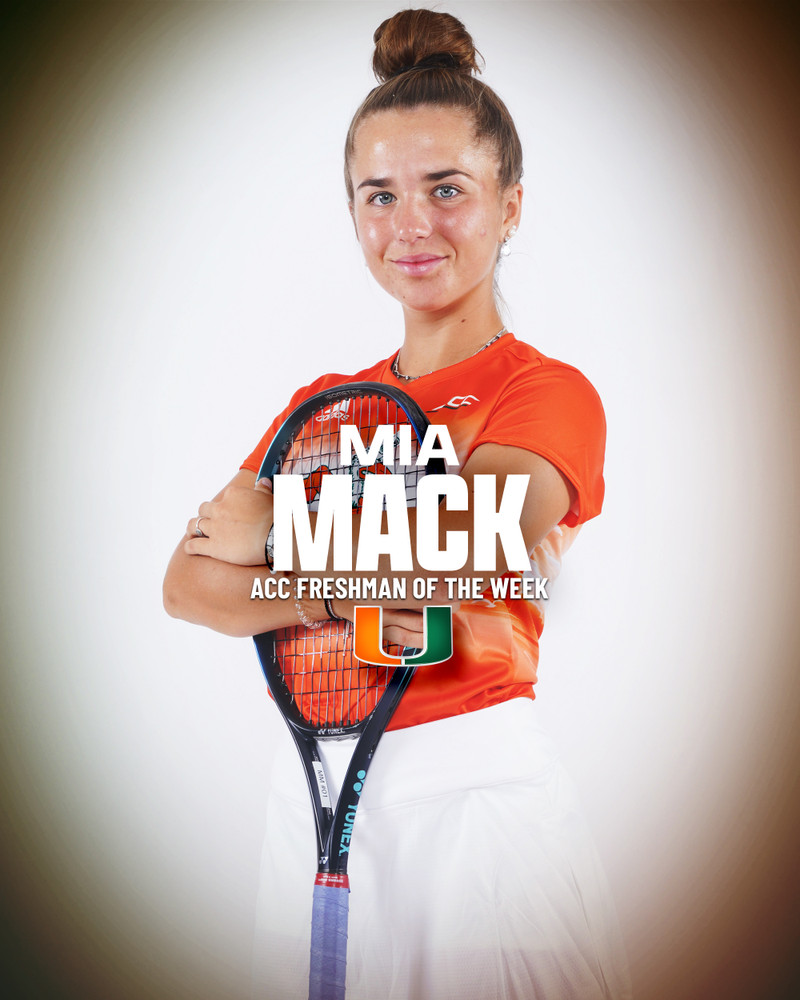 Two days later, Mack tallied a 6-2, 6-4 singles triumph versus Akari Matsuno in a 5-2 win over No. 23 Notre Dame.
Heading into the last weekend of the regular season, Mack is 17-8 in singles, including 14-5 this spring and 8-3 in ACC play. She is also 13-7 in doubles action, including 9-6 in spring competition.
Mack and No. 13 Miami (13-5, 8-3 ACC) resume competition Friday in Clemson, S.C., where they take the court at 3 p.m. against No. 37 Clemson.
To keep up with the University of Miami women's tennis team on social media, follow @CanesWTennis on Twitter, Instagram and Facebook.