Morales Named to Golden Spikes Award Midseason Watch List
CORAL GABLES, Fla. — University of Miami third baseman Yohandy Morales was named to the Golden Spikes Award midseason watch list, as announced Wednesday by USA Baseball, continuing the process of identifying the top amateur baseball player in the country for the 2023 season.
The midseason watch list features 45 of the nation's top amateur players from the high school and college ranks and includes 24 athletes who have played their way onto the watch list since the preseason list was announced on Feb. 10.
The Golden Spikes Award Advisory Board will continue maintaining a rolling list of athletes throughout the season, allowing players to play themselves into consideration for the award before the announcement of the semifinalists on May 22.
"The amateur baseball season has been nothing short of spectacular so far," said Paul Seiler, USA Baseball's Executive Director and CEO. "The Talent on display has been very impressive across the country, and we are excited to recognize the nation's best performers to this point in the season. We look forward to watching the rest of the season unfold before we name the newest Golden Spikes Award winner in June."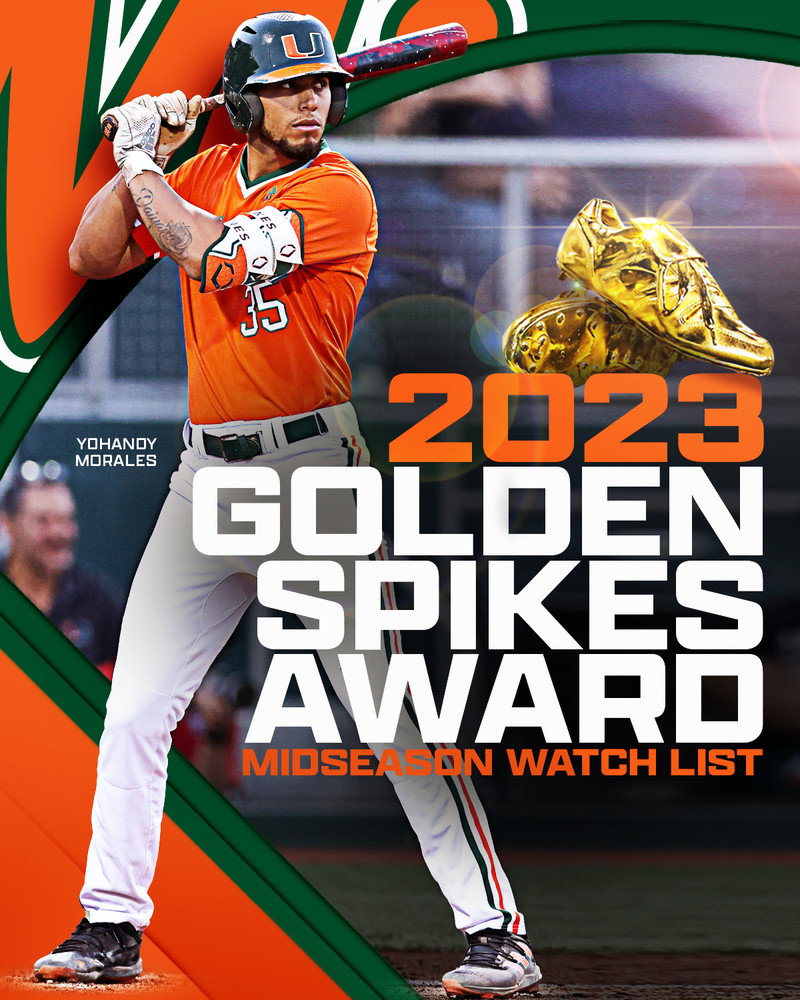 Morales is one of the premier hitters in college baseball and entered the 2023 season as one of the most decorated bats in Division I.
The junior slugger is off to another strong start for the Hurricanes. Through 29 games, Morales is batting .336 with six home runs and 28 RBI.
In his career, the Miami native has posted a .314 average with 35 homers and 132 RBI.
The 6-foot-4, 225-pound co-captain garnered 2022 ABCA/Rawlings Southeast All-Region Second Team distinction and All-ACC Second Team honors after leading the Hurricanes in runs (64), doubles (17), triples (3), home runs (18), RBI (59), total bases (156) and slugging percentage (.650).
As a rookie in 2021, Morales totaled a .284 average, 11 homers and 45 RBI, earning Collegiate Baseball Freshman All-America status and All-ACC Freshman Team plaudits.
Miami has had eight players named to the midseason Golden Spikes Award watch list since 2012. Peter O'Brien (2012), Bryan Radziewski (2013), David Thompson (2015), Zack Collins (2016), Bryan Garcia (2016), Adrian Del Castillo (2021) and Karson Ligon (2022) preceded Morales.
Fan voting will again play a part in the Golden Spikes Award in 2023. Amateur baseball fans can vote for their favorite players on GoldenSpikesAward.com, beginning on May 22 with the naming of the semifinalists. USA Baseball will announce the finalists for the award on June 7, and fan voting will once again open at GoldenSpikesAward.com before closing on June 21.
To stay up to date on the 2023 Golden Spikes Award, visit GoldenSpikesAward.com and follow @USAGoldenSpikes on Instagram and Twitter.