Miami Places Record Five Players on Bragan Slugger Award Watch List
CORAL GABLES, Fla. — The Miami Hurricanes set a Bobby Bragan National Collegiate Slugger Award watch list record Wednesday, as the Hurricanes had five players selected by the Bobby Bragan Youth Foundation.
Junior outfielder Ian Farrow, fifth-year senior outfielder Dario Gomez, junior infielder CJ Kayfus, junior outfielder Zach Levenson and junior infielder Yohandy Morales were among the 51 players named to the watch list for the 2023 college baseball season.
The Bobby Bragan National Collegiate Slugger Award is based on performance at the plate, academics and personal integrity. The 51 players on the watch list represent 19 conferences around the country, including all five power conferences.
The complete watch list can be viewed HERE.
One of the top power-hitting transfers in the nation, Farrow joins Miami after a record-setting season at FGCU. The Merritt Island, Fla., native tallied a program-high 21 home runs and 75 RBI. An All-ASUN second team selection, Farrow batted .322, finishing second on the club with a 1.034 OPS and .624 slugging percentage.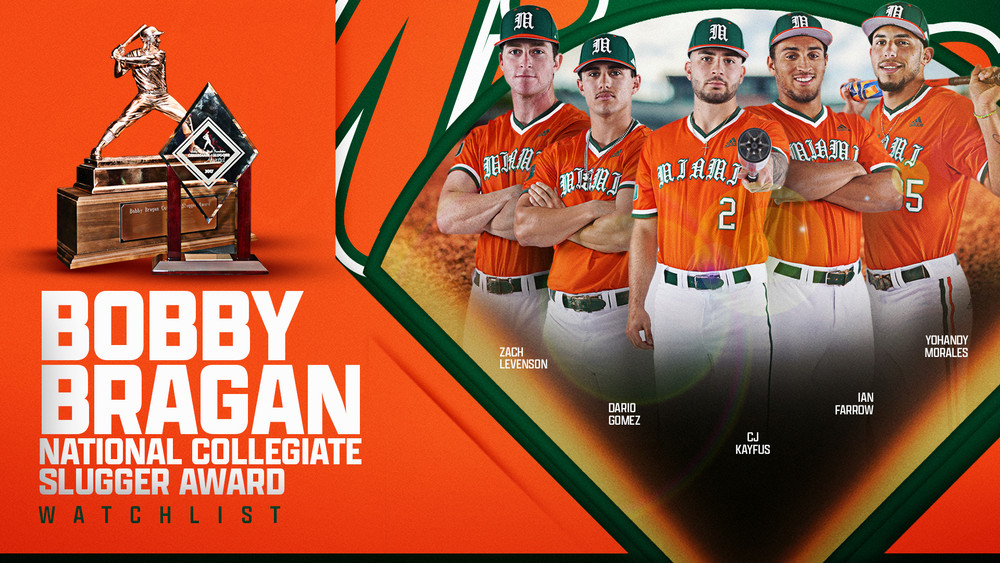 Similarly, to Farrow, Gomez enters his first campaign in the orange and green after a star-studded career at Nevada. In two years for the Wolf Pack, the Las Vegas native totaled a .350 average across 100 contests. Following his breakout performance in 2021, Gomez earned All-Mountain West first team honors after ranking seventh in the nation in hits per game (1.67).
The 2022 Hurricanes MVP, Kayfus paced Miami with a .366 average, 87 hits, 38 walks, a .460 on-base percentage, 16 stolen bases and 27 multi-hit games. An All-ACC second team pick, Kayfus placed eighth in the ACC in batting. The Wellington, Fla., native has reached base safely in 62 of his last 64 appearances, dating back to 2021.
A veteran bat in the middle of the Hurricanes' lineup, Levenson made an immediate impact upon his arrival at The U last season. The 6-foot-2, 211-pounder became the first player to hit a home run in his first at-bat at Miami since 2006. Levenson finished the campaign with a .300 average and seven home runs, while posting a .951 OPS.
One of the most highly-touted draft-eligible sluggers, Morales led the Hurricanes in eight offensive categories in 2022, including doubles (17), home run (18), RBI (59), slugging percentage (.650) and OPS (1.061). The Miami native collected NCAA Division I Southeast All-Region second team plaudits and All-ACC second team recognition.
Fans can follow news about the BBNCSA presented by SR and its Player of the Week honorees during the season at www.braganslugger.com.
To keep up with the University of Miami baseball team on social media, follow @CanesBaseball on Twitter, Instagram and Facebook.