Miami Trio Tabbed Preseason All-Americans by D1Baseball
CORAL GABLES, Fla. — Andrew Walters, CJ Kayfus and Yohandy Morales of the University of Miami's baseball team earned spots on the 2023 D1Baseball Preseason All-America Teams, as announced Monday.
Walters adds his fourth preseason first-team distinction after previously being selected by Baseball America, Collegiate Baseball and Perfect Game, while Morales garners his third preseason accolade following second-team recognition from Collegiate Baseball and third-team plaudits from Perfect Game. For Kayfus, his preseason third-team pick is the first of his career.
Miami is one of two ACC programs with three total All-Americans alongside Wake Forest.
The complete list of D1Baseball Preseason All-Americans can be viewed here.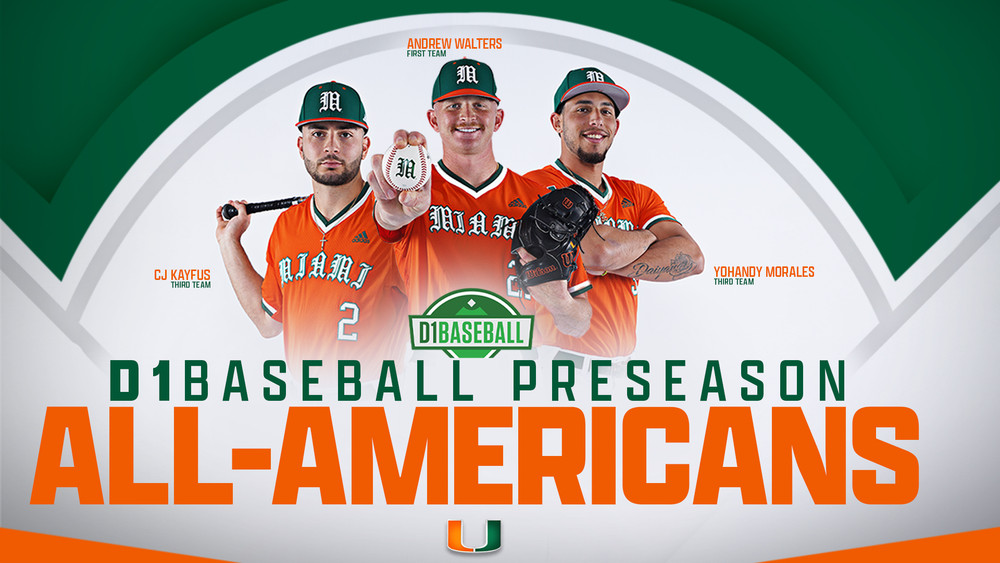 One of two relievers on the top team, Walters posted an ACC-best 14 saves as the Hurricanes' closer in 2022, which checked in fifth nationally and 10th all-time in a season at Miami. The NCBWA Stopper of the Year Finalist, who started last year with 22 2/3 consecutive scoreless innings, posted a 1.65 ERA and yielded just a .116 batting average against.
The NCBWA Stopper of the Year Finalist mounted a 10.33 strikeout-to-walk ratio, punching out 62 batters compared to only six walks. Walters leads all returning Power Five hurlers in WHIP (0.58) and opponent batting average, among pitchers who threw at least 25 innings at the Division I level a year ago.
A projected first-round draft choice, Morales led the Hurricanes in eight offensive categories in 2022, including doubles (17), home runs (18), RBI (59), slugging percentage (.650) and OPS (1.061). The 6-foot-4, 225-pound third baseman also batted .329, which ranked third on the club. Following his standout sophomore season, the Miami co-captain collected NCAA Division I Southeast All-Region Second Team plaudits and All-ACC Second Team honors.
Over the summer, Morales became the 28th Hurricane all-time chosen to represent his country as part of the USA Baseball Collegiate National Team. The Miami native registered team highs in batting average (.400), hits (8) and RBI (4).
The 2022 Hurricanes MVP, Kayfus provided a spark at the top of Miami's lineup. The first baseman paced Miami with a .366 average, 87 hits, 38 walks, a .460 on-base percentage, 16 stolen bases and 27 multi-hit games.
Within the conference, the All-ACC second team first baseman finished eighth in the ACC in batting. Entering the 2023 campaign, Kayfus has reached base safely in 62 of the last 64 contests, dating back to 2021.
No. 22 Miami opens its season at 7 p.m. on Feb. 17 with the opener of a three-game series against Penn State (Feb. 17-19).
To keep up with the University of Miami baseball team on social media, follow @CanesBaseball on Twitter, Instagram and Facebook.