Miami Knocks Off No. 22/18 North Carolina
CORAL GABLES, Fla. – The University of Miami women's basketball team recorded its first top-25 win of the season, taking down No. 22/18 North Carolina, 62-58, Thursday night at the Watsco Center.
This was the Hurricanes' first win over a ranked opponent since defeating No. 20 Notre Dame in the ACC Tournament semifinals on March 5, 2022.
"That is life in the ACC. It is, without question, the best conference in the nation," head coach Katie Meier "North Carolina is really talented, well-coached and physical and we just played our guts out. Two wins in a row in this conference is a great week for Miami and we're going to try to make it three on Sunday."
Miami (9-6, 2-2 ACC) held North Carolina (9-5, 0-3 ACC) to almost 20 points under its scoring average at 58, limiting the Tar Heels to just 35 percent shooting from the field.
Senior Haley Cavinder paved the way for the Hurricanes on offense, pouring in 16 points for her seventh straight double-digit outing. Making her first career start, sophomore Jasmyne Roberts led Miami on the boards, tallying nine rebounds, to go along with 10 points and two assists.
"For sure, Jasmyne Roberts took advantage of her opportunity in the starting lineup and I think Hanna Cavinder was really special for us," Meier said. "I believe we had 19 points off the bench and a heck of a lot of rebounds as well. The bench keeps coming through for us and we keep trusting them."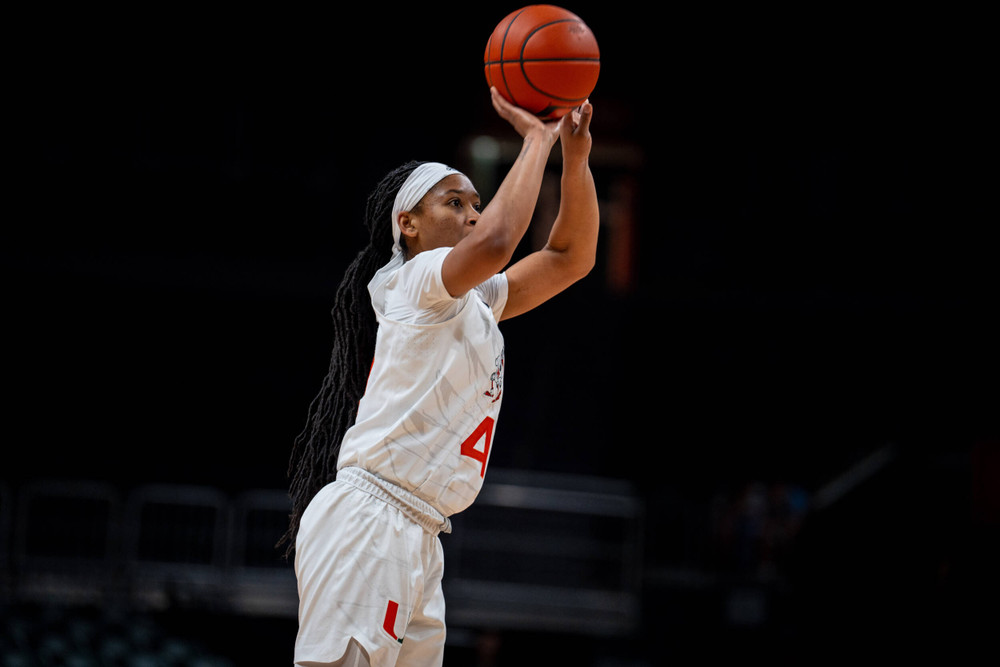 The Miami offense got off to a hot start, shooting 50 percent in the first quarter to take a 17-13 lead after 10 minutes of action. Senior Hanna Cavinder extended Miami's lead to 10 at the 5:53 mark in the second quarter, knocking down back-to-back threes off the bench.
North Carolina responded with an 11-0 run late in the second quarter to take just their second lead of the game, 28-27.  However, Haley Cavinder hit a huge 3-pointer with 17 seconds to go in the half to put Miami ahead, 32-30, heading into the locker room.
Haley Cavinder opened the second half with her second 3-pointer of the game and the teams traded baskets for the next three minutes. However, neither teams could not find its rhythm in the middle stretch of the frame as there was not a single score for almost six minutes until freshman Lazaria Spearman corralled an offensive rebound and went back up for the score.
Miami scored six of the last nine points in the third quarter to hold a 46-39 lead with 10 minutes to play.
Hanna Cavinder hit her third 3-pointer of the night to open scoring for Miami in the fourth quarter, but North Carolina whittled the lead down to one with 49 seconds to play.
Eleven seconds away from victory, Haley Cavinder stepped up to the charity stripe and sunk a pair of free throws to put Miami ahead by three. The Hurricanes got the stop they needed on defense and senior Moulayna Sidi Baba sealed the win for Miami with a made free throw with two seconds to go.
Miami faces its second top-25 opponent in four days when it hosts No. 9/10 Virginia Tech at the Watsco Center on Sunday. Tipoff is set for 1 p.m. and the game will air on Bally Sports Sun.
Single-game tickets are available for purchase online or by calling the Miami Hurricanes ticket office at 1-800-GO-CANES. For more details, dial that number or email canestix@miami.edu.