Walters and Morales Add Preseason All-America Accolades
CORAL GABLES, Fla. — Andrew Walters and Yohandy Morales of the University of Miami's baseball team collected their second Preseason All-America honors, earning first-team and third-team distinction, respectively, from Perfect Game, as announced Thursday.
Walters, one of two relievers named to the top team, previously garnered first-team plaudits from Collegiate Baseball. Meanwhile, Morales was selected to Collegiate baseball's second team last month.
The complete list of Perfect Game Preseason All-Americans can be viewed here.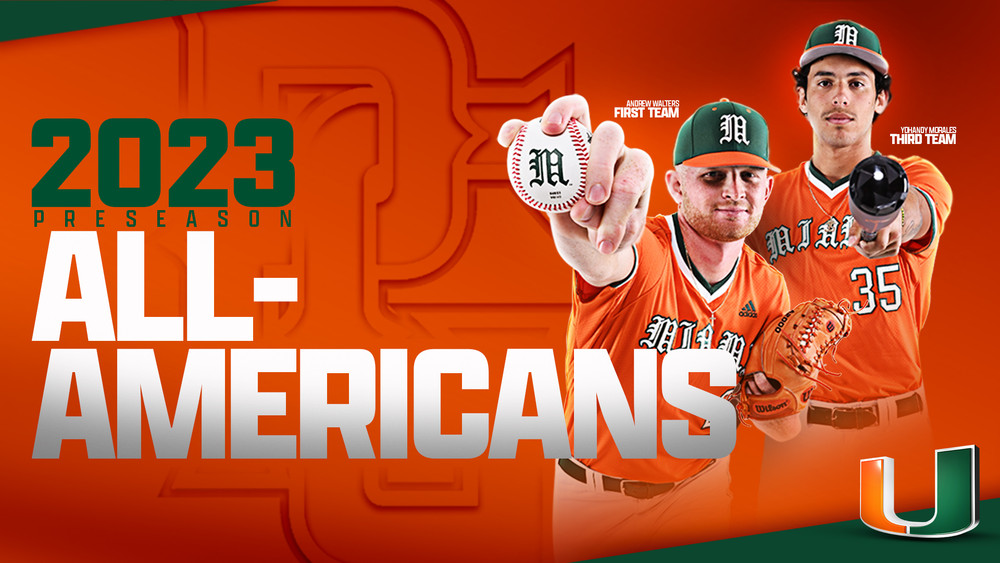 Following the 2022 season, Walters was tabbed a consensus All-American, emerging as one of the top closers in the nation.
An NCBWA Stopper of the Year Finalist, Walters tallied a 1.65 ERA and struck out 62 hitters across 32 2/3 innings. The Palm Bay, Fla., native registered an ACC-best 14 saves, which sat fifth nationally and 10th all-time in a single season at Miami.
The 6-foot-4, 220-pound right-hander leads all returning Power Five arms in WHIP (0.58) and opponent batting average (.116), among pitchers who threw at least 25 innings at the Division I level last year.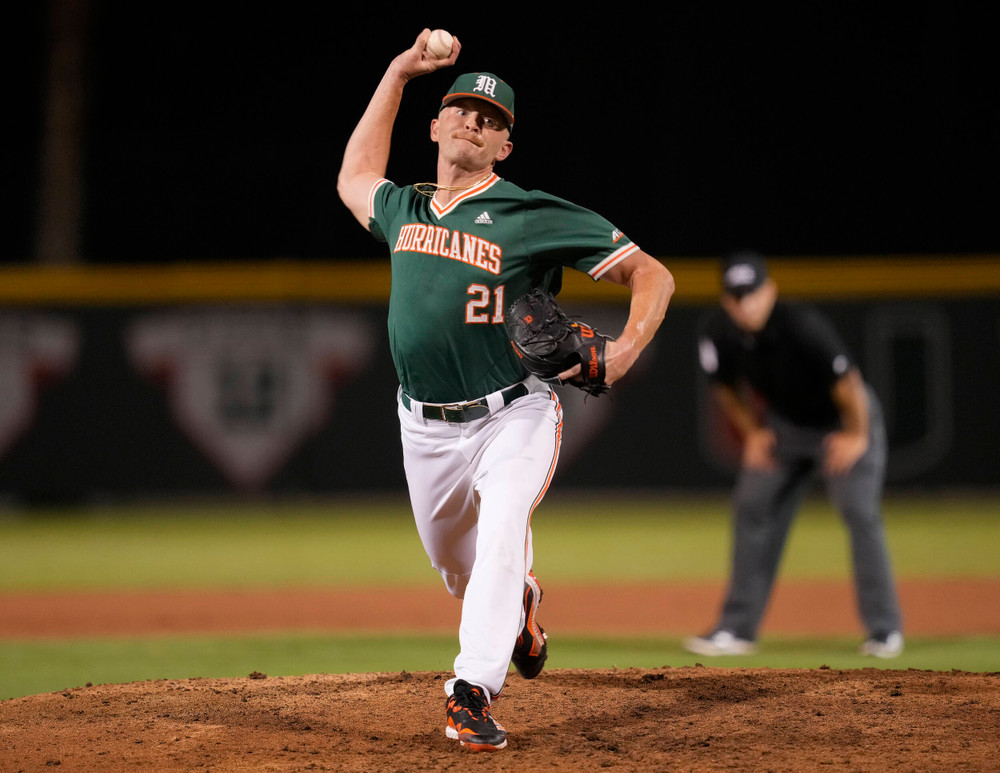 A projected first-round draft pick, Morales received NCAA Division I Southeast All-Region Second Team recognition and All-ACC Second Team plaudits as a sophomore.
The Miami native paced the Hurricanes in eight offensive categories, including doubles (17), home runs (18), RBI (59), slugging percentage (.650) and OPS (1.061). A 6-foot-4, 208-pound third baseman, Morales also recorded a .329 average, the third-best mark among Miami players.
Over the summer, Morales became the 28th Hurricane all-time chosen to join the prestigious USA Baseball Collegiate National Team. He helped the USA bring home a bronze medal during Honkbalweek Haarlem, posting team highs in batting average (.400), hits (8) and RBI (4).
The Hurricanes, who earned a pair of top-10 preseason rankings from Collegiate Baseball and Perfect Game, begin their 2023 slate against Penn State on Feb. 17. First pitch is set for 7 p.m. at Alex Rodriguez Park at Mark Light Field.
To keep up with the University of Miami baseball team on social media, follow @CanesBaseball on Twitter, Instagram and Facebook.